Nothing feels as good as being…
Accomplished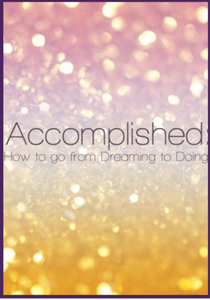 This book is for the woman who feels misunderstood because she's not satisfied with "good enough." She craves excellence and desires to always bring the best forward in herself, those around her and any group or organization she belongs to.
If this is you there are probably some other things that are true about you as well…
Accomplished is a personal guide to take what you've imagined (or only wished for in your heart) and make it a reality.
By breaking down the fundamentals of accomplishing a goal: commitment, intention setting, self-care, the mindset and the plan, this book gives you access to accomplish those goals that thus far have been just out of your reach.
With bonus videos, audios and worksheets included you will be soon be out of your head and in action toward your goal in no time!
Kindle version can be read on your phone with a free Kindle app or on your computer with Kindle Cloud Reader, also free.

Don't just take my word for it…
If you've spent even one minute thinking – knowing – that there is something more out there just waiting for you to grab ahold of it but you're not sure how, then this book is for you. The journey to achieving whatever true success is for you starts with mindset, then getting to know one's self, and finally, being able to execute. Through a series of lessons and exercises, Jodi has every step laid out for her reader, all placed brilliantly with confidence, integrity and a sense of humor.

Kate Erickson
If you want to finally make things happen, then "Accomplished" is for you. I'm a fan of Jodi's "Women Taking the Lead" podcast, especially of the bonus episodes. In this book, Jodi condensed the strategies she shares on those bonus episodes and much more. I see this book as a complete, integrated system to create tangible results. Five stars!

Christy Mishler, Owner,
Fitness Training Unlimited
With 15 years of sales experience, I spent every day sharing my winning sales strategies with entrepreneurs around the world. But, after years of working with entrepreneurs, I now realize how importance it is to develop a winning mindset. If the person does not have the mindset to believe in herself, she will not implement those winning strategies.

With her psychology background, Jodi created this great book filled with practical advice to guide all women from dreaming to doing. I would strongly recommend any women who want to take the lead in this world to read this book.

Melinda Chen
With Accomplished, Jodi Flynn provides a clear plan for any woman who is serious about making her life a masterpiece. As a coach to professional women – and as someone who has worked on her own limiting beliefs and mindset – Jodi understands at a deep level what's required to make the breakthroughs that expand your life's possibilities and the results you achieve.

Using a conversational, engaging style, Jodi positions herself as a guide, walking beside the reader, not as a remote guru dispensing advice. She has faced her own challenges, struggles and setbacks, and her willingness to be honest about them makes her immensely relatable to the reader. She understands first-hand how lack of self-care, reactions to stress, and attempts to hide the "real you" can prevent you from showing up powerfully, no matter what position you hold. The clear steps she outlines, combined with the exercises and resources she provides throughout, make this a compelling handbook for creating the kind of life you really want. If you implement Jodi's ideas, you'll be more likely to identify and achieve your life's purpose. Indeed, you will be ACCOMPLISHED.

Meredith Bell, President

Performance Support Systems, Inc.
Jodi expertly guides you through the process of understanding who you are, discovering what you're capable of, and conquering your fears … with personality and heart. She delivers reality checks in such an artful way that you wonder how on Earth you had your blinders on for so long! By the end of the book, I had a new mindset on balance and was able to intentionally set goals for the next phase of my business.

Nicole Boucher