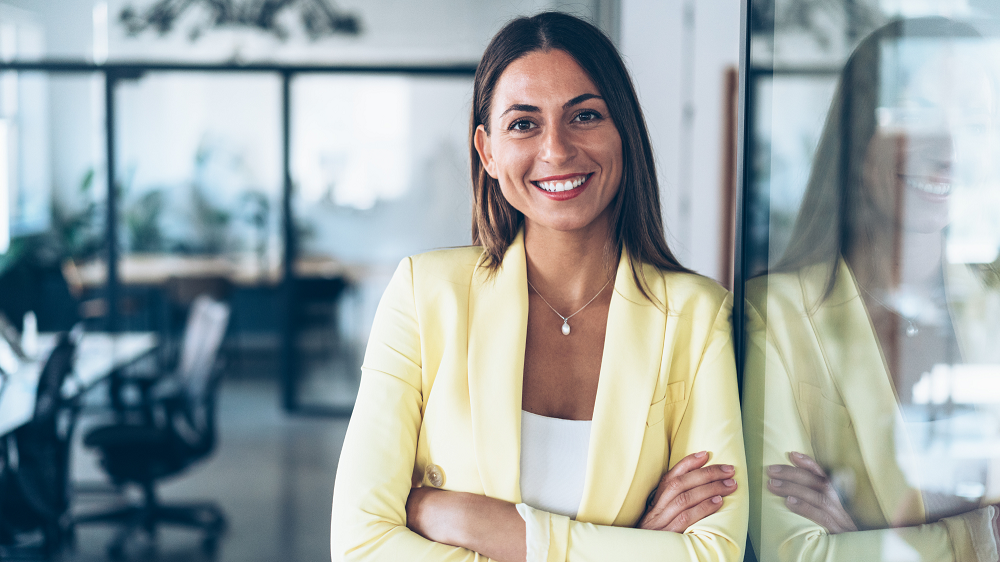 ARE YOU READY TO BE IN THE DRIVER'S SEAT?
Is this your 2023/2024 checklist?
Remain calm even when things are not going according to plan.
Improve relationships with people who are challenging to work with.
Increase the ability to give focused attention to projects and people.
Uncover new creative ideas, solutions or paths forward – especially in situations or relationships that seem to be "stuck."
Align decisions to values and purpose.
Operate at peak performance without sacrificing wellbeing or happiness.
Have more time to relax and enjoy.
When's the last time you were able to form lasting habits that created sustained changes?
Lasting positive change requires…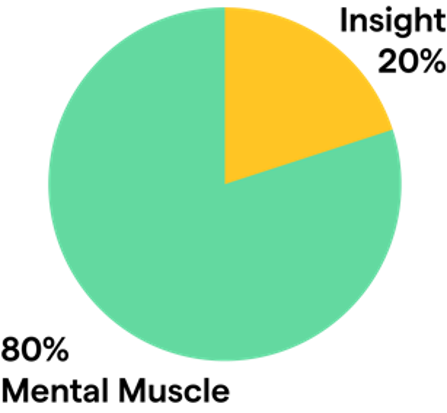 You can read books, watch videos, and listen to podcasts but if you want lasting change, you need an intense initial practice.
THE GOOD NEWS
Research is showing it takes less than 15 minutes of practice a day for 6-8 weeks to initiate a change.
The Positive Intelligence® (PQ) Program creates sustained change by laying down neural pathways to form new habits through consistent daily practice.
This program provides structure and accountability through an app and with an accountability group.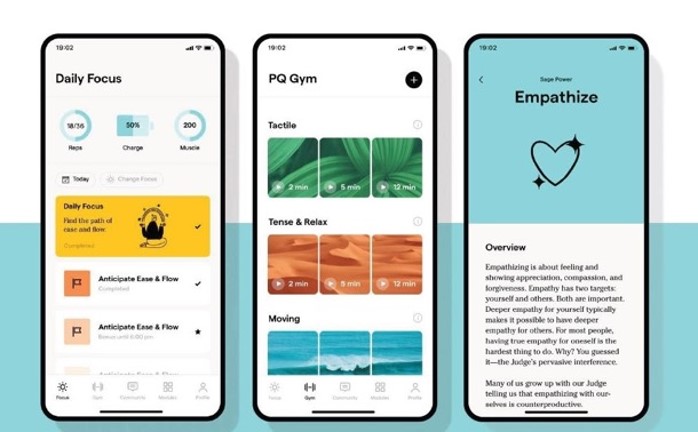 ---
Six-Week Foundation
Build your foundation of mental fitness by strengthening three critical mental muscles to shift the balance of power from your inner Saboteurs (your negative self) to your inner Sage (your positive self).



Week 1: Self-Command Muscle
Through a breakthrough process called PQ Reps, you get to boost your Self-Command muscle. Each PQ Rep only takes 10 seconds and can be done with eyes open or closed. With each PQ Rep, you develop greater mastery over your own mind, quiet the negative, and activate the positive region of your brain.
Week 2-3: Saboteur Interceptor Muscle
You get to intercept your top Saboteurs the moment they try to hijack your thoughts, feelings, and actions. In preparation for this practice, you get to expose the lies, limiting beliefs and damage of your Saboteurs, so they can no longer fool you into thinking they are helpful to you.
Week 4-6: Sage Muscle
You get to practice the Sage Perspective that every problem or challenge can be converted into a gift and opportunity. And you get to generate the gift through the 5 Sage Powers of Empathize, Explore, Innovate, Navigate, and Activate.
---
Daily Practice
15 minutes/day of app-guided practice enables you to build stronger mental muscles (neural pathways). These exercises are bite-sized to fit your busy schedule and customized based on how you self-sabotage.
Measurable Progress
You'll feel motivated through instant feedback on exactly how much progress you're making towards building the three core muscles of mental fitness. Brain rewiring may be visible in MRI imaging within eight weeks.
Weekly Focus
Weekly hour-long video delivers deep experiential exploration of the week's focus. You'll feel inspired and energized to practice during the week in order to sustain the benefits experienced during the video sessions.
Community Support
We help you establish a support and accountability group with other program participants. Research has shown this to be a critical success factor for establishing lasting new positive habits of the mind.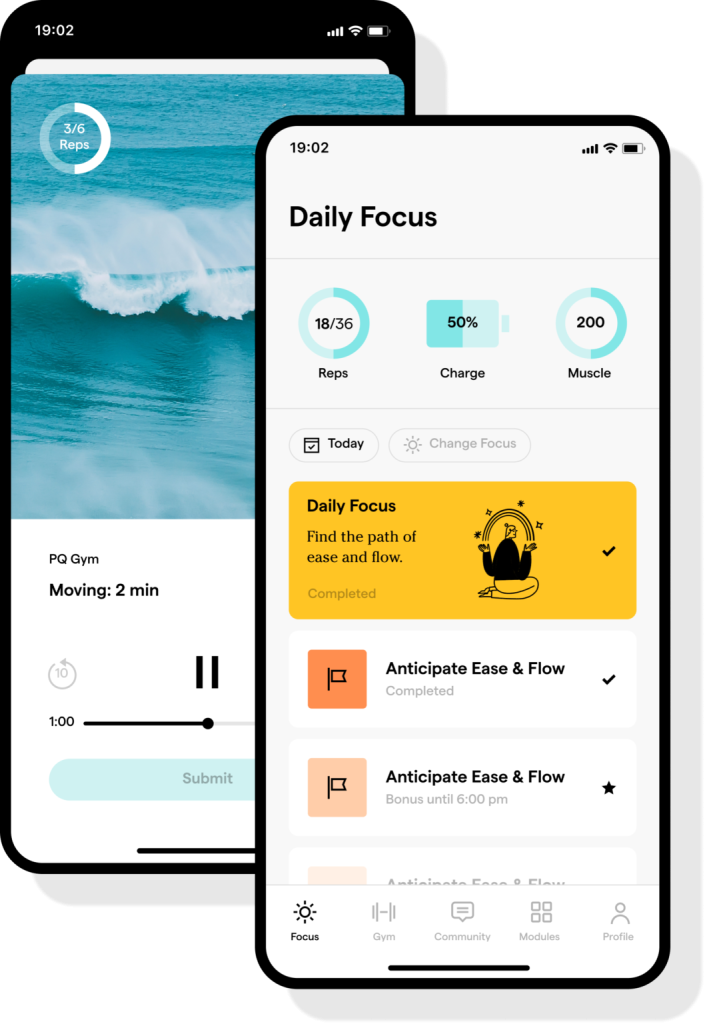 ---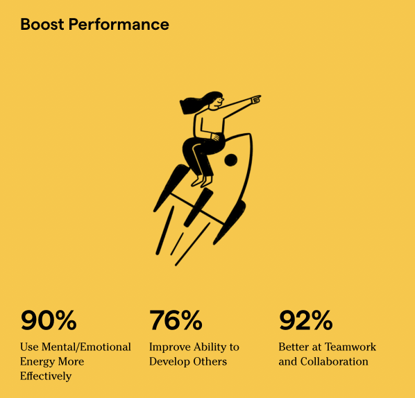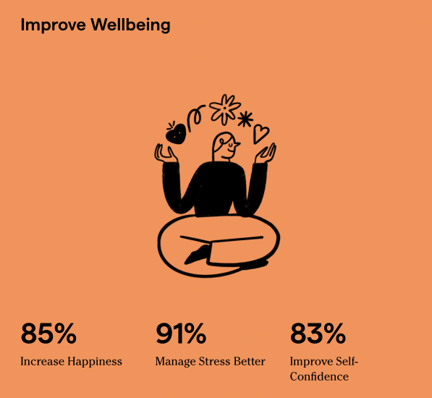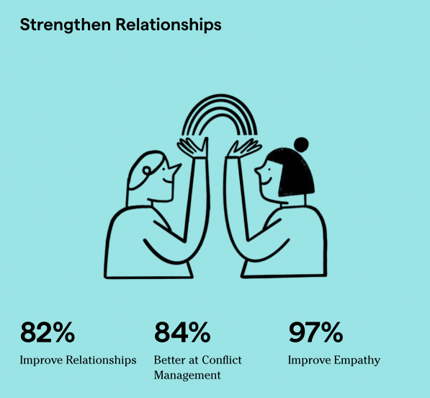 Enroll Today
Imagine yourself able to remain calm, clear headed, stress-free, and positive even in the midst of handling work and life's greatest challenges. What becomes possible for you, in achievement, in peace of mind and wellness, and in your relationships?
Make a commitment now to boost your mental fitness.
---
Positive Intelligence® Grows 17 of 18 EQ Competencies
Using the power of factor analysis within the PQ original research. The PQ program boosts the root-level building blocks that automatically enable 17 of the 18 Emotional Intelligence competencies.
Self-Awareness
✔ Emotional Self-Awareness
✔ Accurate Self-Assessment
✔ Self-Confidence
Self-Management
✔ Emotional Self-Control
✔ Transparency
✔ Adaptability
✔ Achievement
✔ Initiative
✔ Optimism
Social Awareness
✔ Empathy
✔ Service Orientation
X Organizational Effectiveness
Relationship Management
✔ Developing Others
✔ Inspirational Leadership
✔ Change Catalyst
✔ Influence
✔ Conflict Management
✔ Teamwork & Collaboration
---
Lifelong Applications
Positive Intelligence® is an operating system with many applications. In the first six weeks you develop your 3 core mental muscles. In subsequent weeks, modules in the app then enable you to use those muscles for a variety of work and life applications. You continue to grow.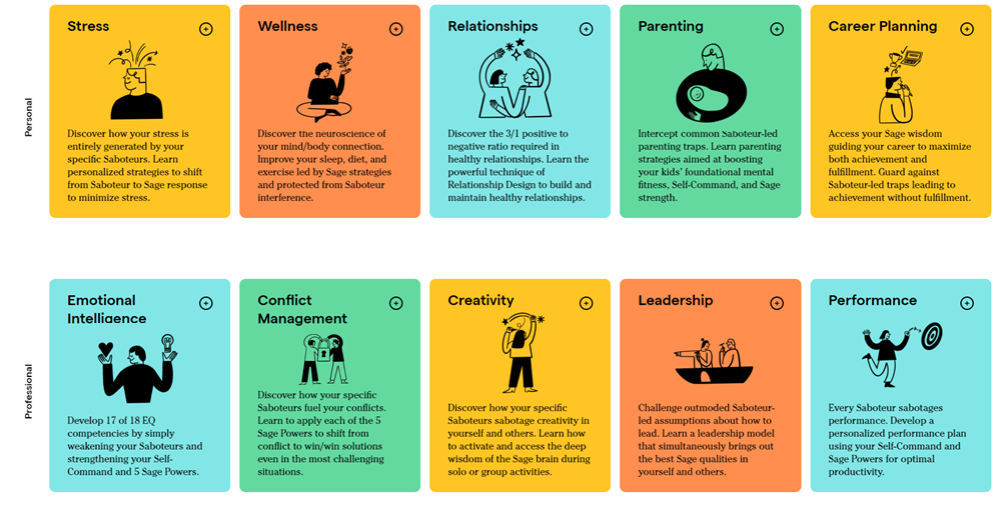 ---
Testimonials from Leaders Like You
I've worked to apply the PQ and saboteur knowledge into action, every day, both in my work and personal life. It all clicked about 2 weeks ago. I'm excited to continue the work (as it is a daily devotion), stay on this path, and continue to build my Sage. I'm in such a better place with stress, sleeping, and emotional health. It's astonishing.
Lori Marquis, CCUE
Chief Marketing/Information Officer
I chose to do the Positive Intelligence program to make a difference in how I approached my work and my relationships. The program was well structured with a daily focus, reminders for practice activities throughout the day, and a weekly check-in with a group. Through the Positive Intelligence program, I discovered new practices to increase my effectiveness, improved ways to deal with challenges, and enhanced empathy to develop strong relationships.
Sean Flynn
Director of Process Management
---
FAQ
Is this the right program for me?
This is the right program for you if you are a) committed to improving your performance and effectiveness dramatically while reducing stress, b) looking for a science-based and trusted system to make it stick, and c) willing to put in the initial effort to rewire years of mental habits that don't serve you.
Aren't negative emotions sometimes helpful?
Some people believe that negative emotions are helpful. For example, they think stress gives them their performance edge, or beating themselves or others up is helpful for continual improvement.
Feeling pain for a split second when your hand touches a hot stove is indeed useful, delivering an important alert. But your Saboteurs keep your hand on the hot stove, continuing to feel negative emotions which harm both performance and happiness.
In this program we learn to use negative emotions as a helpful alert, and then quickly shift to the positive region of the brain that has the calm clarity, objectivity, and creativity to handle the challenge most effectively.
Who will lead the Positive Intelligence Program?
The weekly Pod meeting will be facilitated by Jodi Flynn of Women Taking the Lead.
Shirzad Chamine conducts each of the weekly video sessions. Shirzad will also participate daily in the exclusive online community of the program participants to answer questions, provide coaching, and cheer you on.
Shirzad is the New York Times bestselling author of Positive Intelligence, translated into 20 languages. He has been CEO of the largest coach training organization in the world and has trained faculty at Stanford and Yale business schools.
Shirzad lectures on Positive Intelligence at Stanford University and works with Stanford's NCAA athletes. A preeminent C-suite advisor, Shirzad has coached hundreds of CEOs and their executive teams. His background includes graduate level studies in neuroscience in addition to a BA in psychology, an MS in electrical engineering, and an MBA from Stanford.
How much time and effort is required?
You'd be committing to watching a 1-hour video and attending a 1-hour group meeting once per week, and doing a combined total of 15 minutes per day of practice guided by the Positive Intelligence app exclusively designed for this program.
This might sound like a lot of time. In fact, cumulatively, it constitutes less than 4% of your awake time for the duration of the program. Please consider that your Saboteurs are costing you far more than 2% of your time, effort, energy, and productivity. Consider how much more than 4% of time and productivity this eight-weeks investment will save for years to come.
How is this different from reading the book?
You'd never learn to ride a bicycle by reading a book about it. You'll be asked to read the first 8 chapters of the book while participating in the program. The book provides the research foundation and introduces the tools. The video session guides you through experiential exercises that help you personalize the tools to your own personality and needs. And the app coaches you to practice one tool at a time in the context of your own daily work and life challenges.
Should we participate as a team?
Even though the focus of the program is individual development, team leaders often call this experience the best team building experience they have ever had. Going through this program together significantly deepens trust, helps clear the air related to recurrent team member conflicts since they're mostly generated by Saboteurs, and gives the entire team a common framework for helping each other grow, making decisions, responding to setbacks, and managing conflicting styles and agendas.
---
---
JODI FLYNN, PCC, ELI-MP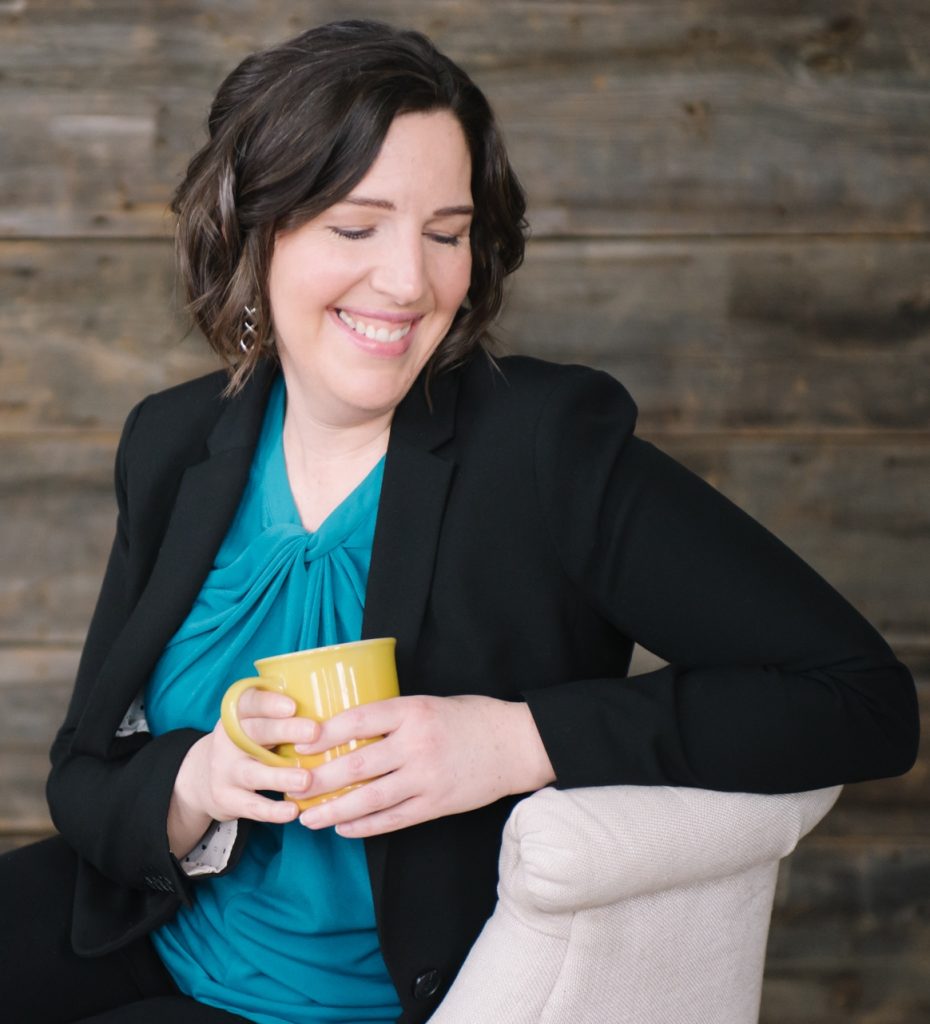 With 26 years of leadership experience and 13 years as a certified coach, Jodi is a sought-after partner by women in leadership. Her "come as you are and say what you're thinking" approach invites women leaders to explore challenges, gain insights, and strengthen their mindset in a supportive and honest setting. Jodi's deep understanding of personalities, team dynamics, communication styles, and mental fitness, has resulted in her clients experiencing increased confidence, less stress, and rapid advancement in their careers. In turn, their companies retain a talented high-performer yielding benefits for years to come.
Jodi Flynn is the CEO and Founder of Women Taking the Lead, a leadership development company that works with organizations and boards to close the performance gap by attracting, developing and successfully promoting more women into senior levels of leadership. She helps organizations realize these benefits through coaching, consulting, leadership development programs and keynotes. Featured in Entrepreneur and Forbes magazines she is the host of the nationally recognized Women Taking the Lead podcast, and an Amazon bestselling author with her book, Accomplished: How to Go from Dreaming to Doing.
Jodi earned a certification as a Professional Coach through iPEC, accredited from the International Coach Federation, and graduated with honors from Anna Maria College with a B.A. in Psychology and post-graduate study for a M.A. in Counseling Psychology.
AREAS OF EXPERTISE:
✔ Executive and Peer-Group Coaching
✔ Positive Intelligence (PQ) Programs
✔ Women's Leadership Development
✔ Keynote Delivery
✔ Experiential Workshops
PROFESSIONAL EXPERIENCE:
✔ Co-Founder, The Maine Women's Conference
✔ Consultant and Facilitator, Priority Learning Research
✔ Manager, Ameriprise Financial
✔ Assistant Vice President, Corporate Quality, Seligman Data Corp.
✔ Director Consultant, Business Networking International
CERTIFICATIONS:
✔ Certified Professional Coach, iPEC, Institute for Professional Excellence in Coaching
✔ Professional Certified Coach, International Coach Federation (ICF)
✔ Energy Leadership Index, Master Practitioner
✔ WBENC-Certified Women's Business Enterprises
PARTIAL CLIENT LIST:
✔ Bristol Myers Squibb
✔ State Farm
✔ IKEA
✔ Invicro
✔ Susan G. Komen
✔ FLIR
---
My Personal PQ Story
Last fall I participated in the Positive Intelligence (PQ) foundational program in the midst of a busy season with *high pressure* events. This is typically not the time one would join a new program or start an initiative. However, it turns out this program was exactly what I needed in the midst of this busy and chaotic season.

The program assessments gave me insight into why I was so restless when I needed to focus, what kept me from enjoying the present moment (always on to the next thing), and what caused negative emotions to take over when I needed to be calm and listen.

The content and exercises of the PQ program gave me an action plan to increase my performance and my wellbeing at the same time. No more sacrificing one for the other.

A few weeks after joining the program I noticed I was waking up wondering why I wasn't more stressed. Instead of wasting time worrying, I was slowly and methodically doing what needed to get done. The Positive Intelligence marketing material states that these results are to be expected with time, but I didn't think I would achieve that level of calm so quickly.

Earlier this year my father was diagnosed with Stage 4 lung cancer and passed away 6 weeks later. Prior to his passing I invited several members of my family to also do the Positive Intelligence (PQ) program. My father passed during the first week of their participation in the program. Each family member chose to continue because they could already see the benefit of the program in dealing with the tremendous grief.

Each of my family members has attributed their ability to process their grief, and stay present to their own needs and the needs of their families, to their participation in the PQ program. Additionally, it supported them in their communication with their managers and teams, and with the transition back to a normal work schedule.

In addition to the benefits to myself and my extended family, my clients have achieved extraordinary results through their participation in the PQ program. Their participation has impacted their performance at work, the health of their relationships, and their overall wellbeing.

My clients have reported having better conversations, improved work relationships, reduced anxiety, better sleep, being better at coaching and inspiring others, and handling conflict. My clients also reported feeling more engaged at work, more enthusiastic about their work, and more productive. In under a year Positive Intelligence has had a profound effect on my life and I offer it to others with confidence.
---
© 2022 Positive Intelligence, LLC. All rights reserved. No reproduction, alteration, translation, publication or distribution, in any form, printed or electronic, is permitted without the express prior written consent of Positive Intelligence, LLC. POSITIVE INTELLIGENCE®, PQ®, PQ COACH™, CERTIFIED PQ COACH™, and P+ logo™are trademarks of Positive Intelligence, LLC.

DISCLAIMERS: The coach identified herein is an independent member of the PQ Coach program, and not an employee, agent or representative of Positive Intelligence, LLC. The coaching program offered herein is independently owned and operated by the coach, and is not affiliated with or endorsed or sponsored by Positive Intelligence, LLC. PROGRAM CONTENT AND MATERIAL DO NOT CONSTITUTE MEDICAL OR MENTAL HEALTH ADVICE AND ARE NOT A SUBSTITUTE FOR PROFESSIONAL CARE, DIAGNOSIS OR TREATMENT OF ANY MEDICAL OR MENTAL HEALTH CONDITION.