253: Emi Kirschner on Being Boss in Your Business
Click the play button below to listen to the podcast episode.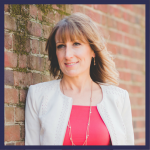 Emi Kirschner, speaker, coach, and author masterfully combines her deep intuitive abilities with her analytical sense to help creative entrepreneurs double and triple their revenue.
Committed to impacting 1 million entrepreneurs over the next 5 years, Emi teach the leadership skills necessary to help you to confidently step into the CEO role in your business. She is known for giving meaningful tools, not just theory, to implement marketing, sales and operational strategies that result in increased profitability and more freedom in the rest of you life.
Zone of Genius
Emi believes that when you aren't working in the zone of your genius, you aren't able to grow. People tend to get stuck on things that aren't bringing clients in, and that is where she comes in to help out.
Changing the Belief
Emi encourages her clients to bring along team members to start off-loading their tasks to. Emi also has them put their planning and development into their calendars, including eating and exercising. Having your week laid out on the calendar takes the guess work out.
Confidently Stepping into CEO
Emi finds people often struggle to price their products, but she knows the market can bear confidently what you ask for. Emi also believes that getting yourself hyped up before a possible proposal or phone call can make all the difference.
Teach What You Need to Learn
There were times when Emi was not working inside any of her zones of genius. She struggled with SEO for weeks without reaching out for help, did not want to be structured by her calendar, and was not charging what she should have been.
Aha Moment
Emi had really great coaches that helped her reach her aha moment. The book, "You Are a Badass" by Jen Sincero, had a huge impact on her as well. Emi was done playing small. She now asks herself how she can go bigger.
The Next Horizon
Emi is starting a podcast, and is developing a membership site that will hopefully launch early 2019. Emi currently has an 8-week course that helps create a roadmap to success. If you're feeling stuck, the program covers life and business, leadership and mindset, operating state and where your zone of genius is, marketing and sales.
Links
Website: emikirschner.com
Facebook: https://www.facebook.com/Emi-Kirschner
FB Group: Lifestyle for Leaders https://www.facebook.com/groups/LifeStyleforLeaders/
Google+: https://plus.google.com/u/0/+EmiKirschnerCHHC
Twitter: https://twitter.com/empressemi
Instagram: https://www.instagram.com/emi.kirschner/
Thank You to Our Sponsors
Zebralove Web Solutions: Your website tells a story about your business! At Zebralove Web Solutions, Milly and her team are going to make sure your website tells the story you want your customers to hear. Connect with Milly at zebralovewebsolutions.com to create the impression you want to make!
Resources
Leadership Operating System Quiz: Wondering what kind of Leadership traits you have? Take this FREE, FAST quiz and find out more about yourself as a Leader.
Accomplished: How to Go from Dreaming to Doing: A simple, step by step system that gives you the foundation and structure to take your goals and make them happen.
Subscribe to the Women Taking the Lead Podcast
If you enjoyed this episode subscribe in Apple Podcasts, Spotify, Google Podcasts, iHeart Radio, Stitcher Radio, Amazon Music or Pandora and never miss out!