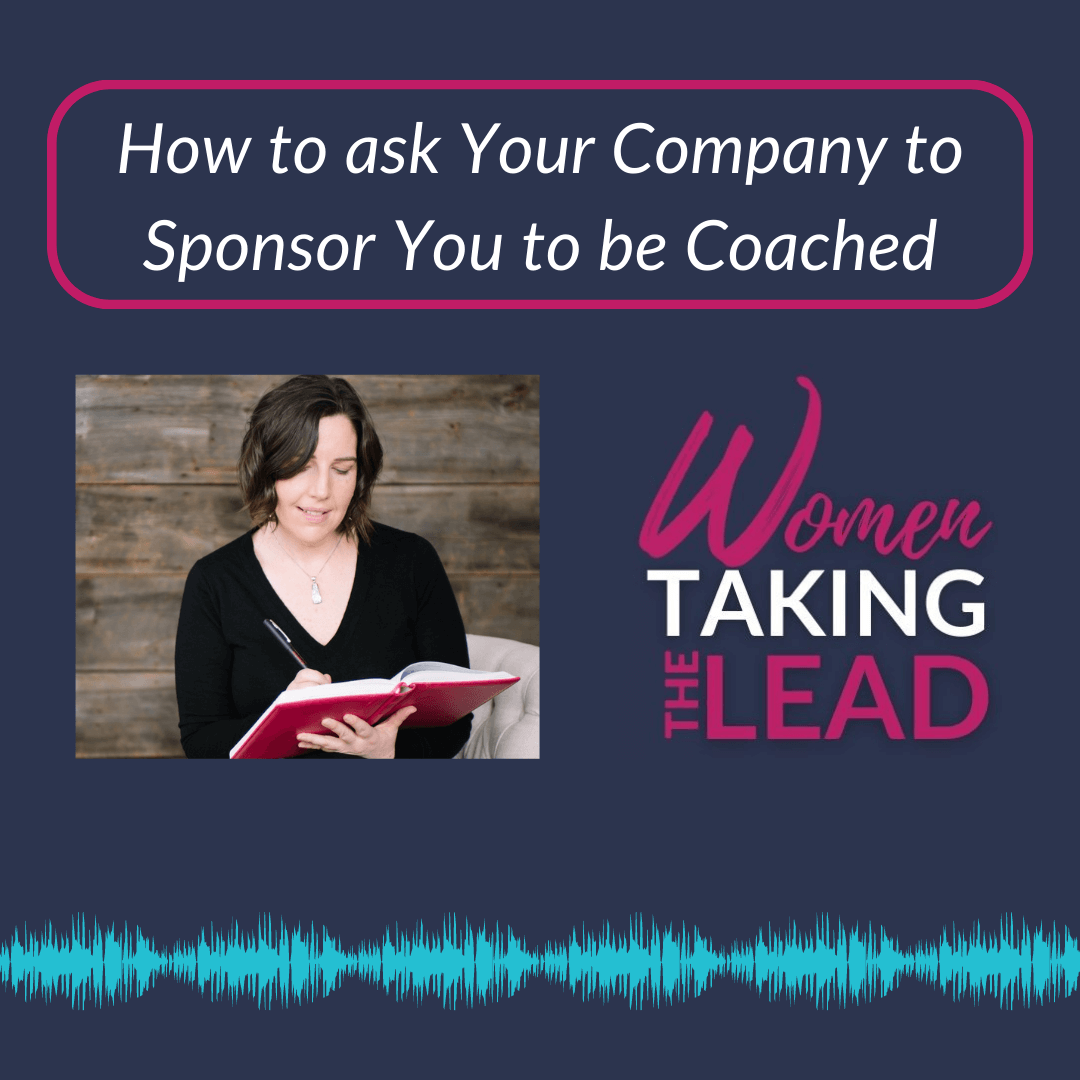 100% Jodi: How to ask Your Company to Sponsor You to be Coached
Click the play button to listen to the podcast episode.
Have you been thinking about working with a coach, but aren't sure how to ask your company to sponsor your coaching?
In this episode we're going to discuss why it's a benefit to your company to invest in your leadership development and how to ask your decisions makers to approve paying for you to work with a coach.
Welcome!
For those of you who are new to the Women Taking the Lead podcast…hello and welcome!
I'm Jodi Flynn. I'm an executive leadership coach, speaker, and author. I am the current President of the board for The Maine Women's Conference. I have the privilege and joy to work with women leaders to hone the skills that allow them to grow into and then thrive in Senior Leadership. My specialization is working with women who are still stabilizing after their last promotion and those who are preparing for the next one.
It is my belief, that for more women to hold positions of senior leadership, there are changes at the individual and organizational level that need to occur. Not only do women need to be trained and coached on how to operate at these levels of leadership, organizations need to change their paradigm of how the work gets done and what supports are in place for leaders to do their jobs.
If we are not already connected on LinkedIn, please send me an invitation to connect. You can find me directly at https://www.linkedin.com/in/jodiflynn, or you can search for Jodi Flynn. I'm very active on LinkedIn so I should be at or near the top of the search results. Be sure to add a note to the invitation letting me know you are a listener of the podcast. I would love to connect with you and get to know you better.
Do You Know You Can Ask Your Company?
I remember when I was working as a leader in Mutual Fund Operations. I recall some of the training I received. From how to manage my time, deal with change, and understanding and appreciating our team dynamic.
I really enjoyed these trainings and I appreciated the opportunity to go through them. And, it never, never occurred to me, even when I was facing a lot of challenges in my role, to ask the company to pay for me to work with a coach.
Thinking back on it, they likely would have agreed. Minimally, they would have paid for a portion of the cost.  
For this episode I decided to bring in someone who has more understanding of the internal workings of a company's employee development program and what they are looking for when considering hiring an outside vendor to supplement the training and development programs.
Meet Danielle LeFleur. Currently she is the Founder of Easy as Pie Design, a website design and marketing firm. Before starting her own company, she was the person making the training and development decisions for a large corporation.
Your Coaching Benefits Your Company
Let's begin by establishing that there is a huge benefit for companies to invest in their people's development. According to the Institute of Coaching, 86% of companies that have invested in coaching for their employees feel that they more than recouped their investment.
There are numerous benefits to coaching individuals within organizations. This research also showed that working with a certified coach:
Empowers individuals and encourages them to take responsibility
Increases employee and staff engagement
Improves individual performance
Helps identify and develop high potential employees
Helps identify both organizational and individual strengths and development opportunities
Helps to motivate and empower individuals to excel
Demonstrates organizational commitment to human resource development
Additionally, the International Journal of Evidence Based Coaching and Mentoring published a case study that focused specifically on female leaders in a global organization who participated in coaching.
Of interest, noted in the report was that, "The organisation was keen to address [the lack of female representation in senior management] for many reasons, not least of which is that the lack of representation of women in senior positions has been found to have a negative impact at both a financial and organisational level of performance."
Let me repeat that. "The lack of representation of women in senior positions has been found to have a negative impact at both a financial and organisational level of performance."
Women, as a group, don't have to prove that they are valuable in senior leadership. The research has been proving that for years. 
Having More Women Leaders Is Good for Business, Gallup, 2014
The Benefit of More Women in Leadership Roles, Women of HR, 2016
The Hidden Advantage of Women in Leadership, Inc. Magazine, 2019
The Strategic Benefits of Women in Leadership, Peakon, 2019
Your Company is Already Vested in Your Success
Having a leader who is equipped to deal with the day-to-day challenges and be a better leader for their team increases employee retention rates.
There's that old chestnut, "People don't leave companies, they leave their boss."
The better you perform as a leader the more likely the company is to retain those whom you oversee. If you didn't know already, turnover is expensive. Even if you didn't know that, the leaders in your company certainly do.
According to Gallup, a conservative estimate of the cost of replacing an employee "can range from one-half to two times the employee's annual salary."
Leaders who are selected carefully and developed represent a huge cost savings to the company. Cost savings turn into profits.
Hopefully you are with me that it is in your company's best interest to invest in your leadership development.
Know What You Want to Work On
Before you approach your boss or other decision-makers at your company you're going to want to have a good sense of what it is you are looking to improve.
You may have feedback from your manager or peers, your performance review, etc. And there may also be some areas that could make a huge difference in your leadership that would not typically come up or be addressed at work.
I developed the Leadership Operating System Quiz as a holistic self-assessment. This tool allows you to assess your effectiveness in leading others, leading yourself, your ability to influence, your ability to manage your energy, and your communication skills.
It's a way for you to quickly identify where you could focus your developmental resources. And it's not about getting bad news. This quiz will also be a nice pat on the back to see that you're getting a lot of things right.
Those who have used the Leadership Operating System Quiz have described the questions as engaging and thought-provoking, they appreciated gaining insights on areas to improve, and really liked the resources that were provided at the end.
It will take you about 3 minutes for you to complete, and if you think about it, that's a quick turnaround to gain insight into what would improve your effectiveness as a leader and make being a leader more enjoyable.
Go to https://womentakingthelead.com/leadership-abilities-inventory to find out more and to take the quiz if it would be helpful to you.
Provide Validation That Coaching Works
We've established that there is a benefit to companies that invest in their employee's professional development and if you've taken the Leadership Operating System Quiz or another Leadership Assessment, you have an idea of what you are looking to improve.
You also want to show your manager or decisions makers that there is established research validating that coaching can help you improve in those areas.
https://trainingindustry.com/articles/leadership/coaching-as-an-equalizer-closing-the-gender-gap-in-leadership
https://www.td.org/atd-blog/making-the-business-case-for-leadership-coaching-for-women
https://www.ccl.org/articles/leading-effectively-articles/coaching-to-improve-performance
Does Your Company Have a Budget for Professional Development?
Next, you want to do some research on your own company. Many companies have a professional development stipend that they put aside for each employee on an annual basis.
A yearly professional development stipend often ranges from $500 to $2,000 a year, but the stipend may be greater for individuals in leadership positions or depending on your company size.
Look in your employee handbook or employee online resources, and don't be shy about asking your peers as well. If you know someone has worked with a coach or done a robust development program, ask them about their experience getting it approved.
One of my clients negotiated working continuously with an executive coach as a part of her package when she accepted a new job offer and you can do this when accepting a new role as well.
Here's some guidance from Danielle on how to begin doing your research.
Gather Info on the Coach You Want to Work With
If you've been looking around and you already know the coach you want to work with or the program you want to do, it's time to start gathering information to establish credibility.
I have a lot of HR and Talent Development professionals in my network and what they've told me is they much prefer an employee come to them with the name of a coach whom they would like to work with. For the HR or Talent Development professional, this takes the burden off of them to find the right coach for their employee.
Working with a coach is a personal experience and, to be effective, it requires a connection and rapport between you and your coach. You know better than your decision makers who is going to be the right coach for you. When you leave that decision to someone else there is a chance it won't be the right fit.
When you go to your decision makers to ask for approval to work with a coach or do a program, be prepared with information on that coach or program.
Establish Your Coach's Credibility
And as Danielle mentioned earlier, your company does see the value in investing in your development and they will not be blindsided by your request.
However, they will be particular about what that investment looks like. Help your company to feel confident that they will get a return on their investment. While you will be giving them data that proves coaching can help you to develop as a leader, they are going to want to be sure you are working with individuals who have a track record of getting results.
Your company will likely be looking to ensure you are working with a coach who has been certified by an Accredited Coach Training Program and has a proven track record of producing the results you are looking for. 
A credible coach or company will have company documents or brochures that give an overview of the work they do, as well as client case studies showcasing their expertise.  
Know what the Cost Will Be
Bring a proposal or a program brochure that outlines the program and the costs associated. The conversation will come to an immediate end if you don't have an idea of what the cost will be. And, you will have lost momentum in the time it takes you to do the additional research.
Having already shared with your manager or decision makers all the great information on coaching, what you are looking to get from it, the company or specific coach you want to work with, etc., you've built energy and momentum to get their support. If you don't have the figures in hand, it will feel like a let-down, for you and for them. 
So, don't step over this important detail. Know what the cost will be and be ready to present it.
Steps to Ask Your Company to Pay for Your Coaching
It is common to ask for more professional development and it behooves your company to say yes to you. Your part is to make a strong case for what you want and need.
If you've made a strong case for how your development will benefit the company, they will not see your coaching as a cost, they will see it as an investment. 
In summary:
Know there is a huge benefit to your company to invest in your professional development. (Listen to this episode again if you need to frame your mindset for the conversation or boost your confidence.)
Identify your training and development opportunities as a leader. What are you specifically looking to improve? (Take the Leadership Operating System Quiz if you are not sure or would like to gain a new perspective.)
Define how working with a coach will help you in those areas. (Download Whitepaper on the benefits of coaching for women leaders)
Find out about your company's budget for training and development and see if there is a stipend set aside for each employee. (Look on your company's internal website for employee resources and ask your colleagues.)
Establish the credibility of the coach you want to work with. (Download the company docs and case studies)
If possible, bring an overview of the coaching program and an estimate of the cost. (Download a brochure or proposal for the program)
Craft the conversation you would like to have with your manager or decision-makers.
Checklist with Scripts to Prepare for Your Conversation
To make all of this easier for you I've put together a checklist that includes scripts that will support you in making your request for coaching. This checklist takes you step-by-step and has links to the documents and resources that will support the conversation you will have or email you'll send to your manager or decision-makers.
The ultimate goal is to make it easy for you to ask and easy for them to say yes to you.
You can find this checklist at https://womentakingthelead.com/checklist
And no surprise at this point, you can find that link in the episode description. If you're listening on your phone that will be in your podcast app. If you are listening through the Women Taking the Lead website the link will be toward the bottom of the episode webpage.
I want you to get all the support you want and need so don't hesitate to reach out to me.
You can do this.
As always, I hope this was of value to you and here's to your success!
Resources
Checklist to Ask Your Company for Coaching: Would coaching help you become a stronger leader? Wondering if your company would pay? It doesn't hurt to ask!
Leadership Operating System Inventory. Wondering what kind of Leadership traits you have? Take this FREE, FAST self-assessment and find out more about yourself as a Leader.
Accomplished: How to Go from Dreaming to Doing: The book containing a simple, step by step system that gives you the foundation and structure to take your goals and make them happen.
Leadership Coaching: If you interested in finding out more about my coaching process, the cost of coaching, or how to ask your employer to pay for you to work with a coach, schedule a call with me.
The Women Taking the Lead Podcast
If you enjoyed this episode, follow in Apple Podcasts, Spotify, Google Podcasts, iHeart Radio, Stitcher Radio, Amazon Music or Pandora and never miss out!