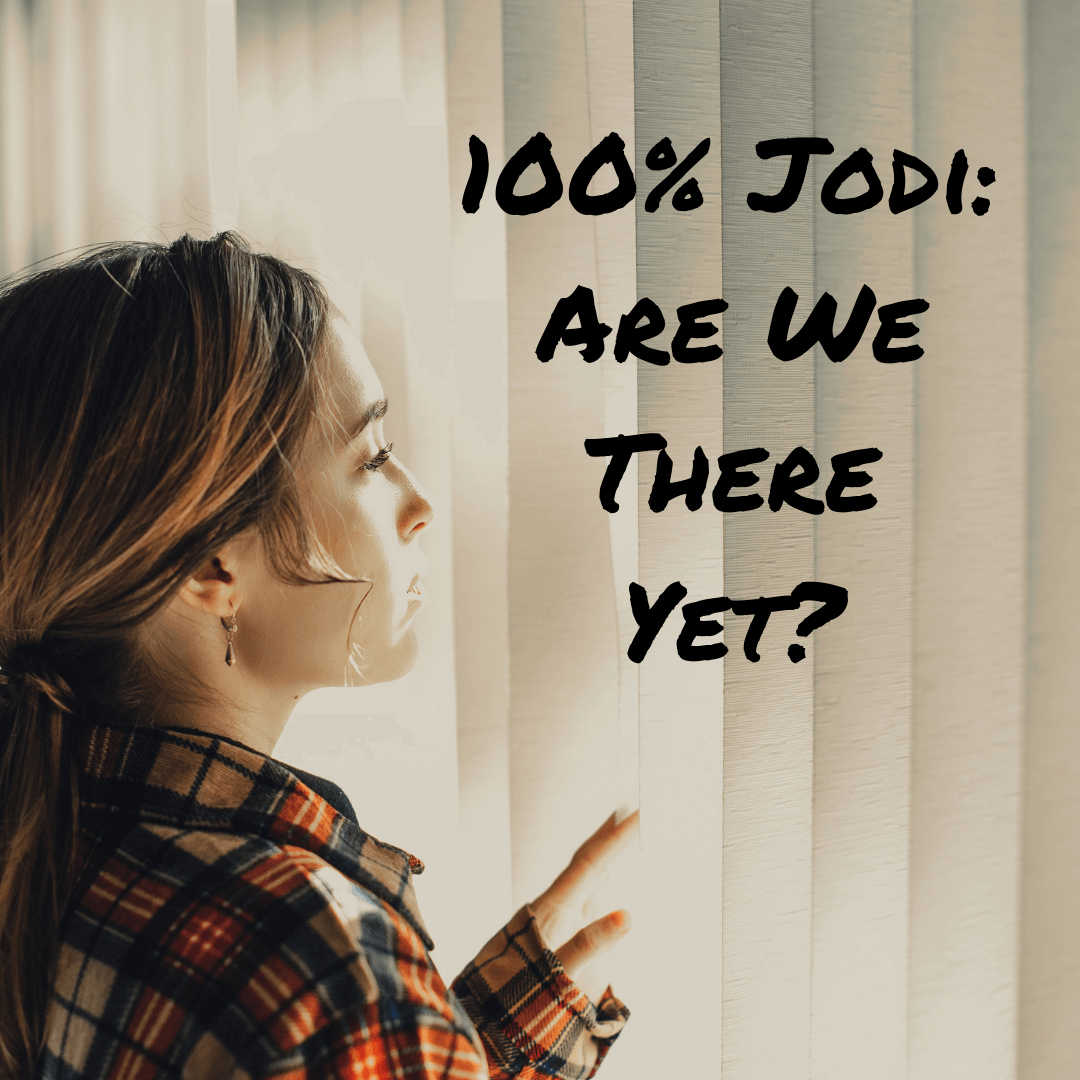 100% Jodi: Are We There Yet?
Click the play button to listen to the podcast episode.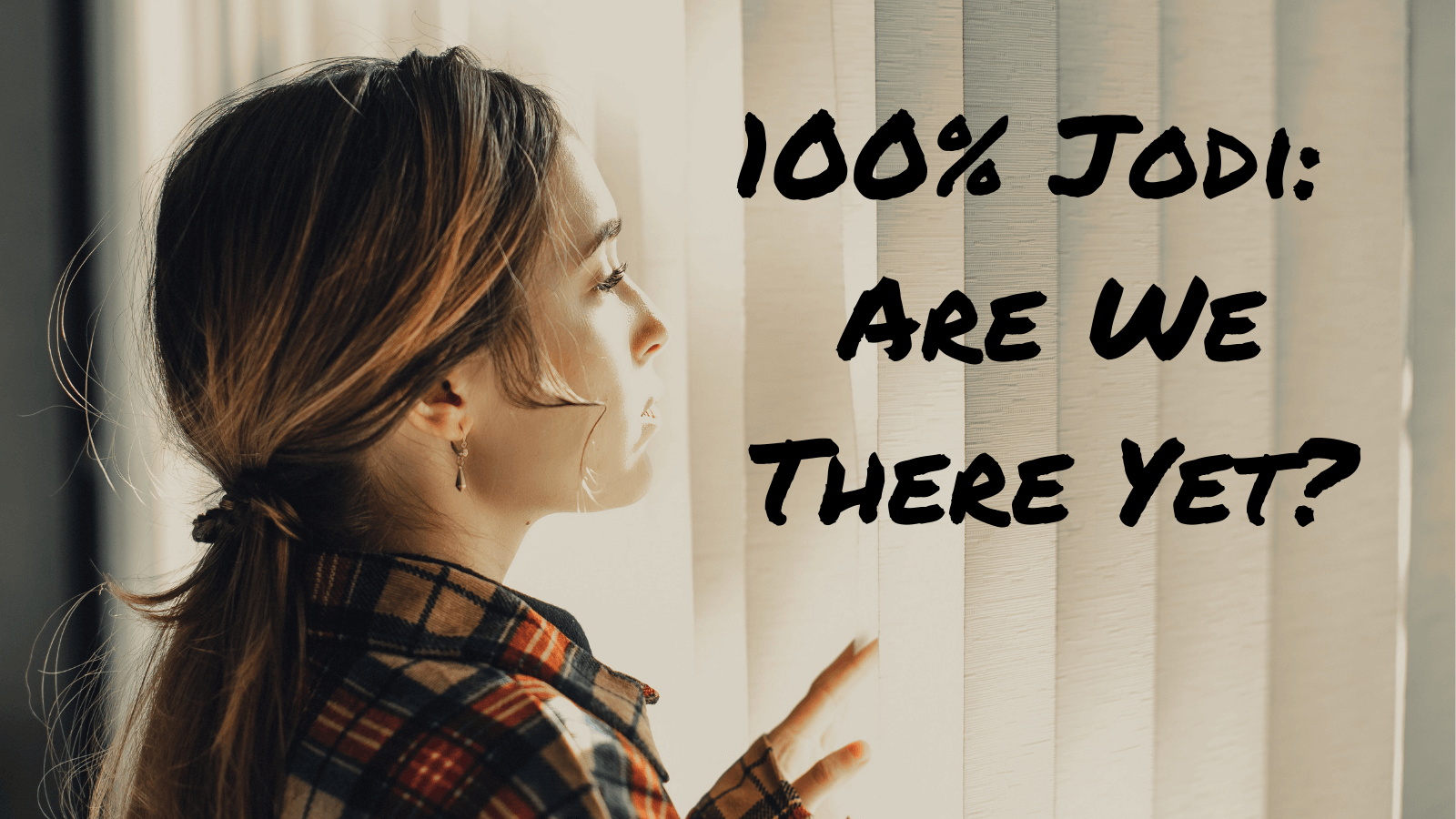 In this quick episode I'm going to be direct about what's needed from you as a leader and a reminder of what you need to be doing for yourself.
Hello, I'm Jodi Flynn and welcome to the Women Taking the Lead podcast. I'm an executive leadership coach, author, speaker, workshop facilitator. I have the joy to work with women leaders who want to hone the skills that will allow them to thrive in Senior Leadership. I've met a woman I would love to work with when we start having a few laughs about our tendencies toward perfectionism and people pleasing.
I had been living in Maine for the past 18 years. I am currently in Massachusetts staying with family for the next month. Then I make my final move to Virginia at the beginning on 2021. Thanks to the beauty of technology, I've been able to continue to work with women all over the world even in the midst of so much movement and transition.
I do individual coaching as well as workshops and team retreats. And, I am the current President of the board for The Maine Women's Conference.
I spend my free time catching up with friends and family, coordinating my move to Virginia to create a life with my guy, working out and watching the Great British Baking Show.
Leadership Opportunities
A few weeks ago I saw a tweet that said, "this week has been the longest month." Have you been feeling that way too?
This year has brought a bag of tricks we weren't anticipating.
Add a contentious election right before the holidays and that's the cherry on top.
You may also be having that feeling you had when you were a child on a long car ride with your parents and you were dying to get out of the car. In frustration and agony, you couldn't help it, you kept asking, "Are we there yet?"
We are not there yet. A president has been announced and vaccines are being approved, but we are a long way from healing as a nation and as a globe.
Though you are like feeling a bit tired and uncertain, this is a great time to be a leader.
When times are uncertain and chaos is ensuing, that's when people are looking to those who lead to help them navigate a path through.
If you are a leader, and I'm assuming you are if you are listening to this podcast, those who look to you for guidance need you to bring your best self forward right now.
It's a lot to ask of you, but there's a lot at stake. You won't help anyone if you are easily triggered and reactionary right now.
Managing Conflict
I have lost count of the number of times I had to give myself a talking to over the last couple of weeks, telling myself, "don't engage, don't engage, it's not worth it."
Have you found yourself digging deep recently to stay away from conflict?
The number of messages I've received in recent weeks detailing a "crazy" post on social media and the sender's struggle to not respond or comment on it have been numerous.
I've seen a few and have been triggered by them as well. I want to react and discharge the emotion.
And then I remember I am a leader and I have a bigger mission at stake. A moment of unleashing my pent-up frustration cannot be taken back and could hurt my cause significantly.
Thoughts like, "don't engage, it's not worth it", may not be of the highest virtue but they've saved me from acting rashly and I'm grateful for that.
Take Care of Yourself!
We're all feeling a little on edge lately. I'm hoping with the winter holidays here we all have an opportunity to unplug and step away from the fray for a little while.
And you especially, as a leader, need to take time to take care of yourself.
If you need to vent to a trusted friend, unplug from the news, delete your social media apps from your phone or take a nap in the middle of the day – do it! Doing something nice for someone else will also make you feel good.
I'd love to hear what helps you to stay above the fray?
You can reach out to me directly at jodi@womentakingthelead.com or engage or send me a message on a social media platform. I'm on Facebook, LinkedIn, Instagram, Twitter and Youtube.
As always, I hope this was of value to you and here's to your success!
Thank You to Our Sponsors!
Zebralove Web Solutions: Your website tells a story about your business! At Zebralove Web Solutions, Milly and her team are going to make sure your website tells the story you want your customers to hear. Connect with Milly at zebralovewebsolutions.com to create the impression you want to make!
Resources
Leadership Operating System Quiz: Wondering what kind of Leadership traits you have? Take this FREE, FAST quiz and find out more about yourself as a Leader.
Accomplished: How to Go from Dreaming to Doing: A simple, step by step system that gives you the foundation and structure to take your goals and make them happen.
Subscribe to Women Taking the Lead
If you enjoyed this episode subscribe in Apple Podcasts, Spotify, Google Podcasts, iHeart Radio, Stitcher Radio, Amazon Music or Pandora and never miss out!