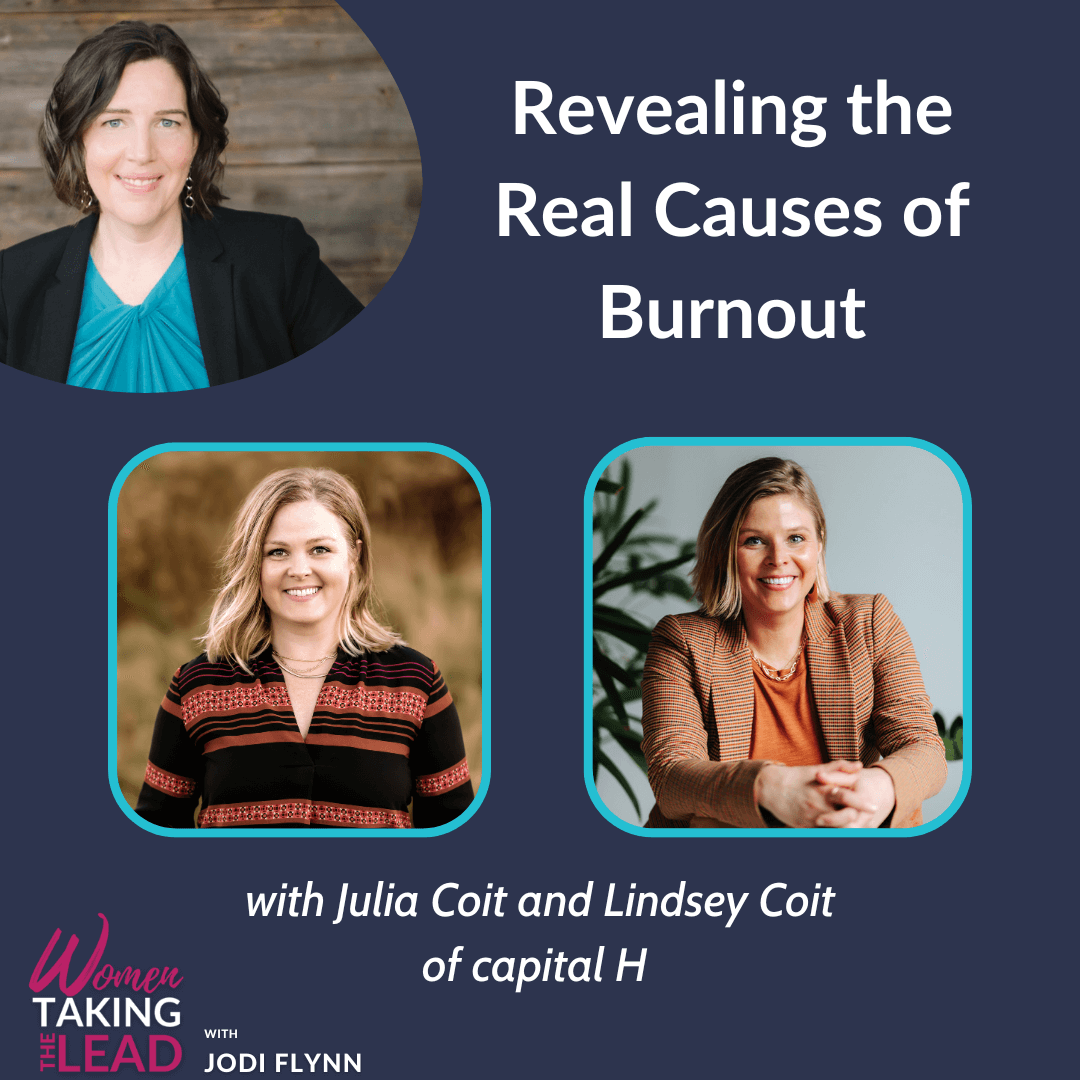 Revealing the Real Causes of Burnout with Julia Coit and Lindsey Coit
Have you and your coworkers been grappling with burnout at work?
Burnout has been a hot topic but continues to persist because the symptoms are often dismissed as run-of-the-mill stress or overwork.
In this episode, I'm chatting with Julia Coit and Lindsay Coit, two of the breakout session speakers for The Maine Women's Conference coming up on October 25th. They shared their personal stories as well as their insightful perspectives on burnout at work.
Meet Julia and Lindsey Coit
Julia and Lindsey are sisters, consultants, facilitators and co-founders of capital H. They bring over 30 years of collective experience in public health, psychobiology, analytics and management training from ivy league academia, global non-profits and Fortune 500 companies. They transform company cultures through programs grounded in organizational insights and human biology. Their services include emotional intelligence trainings, conflict resolution, burnout prevention and leadership development. They are inspired by what's possible when we harness the power of human connection to transform the world of work and the world we live in.
In this episode Lindsey, Julia and I discuss:
The current state of affairs in regard to burnout.
The myths of burnout that keep us from eradicating it.
Why learning about burnout makes you a better leader.
The Solution: a marriage of individuals and corporations.
And certainly, where you can get started
Where to find Julia and Lindsey:
Julia Coit's LinkedIn: https://www.linkedin.com/in/julia-coit/
Lindsey Coit's LinkedIn: https://www.linkedin.com/in/lindsey-coit/
Julia's email: julia@capitalhconsultants.com
Lindsey's email: lindsey@capitalhconsultants.com
Resources
Attend The Maine Women's Conference 2023. Use code mewc_jodiflynn_10% at check out to get 10% off.
Register for the How to Get Mentally Fit webinar. Learn the 3 core muscles to build mental fitness, as well as the Positive Intelligence operating system to sustain it.
Saboteur Assessment. Find out which Saboteurs are impacting your performance, wellness and relationships, and also how they do it.
Apply to be on an "On-Air Coaching" episode. Are you a female leader who has been promoted in the last year? Apply to be on the podcast.
Leadership Operating System Inventory. Wondering what leadership traits you have? Take this FREE, FAST self-assessment and find out more about yourself as a Leader.
Accomplished: How to Go from Dreaming to Doing. A simple, step-by-step system that gives you the foundation as well as the structure to take your goals and make them happen.
Leadership Coaching. Are you looking for leadership coaching? Schedule a time to chat with Jodi to explore the potential of coaching and above all, what it can do for you.
Subscribe to Women Taking the Lead
If you enjoyed this episode subscribe in Apple Podcasts, Spotify, Google Podcasts, iHeart Radio, Stitcher Radio, Amazon Music or Pandora and never miss out!