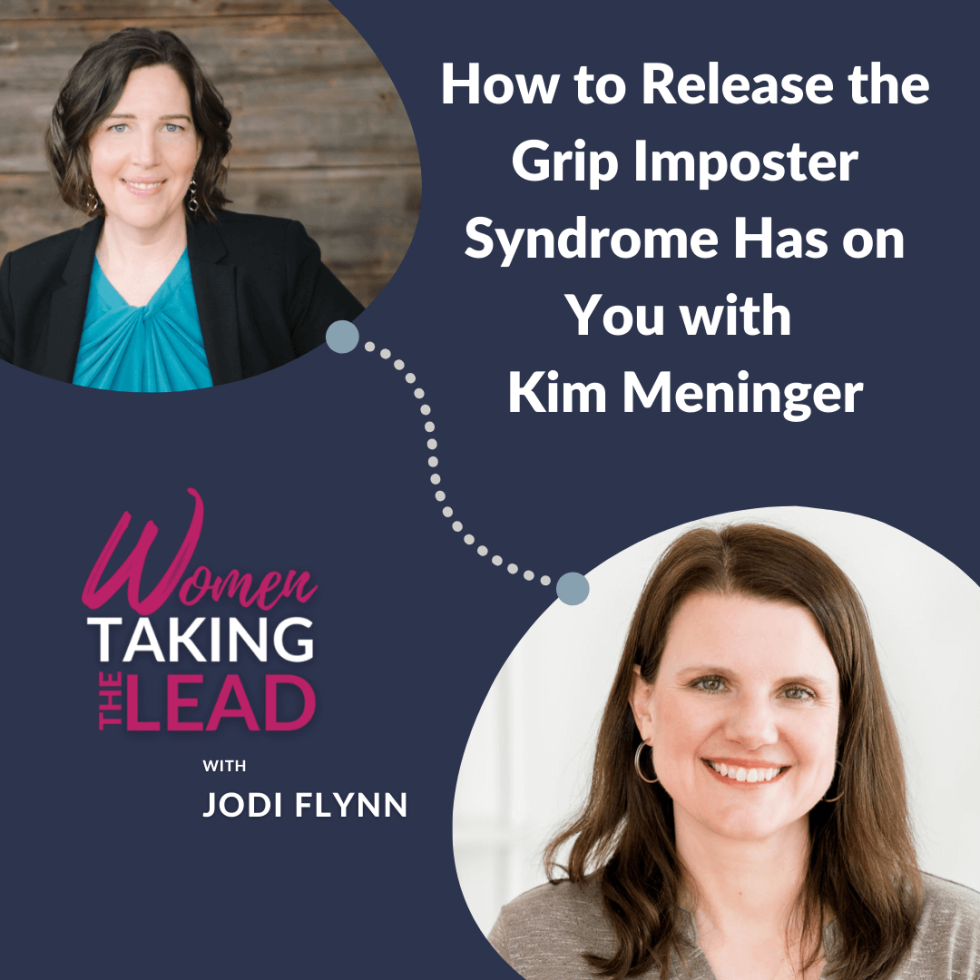 How to Release the Grip Imposter Syndrome Has on You with Kim Meninger
Let's talk about Imposter Syndrome.
While Imposter Syndrome is a universal experience there are times when this experience is activated more than others.
A common trigger for Imposter Syndrome is when we take on new and expanded roles. There's excitement at first and then the potential for doubting yourself will creep in.
Imposter Syndrome, and the reactions women often have to it – overpreparing or withdrawing, can hobble women just as they are given an opportunity to make a greater impact.
In August I had an opportunity to speak on a panel for Aspen Tech's Women's Leadership Forum. That is where I met Kim Meninger. We instantly clicked and the added bonus is Kim specializes in Imposter Syndrome and even did a TED Talk on the subject.
Meet Kim Meninger
Kim Meninger is an ICF Certified leadership coach and a consultant on a mission to make it easier to be human at work. She recognizes that the greatest challenges we face in the workplace are not related to our competence but to our confidence levels. She strives to reveal the messy human side of the workplace and provide actionable strategies to help us more confidently navigate our work environments. Kim previously held leadership positions managing strategic relationships at EMC and Monster. She holds a BA in psychology and an MBA from Boston College. Kim hosts the Impostor Syndrome Files podcast and leads a weekly Leading Humans discussion forum, which is free and open to all.
Imposter Syndrome as a fear response: Kim likens imposter syndrome to our brain's fight or flight response and offers practical steps to manage it.
How everyone experiences imposter syndrome but men and women tend to respond to it in different ways.
The importance of recognizing individual triggers and patterns that activate imposter syndrome.
How to approach your work in a way that prevents over-preparation or withdrawal.
Giving yourself space and grace when taking on a new role.
Where you can find Kim
Website: www.KimMeninger.com
LinkedIn: www.linkedin.com/in/KimMeninger
TED Talk: How to Bring Your Diverse Voice to the Workplace
Resources
Register for the How to Get Mentally Fit webinar. Learn the 3 core muscles to build mental fitness, as well as the Positive Intelligence operating system to sustain it.
Saboteur Assessment. Find out which Saboteurs are impacting your performance, wellness and relationships, and also how they do it.
Apply to be on an "On-Air Coaching" episode. Are you a female leader who has been promoted in the last year? Apply to be on the podcast.
Leadership Operating System Inventory. Wondering what leadership traits you have? Take this FREE, FAST self-assessment and find out more about yourself as a Leader.
Accomplished: How to Go from Dreaming to Doing. A simple, step-by-step system that gives you the foundation as well as the structure to take your goals and make them happen.
Leadership Coaching. Are you looking for leadership coaching? Schedule a time to chat with Jodi to explore the potential of coaching and above all, what it can do for you.
Subscribe to Women Taking the Lead
If you enjoyed this episode subscribe in Apple Podcasts, Spotify, Google Podcasts, iHeart Radio, Stitcher Radio, Amazon Music or Pandora and never miss out!