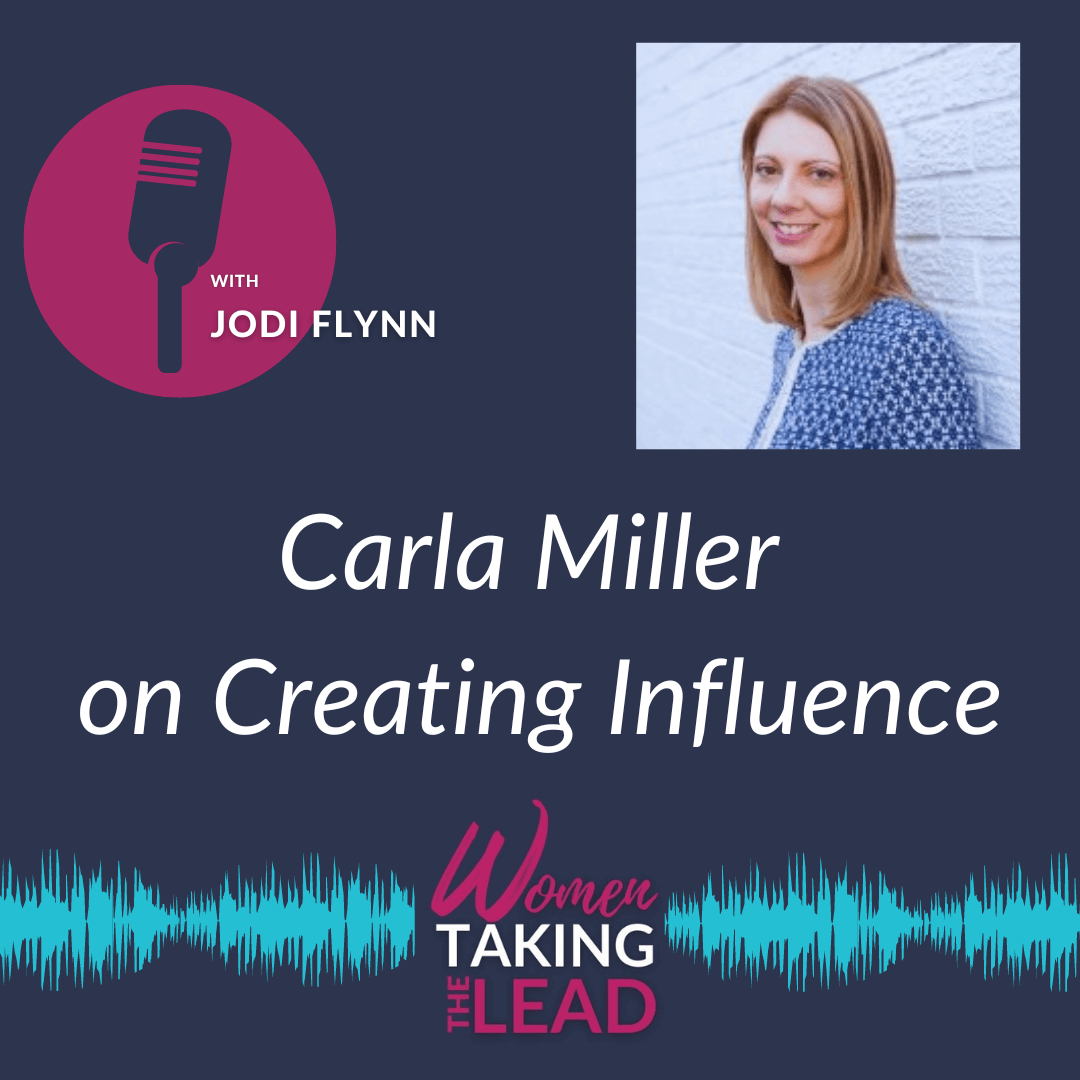 Carla Miller on Creating Influence
Click the play button below to listen to the podcast episode.
Do you sometimes feel like you are not being listened to or taken seriously? Or, that you don't have the influence you need to make an impact at work?
This is common early in our career, but truth be told, this impacts women up and down the leadership ladder. And even to women who have been leaders in their company for decades.
In this episode I have an expert who is here to talk about how you can gain more influence so you can make a big impact at work.
Meet Carla Miller
Carla Miller is a leadership coach and host of the chart-topping podcast Influence & Impact for Female Leaders. She works with women in management and leadership roles to develop their careers and their confidence. Hundreds of women leaders from global companies, the public sector and charities have taken part in her Influence & Impact program. And, she is a published author with her book, Closing the Influence Gap.
In this episode Carla and I discuss…
The career path that honed her ability to increase her influence at work
The journey of figuring out your own leadership style
Common struggles for women in leadership
How to start gaining influence in your workplace so you can have a greater impact
Some tips on how to influence up effectively (even if you feel intimidated)
How to find Carla:
Website: www.carlamillertraining.com
Connect on LinkedIn
Get your copy of Closing the Influence Gap: A practical guide for women leaders who want to be heard
Listen to the Influence & Impact podcast
Watch her free How to be a Respected Leader masterclass
Resources
Apply to be on an "On-Air Coaching" episode: Are you a female leader who has been promoted in the last year? Apply to be on the podcast.
Checklist to Ask Your Company for Coaching: Would coaching help you become a stronger leader? Wondering if your company would pay? It doesn't hurt to ask!
Leadership Operating System Quiz: Wondering what kind of Leadership traits you have? Take this FREE, FAST quiz and find out more about yourself as a Leader.
Accomplished: How to Go from Dreaming to Doing: The book containing a simple, step by step system that gives you the foundation and structure to take your goals and make them happen.
Leadership Coaching: Find out more about my coaching process, the cost of coaching, or how to ask your employer to pay for you to work with a coach.
Subscribe to Women Taking the Lead
If you enjoyed this episode subscribe in Apple Podcasts, Spotify, Google Podcasts, iHeart Radio, Stitcher Radio, Amazon Music or Pandora and never miss out!