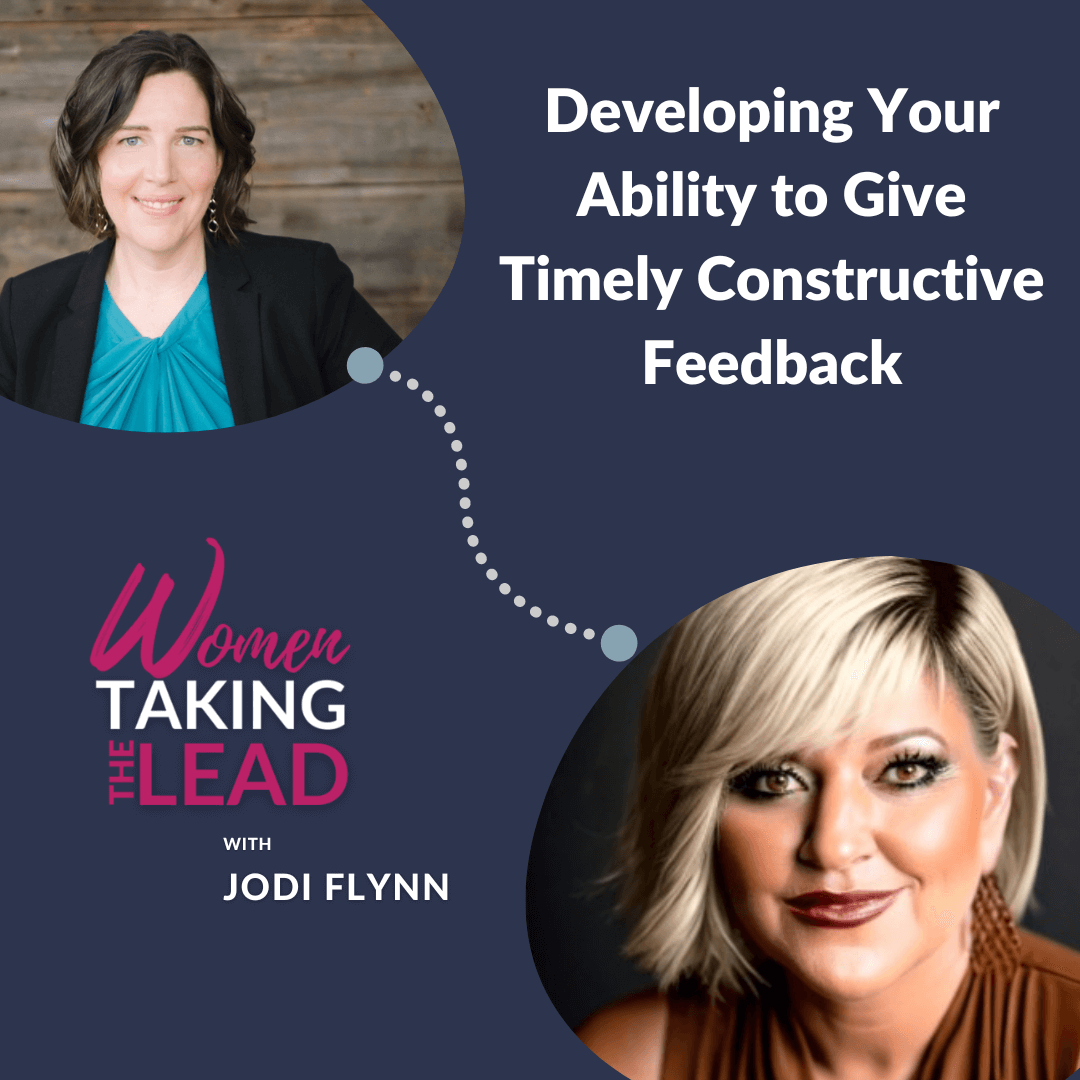 Developing Your Ability to Give Timely Constructive Feedback
Hey there, before we dive into the topic of constructive feedback… I want to thank a listener who reached out to me after the last episode on neurodiversity released to point out some grammatical errors that were caused by using the terms neurodiversity and neurodivergent interchangeably.
Neurodiversity is a term used when speaking about a group. As humans, we all process information differently, therefore we are neurodiverse.
Neurodivergent refers to an individual who has a less typical cognitive variation such as Autism, ADHD, dyslexia, etc.
As it was pointed out to me, it's not inclusive to use these terms interchangeably. Language matters.
That is a fact.
And you know what's wild about getting that feedback last week? This week's episode is on providing constructive feedback. Lynae Remondino and I recorded this episode back in March and with production schedule change due to my dad's passing it was due to come out this week. I love when the universe conspires like that.
And three cheers to the listener who reached out to me. She was so caring, and her message was thoughtful and clear about what was wrong in the last episode. Without her feedback, I would have been completely unaware of the errors in the last episode and would not have been able to acknowledge and correct those mistakes.
Do you ever find yourself struggling to give constructive feedback?
It takes some finesse and perhaps a little bit of courage to face the unknown reaction from the person you are giving feedback to.
Taking this conversation into the workplace, constructive feedback is so important because it helps team members improve and grow. When done correctly, feedback can build trust and strengthen relationships.
However, giving feedback can be tricky, and it's easy to fall into common pitfalls. That's why Lynae Remondino and I created this episode. She and I are sharing our insights on how to give feedback that is specific, timely, and actionable.
Meet Lynae Remondino
Lynae Remondino is a Talent Management Director who is a genius at unlocking potential while improving organizational effectiveness and efficiencies. She is a strategic and an empathetic professional who sees her purpose in life is to advocate for people.
Lynae's certifications include Myers-Briggs Type Indicator (MBTI), Situational Leadership, Development Dimensions International Leadership Facilitator, and Succession Planning and Talent Development.
In this episode Lynae and I chatted about…
The importance of setting clear expectations and building trust before giving feedback
How to avoid common pitfalls, such as waiting too long to give feedback or using vague terms like "bad attitude"
The benefits of focusing on specific behaviors and their impact on the team
How to create a safe space for feedback that encourages growth and development
The role of active listening in giving and receiving feedback
By following these guidelines, you can provide feedback that helps team members improve and grow, while also strengthening your relationships with them.
Tune in to this episode and start giving constructive feedback like a pro!
Connect with Lynae:
LinkedIn: https://www.linkedin.com/in/lynaeremondino/
Resources
Register for the How to Get Mentally Fit webinar: Learn the 3 core muscles to build to gain mental fitness.
Apply to be on an "On-Air Coaching" episode. Are you a female leader who has been promoted in the last year? Apply to be on the podcast.
Leadership Coaching. Find out more about my coaching process, the cost of coaching, or how to ask your employer to pay for you to work with a coach.
Leadership Operating System Inventory. Wondering what kind of Leadership traits you have? Take this FREE, FAST self-assessment and find out more about yourself as a Leader.
Accomplished: How to Go from Dreaming to Doing. The book containing a simple, step by step system that gives you the foundation and structure to take your goals and make them happen.
Subscribe to Women Taking the Lead
If you enjoyed this episode subscribe in Apple Podcasts, Spotify, Google Podcasts, iHeart Radio, Stitcher Radio, Amazon Music or Pandora and never miss out!