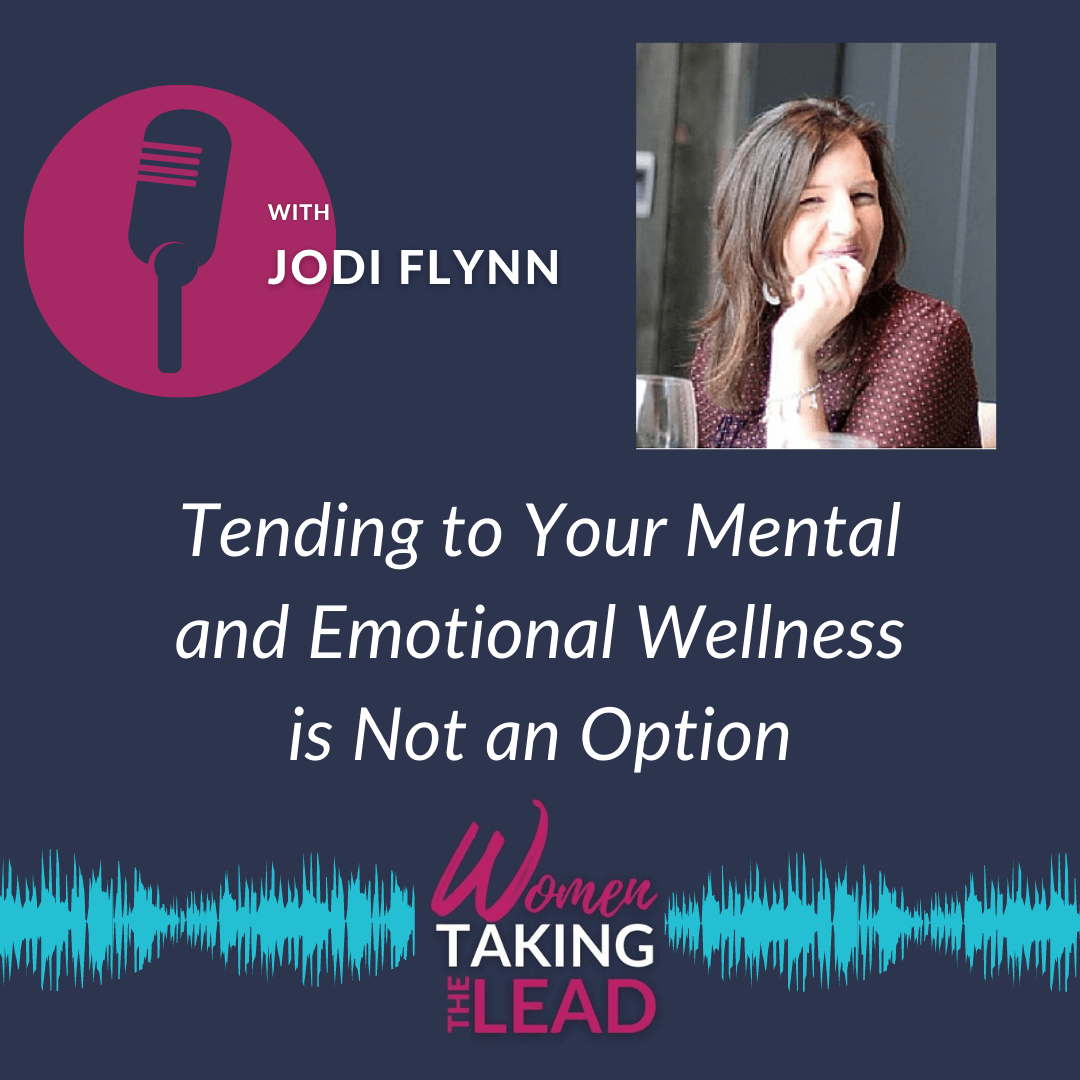 100% Jodi: Tending to Your Mental and Emotional Wellness is Not an Option
Click the play button to listen to the podcast episode.
Perhaps never before has the focus of mental and emotional wellness been at the forefront of leadership.
According to the Harvard Business Review, "mental health challenges are now the norm among employees across all organizational levels." In 2021, during a follow-up study to their 2019 Mental Health at Work Report, seventy-six percent of respondents reported at least one symptom of a mental health condition in the past year, up from 59% in 2019.
The pandemic impacted every area of people's lives, and has been a leading factor in an increase of mental health concerns. And it is not behind us yet.
Taking care of yourself is vital: if you are depleted your health, work, and ability to support others will suffer.
This episode explores why, as a leader, taking care of your mental and emotional wellness, and supporting your team to do so as well, is critical.
Welcome!
If you are new to the Women Taking the Lead podcast…hello and welcome!
I'm Jodi Flynn. I'm an executive leadership coach, speaker, and author. I am the current President of the board for The Maine Women's Conference. I have the privilege and joy to work with women leaders to hone the skills that allow them to grow into and then thrive in Senior Leadership. My specialization is working with women who are still stabilizing after their last promotion and those who are preparing for the next one.
It is my belief, that for more women to hold positions of senior leadership, there are changes at the individual and organizational level that need to occur. Not only do women need to be trained and coached on how to operate at these levels of leadership, organizations need to change their paradigm of how the work gets done and what supports are in place for leaders to do their job.
If we are not already connected on LinkedIn, please send me an invitation to connect. You can find me directly at linkedin.com/in/jodiflynn, or you can search for Jodi Flynn. I'm very active on LinkedIn so I should be at or near the top of the search results. You'll see the Follow button is prominent but if you click on the More button to the right, you'll find the option to Connect. Click on that and be sure to add a note to the invitation letting me know you are a listener of the podcast. I would love to connect with you and get to know you better.
How is Your Mental and Emotional Wellness?
On a scale of one to 10, one being "I need emergency assistance" and 10 being "I've never felt better in my life", where would you put your mental and emotional health lately?
If you're not happy with where you put your mental and emotional health on that scale, you are not alone.
According to a study conducted by Oracle and Workplace Intelligence, an HR research and advisory firm, the past year is reported by employees, managers, HR leaders and C-level executives as the most stressful year in history. The pandemic has brought about a rise in workplace stress, anxiety and burnout.
As a leader there are a combination of pressures being put on you from managing the expectations of your deliverables, managing your team's output, to managing the well-being of your team and other stakeholders.
It can be difficult to find time for yourself when dealing with all these concerns. However, if you don't prioritize your emotional health and fill your own cup, you'll be too depleted and burnt out to take care of your business's needs.
Why Your Emotional Wellness is so Critical
How you take care of yourself is so critical that, in the leadership development program I created for my clients, creating a personalized wellness plan happens before we dive into any coaching or skill building. The exercise for the wellness plan goes beyond your physical wellness to your mental, emotional, and spiritual wellness, whatever your spirituality looks like for you.
The reason it's right at the beginning, just after an assessment and information gathering, is because if you are too depleted to make change and take new actions, what good are any insights that you get from coaching. If ever you've had the experience of "I know what to do I'm just not doing it", this is what I'm talking about.
By having regular practices in place that renew your energy, and it's different for every one of my clients, you have the energy to take advantage of opportunities for change as they present themselves.
It's also important to remember: the effects of the pandemic are far from over. We are not out of the woods yet, as much as we wish we were and want to act like it's so. There is still a lot of uncertainty and hesitancy. And the national, state, and local mandates keep changing and creating a lot of confusion and frustration.
Will things get better? Yes.
When will we get there? We don't know.
Companies and Mental and Emotional Wellness Plans
This isn't just important for you as a leader in your company. It's important for the company to institute policies and day-to-day operational guidelines that support the well-being of the entire company.
According to Gallup, while organizations made a lot of progress in employee well-being during the pandemic, it's important for organizations to continue to make progress and hold employee well-being as a priority as we start to emerge from the COVID-19 era.
That's because, while the percentage of employees who strongly agree that their organization cares about their wellbeing climbed to almost 50% at the beginning of the pandemic, that percentage dropped to about 37% a year ago.
It appears that many companies' ability to empathize with the plight of their employees, strong at the outset, had waned as the pandemic started to enter a second year.
And whether or not an employee thinks their company cares about their well-being factors into whether or not the employee will stay with their current company or seek new employment elsewhere.
There is some good news, according to Christopher Littlefield, a contributor to Harvard Business Review and Forbes on employee appreciation and remote teams. Following the pandemic, 70% of employers report they plan to start, continue, or expand investing in mental health benefits.
Now, whether or not companies act on those plans remains to be seen, and as a leader you may be able to steer your own company in the right direction.
I Invite You to Join Me on the Podcast
There's so much that can be gained by listening to what another woman is going through, and to understanding the strategy she will implement to overcome any challenges she is faced with. For this reason, I would like to begin recording and releasing On-Air Coaching Calls on this podcast.

If you are a women leader who has been promoted or taken on a new role in the last year, I invite you to apply to be on the podcast. You will be completely anonymous so you won't need to worry about anyone you work will listening to you talk about your challenges.

This is an opportunity for you to get insights and strategies to overcome any challenges you've been faced with at work. And, the other women listening to your episode will learn from your experience and gain insights that they can use at work.

You can find the link that will take you to the application in the episode description in your podcast app or at the bottom of the episode show notes page on the Women Taking the Lead website.
What You Can Do for Your Mental and Emotional Wellness
Facing mental health challenges can feel dire, but there are many things you can do to take care of your mental and emotional health. There is therapy, self-care practices, and talking to a trusted person in your life to name a few.
Also, you can try putting things in perspective as a way to reframe, or see things from a different angle. Ask yourself…
What's most important right now?
Where do I want to be in 20 years and is this moving me toward or away from that dream?
Who put all this pressure on me?
That last question is usually the lynchpin for me. I have a tendency to put pressure on myself and forget that I'm the one who did this to me. Once I remember, and take a step back to analyze what needs to get done and by whom, I have the ability to change the deadline or delegate the task. It works like magic in taking the pressure off.
You may have heard the quote from Bill Gates, "most people overestimate what they can do in one year and underestimate what they can do in ten years."
If you have overestimated what you or someone else can do, be flexible and adjust your expectations.
What You Can Do for Your Team's Mental and Emotional Wellness
At work, it's going to take a balance of taking care of yourself and being empathetic to help you and your team navigate all the pressures you've been dealing with. Here are some suggestions to start with.
Stay tuned in to your emotions
Check in with yourself often and find opportunities to increase your emotional literacy. If you are able to recognize and regulate your emotions, you will have a greater ability to help others do this as well.
Observe how your mood is impacting others
We tend to get tunnel vision when we are under a lot of pressure and can miss signals in our environment. Getting feedback in the form of how others are responding to you can help you decide how you want to approach conversations and meetings for the highest good of you and your team.
Be empathetic when one of your team members is struggling.
Before diving into a conversation about expectations assume good intent, seek to gain some understanding of what they are experiencing, and see how you can support them. Sometimes a conversation around expectations is warranted, but get the lay of the land first.
Find opportunities to create collaboration on your team.
Most of us when we are feeling stressed, low-energy, or anxious tend to want to hide out and struggle through challenges on our own. These mental states cause isolation but research has shown receiving and offering assistance can help us recover from these states.
Advocate for Yourself and for Your Team
Are there practices in your organization that do not support mental and emotional wellness? Bring these to the attention of those who can make the changes and model the changes. Perhaps you are that person in your organization.
Ask, and then Advocate
I have clients who shared some of the practices their organizations have put in place that are hugely helpful to this end. I'm thinking of the company that does not allow meetings between Noon and 2pm to allow their employees to be able to take lunch away from their desks. Some companies have cameras on as an option and even have a day where all meetings are cameras off.
What practices are burdensome to you? What practices are burdensome to your team? Ask, and then advocate.
I leave you with a quote from Glenn Close. "What mental health needs is more sunlight, more candor, and more unashamed conversation."
Let's Chat!
If you're interested in finding out more about my process, the cost of coaching, or how to ask your employer to pay for you to work with a coach, schedule a time to chat with me.
You can also access the checklist that will help you prepare to ask your company to sponsor you to work with a coach. https://womentakingthelead.com/checklist
As always, I hope this was of value to you and here's to your success!
Resources
Apply to be on an "On-Air Coaching" episode: Are you a female leader who has been promoted in the last year? You are invited to apply to be on the podcast.
Checklist to Ask Your Company for Coaching: Would coaching help you become a stronger leader? Wondering if your company would pay? It doesn't hurt to ask!
Leadership Operating System Quiz: Wondering what kind of Leadership traits you have? Take this FREE, FAST quiz and find out more about yourself as a Leader.
Leadership Coaching: If you interested in finding out more about my coaching process, the cost of coaching, or how to ask your employer to pay for you to work with a coach, schedule a call with me.
Accomplished: How to Go from Dreaming to Doing: The book containing a simple, step by step system that gives you the foundation and structure to take your goals and make them happen.
The Women Taking the Lead Podcast
If you enjoyed this episode, follow in Apple Podcasts, Spotify, Google Podcasts, iHeart Radio, Stitcher Radio, Amazon Music or Pandora and never miss out!