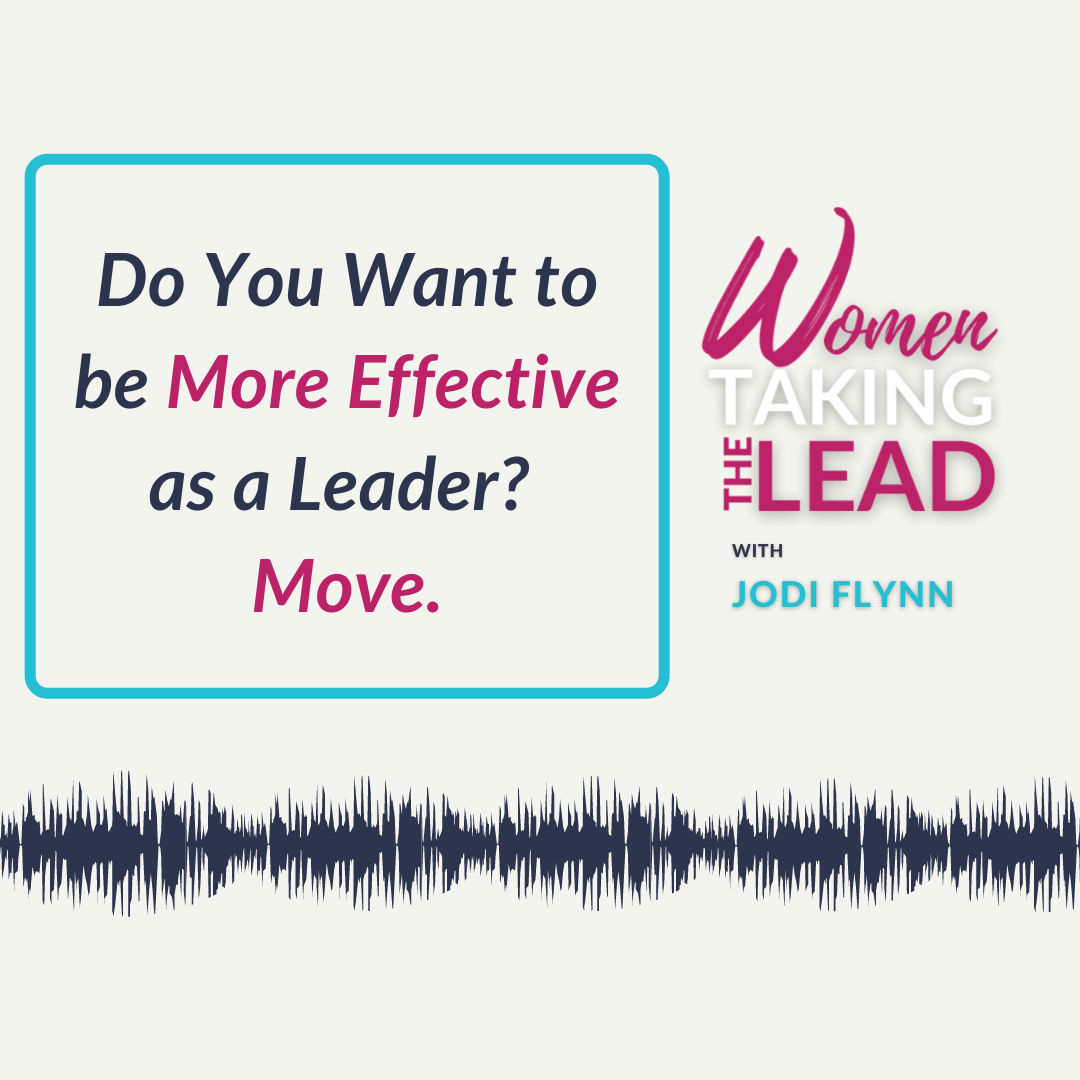 100% Jodi: Do You Want to be More Effective as a Leader? Move.
Click the play button to listen to the podcast episode.
How are you doing getting regular physical activity into your weekly routine?
No judgement here. When there's a lot going on it's easy to free up time by skipping the workout, the walk, the bike or the hike you had already planned.
In an emergency this is a logical move, but how often it is vital to skip the workout to handle a true emergency?
Physical activity is not neutral. There are either benefits to getting in some activity or there are consequences for not being active. These consequences effect you mentally as well as physically.
Given that, it is vital that you get regular movement in. And, you don't need a gym membership nor do you need intense workouts to get the healthy benefits of movement.
This episode is building on what we discussed the last episode on mental and emotional wellness, and making the case for movement as a leadership development practice.
Welcome!
If you are new to the Women Taking the Lead podcast…hello and welcome!
I'm Jodi Flynn. I'm an executive leadership coach, speaker, and author. I am the current President of the board for The Maine Women's Conference. I have the privilege and joy to work with women leaders to hone the skills that allow them to grow into and then thrive in Senior Leadership. My specialization is working with women who are still stabilizing after their last promotion and those who are preparing for the next one.
It is my belief, that for more women to hold positions of senior leadership, there are changes at the individual and organizational level that need to occur. Not only do women need to be trained and coached on how to operate at these levels of leadership, organizations need to change their paradigm of how the work gets done and what supports are in place for leaders to do their job.
If we are not already connected on LinkedIn, please send me an invitation to connect. You can find me directly at linkedin.com/in/jodiflynn, or you can search for Jodi Flynn. I'm very active on LinkedIn so I should be at or near the top of the search results. You'll see the Follow button is prominent but if you click on the More button to the right, you'll find the option to Connect. Click on that and be sure to add a note to the invitation letting me know you are a listener of the podcast. I would love to connect with you and get to know you better.
Why Movement is so Important
You, my friend, as a leader are getting pulled in many directions. There is a lot to do to take care of your people at work, your people at home, and all work and life details that need to be seen to as well.
One thing you don't want to get lost in the shuffle is movement.
Regular movement is tied to higher ratings of leadership effectiveness. An active lifestyle helps you to deal well with the demands of your role at work, and thus fortifies your persona as a leader.
I remember when I started doing Bikram yoga. If you're not familiar with Bikram yoga you may be familiar with the term hot yoga. Bikram yoga is the hottest yoga you can do with the room temperature set at 105 degrees with 40 percent humidity.
I was living in Maine at the time and enjoyed the opportunity to be in such a warm environment through the cold months. It felt like a warm hug.
My goal was to take 3 classes a week, one on the weekend and two during the workweek. I'm a morning person so it worked better for my schedule to do the workweek classes first thing in the morning before work.
After a few weeks into my new routine the senior person on my team mentioned offhand that upon seeing me she could tell right away whether or not I had gone to yoga that morning. I inquired what the tell was and she said I was very calm on the days I went to yoga. I laughed because I knew I felt better on the days I went to yoga but didn't realize other people could pick up on it.
Furthermore, with some inquiry, I discovered that my team, and other co-workers were interpreting my calmness to also mean being more approachable, open-minded, and confident.
Movement has so Many Benefits
I'm about to go through some of the benefits of exercise and movement but I want to emphasize that benefits go beyond what I'm going to list and has benefits that will ripple beyond any immediate physical or mental impacts.
The benefits of movement include, and are not limited to:
less tension, anxiety, stress and mental fatigue
improved sleep
increased energy
boosted immunity
a sense of achievement
enhanced focus and increases motivation
releases feelings of anger or frustration
a healthy appetite
lower blood pressure and cholesterol
can induce fun
And workplace wellness programs have added benefits as well. Worksite wellness programs can:
increase employee productivity
reduce absenteeism
increase employee morale
help you attract and retain talent
lower health care costs for both you and your employees
A workplace of people who are getting regular exercise and movement is a workplace to strive for.
Be on the Women Taking the Lead Podcast
There's so much that can be gained by listening to what another woman is going through, and to understanding the strategy she will implement to overcome any challenges she is faced with. For this reason, I would like to begin recording and releasing On-Air Coaching Calls on this podcast.

If you are a women leader who has been promoted or taken on a new role in the last year, I invite you to apply to be on the podcast. You will be completely anonymous so you won't need to worry about anyone you work will listening to you talk about your challenges.

This is an opportunity for you to get insights and strategies to overcome any challenges you've been faced with at work. And, the other women listening to your episode will learn from your experience and gain insights that they can use at work. 

You can find the link that will take you to the application in the episode description in your podcast app or at the bottom of the episode show notes page on the Women Taking the Lead website.
Be Flexible with When, Where and How You get Movement
Exercising and staying healthy doesn't need to be time-consuming, nor does it need to be relegated to early mornings, lunch or at the end of a long workday.
Regular short sessions of moderate movement performed daily are better for maintaining energy and boosting performance than an hour or two performed only on the weekends.
You can find little ways to increase your activity throughout the day. You can go for a walk while making your phone calls, park farther away from the entrance when running errands, use the stairs, and get up and move around every hour.
Be flexible about when you work out. Studies have found that those who take advantage of an opportunity for activity whenever it appears are more likely to stick with a regular routine.
Does your workplace have an onsite gym or walking paths? Take advantage when you can and don't kid yourself into thinking a workout needs to a certain amount of time to count. Even doing squats or lunges while you're waiting for water to boil counts.
Movement has Variety
Enjoy a variety of movement. Don't be rigid about traditional forms of exercise. Active play with your children counts as physical activity. So does dancing, stretching, and cleaning. Try to be outside when the weather is nice and find activities you can do with friends and family so you can get in some social time while you move.
You can extend the social aspect of movement in your workplace. Get involved with your employee wellness coordinator to set up walking clubs or competitions that will motivate your co-workers to meet individual or team goals.
Regular physical is a must for any healthy human being. The benefits are well documented. And as a leader, the benefits are even greater.
Making movement a regular part of your every day will be one of the best things you can do for yourself, your career, and for others as a leader. Movement is a part of your leadership development program.
Let's Chat!
If you're interested in finding out more about my process, the cost of coaching, or how to ask your employer to pay for you to work with a coach, schedule a time to chat with me.
You can also access the checklist that will help you prepare to ask your company to sponsor you to work with a coach. https://womentakingthelead.com/checklist
As always, I hope this was of value to you and here's to your success!
Resources
Apply to be on an "On-Air Coaching" episode: Are you a female leader who has been promoted in the last year? You are invited to apply to be on the podcast.
Checklist to Ask Your Company for Coaching: Would coaching help you become a stronger leader? Wondering if your company would pay? It doesn't hurt to ask!
Leadership Operating System Quiz: Wondering what kind of Leadership traits you have? Take this FREE, FAST quiz and find out more about yourself as a Leader.
Leadership Coaching: If you interested in finding out more about my coaching process, the cost of coaching, or how to ask your employer to pay for you to work with a coach, schedule a call with me.
Accomplished: How to Go from Dreaming to Doing: The book containing a simple, step by step system that gives you the foundation and structure to take your goals and make them happen.
The Women Taking the Lead Podcast
If you enjoyed this episode, follow in Apple Podcasts, Spotify, Google Podcasts, iHeart Radio, Stitcher Radio, Amazon Music or Pandora and never miss out!