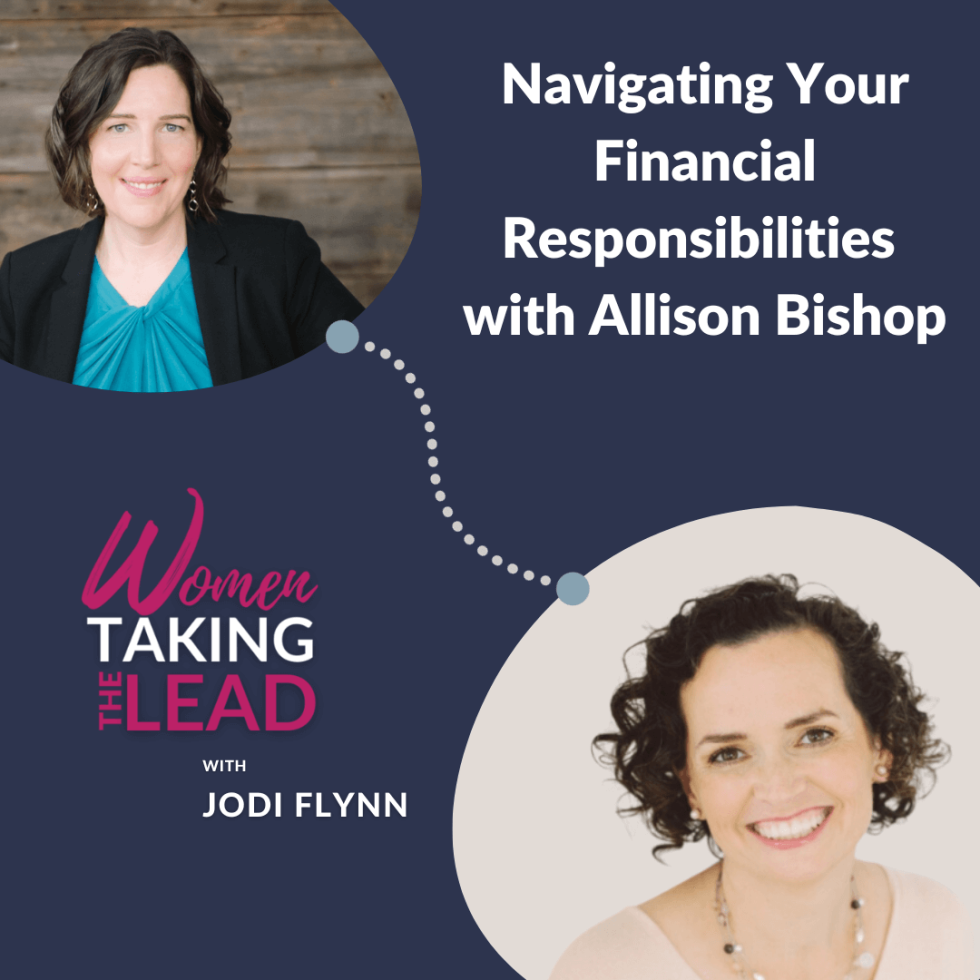 Navigating Your Financial Responsibilities with Allison Bishop
Do you ever wonder if your financial decisions are aligned with your values and goals?
Money can be a murky topic, especially if you don't feel 100% competent or confident around your financial responsibilities or money management. And considering most women between the ages of 30 and 60 are getting pulled in many directions when it comes to money, it can be a topic that induces stress.
And as I've shared recently on this podcast, I can relate to that feeling. That's why I've asked Allison Bishop to join me in this episode to inspire you to take charge of your finances, make informed decisions, and live with purpose.
Meet Allison Bishop
Allison Bishop is a financial coach in Portland with more than twenty-five years' experience as a CPA. She started her financial coaching business eight years ago when she recognized a lack of resources to help people make wise financial decisions. Allison helps her clients to identify and prioritize their financial responsibilities and goals, and then come up with a realistic plan to make progress towards those goals. She often helps her clients navigate complicated life transitions, such as starting a family, approaching retirement, and divorce.
Discover why talking about money is essential, whether it's with your family or in professional settings.
Understand the importance of being intentional with money, making decisions that match your priorities.
Delve into how every financial choice impacts another, highlighting the necessity for strategic planning.
Debunk common misconceptions about financial literacy, retirement planning, and debt management.
Learn why having a firm grasp of your financial responsibilities today can lead to a more stable and fulfilling tomorrow.
Where you can find Allison
Website: https://allisonbishop.com/
LinkedIn: https://www.linkedin.com/in/allison-v-bishop-cpa/
Resources
Register for the How to Get Mentally Fit webinar. Learn the 3 core muscles to build mental fitness, as well as the Positive Intelligence operating system to sustain it.
Saboteur Assessment. Find out which Saboteurs are impacting your performance, wellness and relationships, and also how they do it.
Apply to be on an "On-Air Coaching" episode. Are you a female leader who has been promoted in the last year? Apply to be on the podcast.
Leadership Operating System Inventory. Wondering what leadership traits you have? Take this FREE, FAST self-assessment and find out more about yourself as a Leader.
Accomplished: How to Go from Dreaming to Doing. A simple, step-by-step system that gives you the foundation as well as the structure to take your goals and make them happen.
Leadership Coaching. Are you looking for leadership coaching? Schedule a time to chat with Jodi to explore the potential of coaching and above all, what it can do for you.
Subscribe to Women Taking the Lead
If you enjoyed this episode subscribe in Apple Podcasts, Spotify, Google Podcasts, iHeart Radio, Stitcher Radio, Amazon Music or Pandora and never miss out!