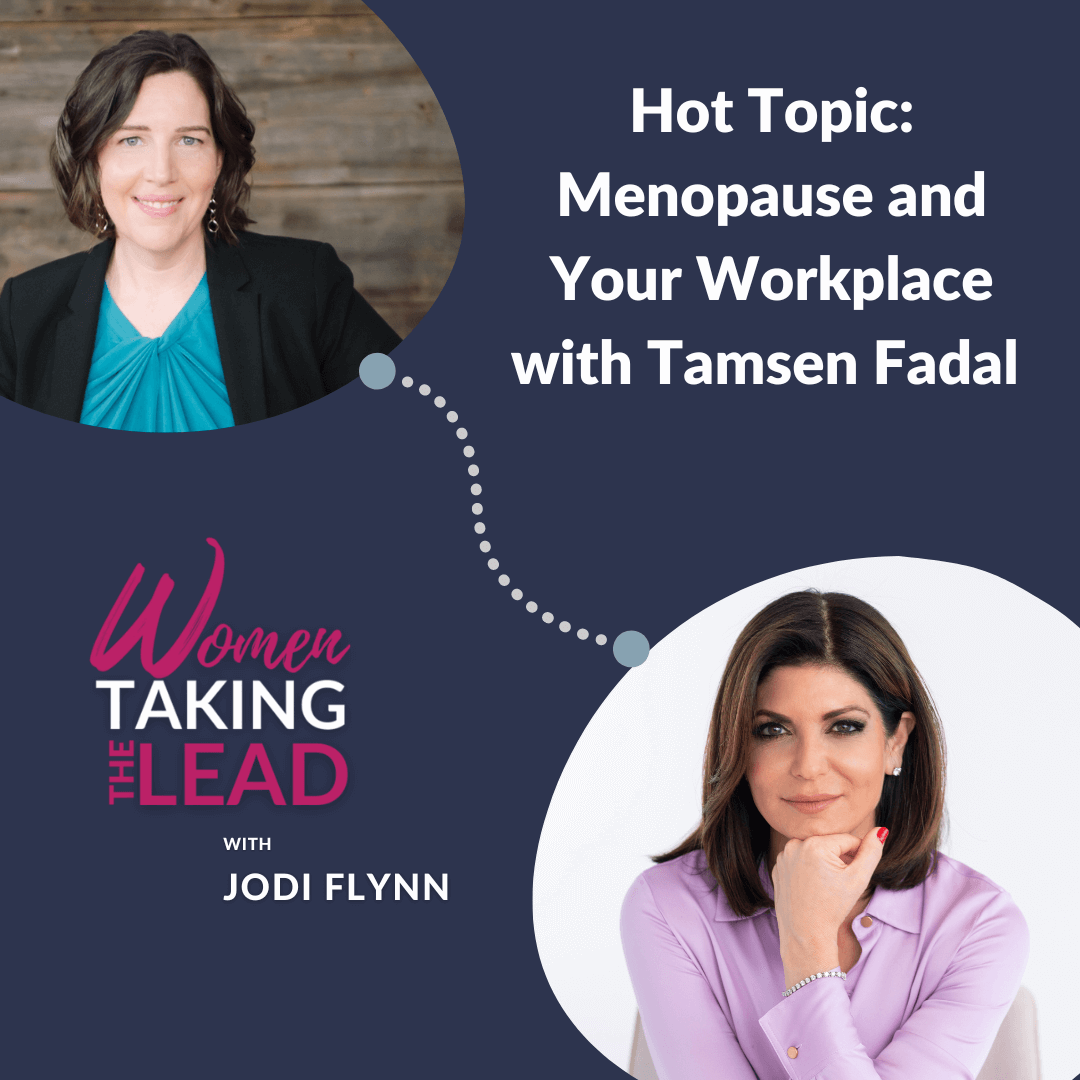 Hot Topic: Menopause and Your Workplace with Tamsen Fadal
How companies support their female employees that are going through perimenopause and menopause is starting to hit the headlines.
Think about it. Most women go through the menopause transition between the ages of 45 and 60. This is when women are in their professional prime.
It's nearly impossible to be your best at work when you are dealing with hot flashes, fatigue and brain fog. This is especially true when there's no support for what you are going through.
There are changes on the horizon, but we'll usher in these changes much more quickly if we can become active participants in the solution.
For that reason, I've invited Tamsen Fadal on the Women Taking the Lead podcast.
Meet Tamsen Fadal
Tamsen Fadal is an Emmy award-winning newscaster and author. In addition to being the PIX11 News primetime anchor, Tamsen is an advocate for women in the next chapter of their lives. She is an Ambassador for Let's Talk Menopause, a nonprofit invested in changing the conversation around menopause, and an expert for menopause in the workplace
In this episode Tamsen and I discussed:
What's going on in workplace around menopause now.
What companies can do to support their female employees who are going through menopause.
Best practices of a menopause policy.
What can individuals do to support their colleagues and get the ball rolling on making these changes in their own companies.
Where You Can Find Tamsen:
Through her website: https://www.tamsenfadal.com/
On LinkedIn: https://www.linkedin.com/in/tamsenfadal/
Other Menopause Resources
https://www.letstalkmenopause.org/menopause-and-the-workplace
https://www.nytimes.com/2023/05/22/nyregion/menopause-women-work.html
Resources
Register for the How to Get Mentally Fit webinar: Learn the 3 core muscles to build to gain mental fitness.
Apply to be on an "On-Air Coaching" episode. Are you a female leader who has been promoted in the last year? Apply to be on the podcast.
Leadership Operating System Inventory. Wondering what kind of Leadership traits you have? Take this FREE, FAST self-assessment and find out more about yourself as a Leader.
Accomplished: How to Go from Dreaming to Doing. The book containing a simple, step by step system that gives you the foundation and structure to take your goals and make them happen.
Leadership Coaching. Find out more about my coaching process, the cost of coaching, or how to ask your employer to pay for you to work with a coach.
Subscribe to Women Taking the Lead
If you enjoyed this episode subscribe in Apple Podcasts, Spotify, Google Podcasts, iHeart Radio, Stitcher Radio, Amazon Music or Pandora and never miss out!