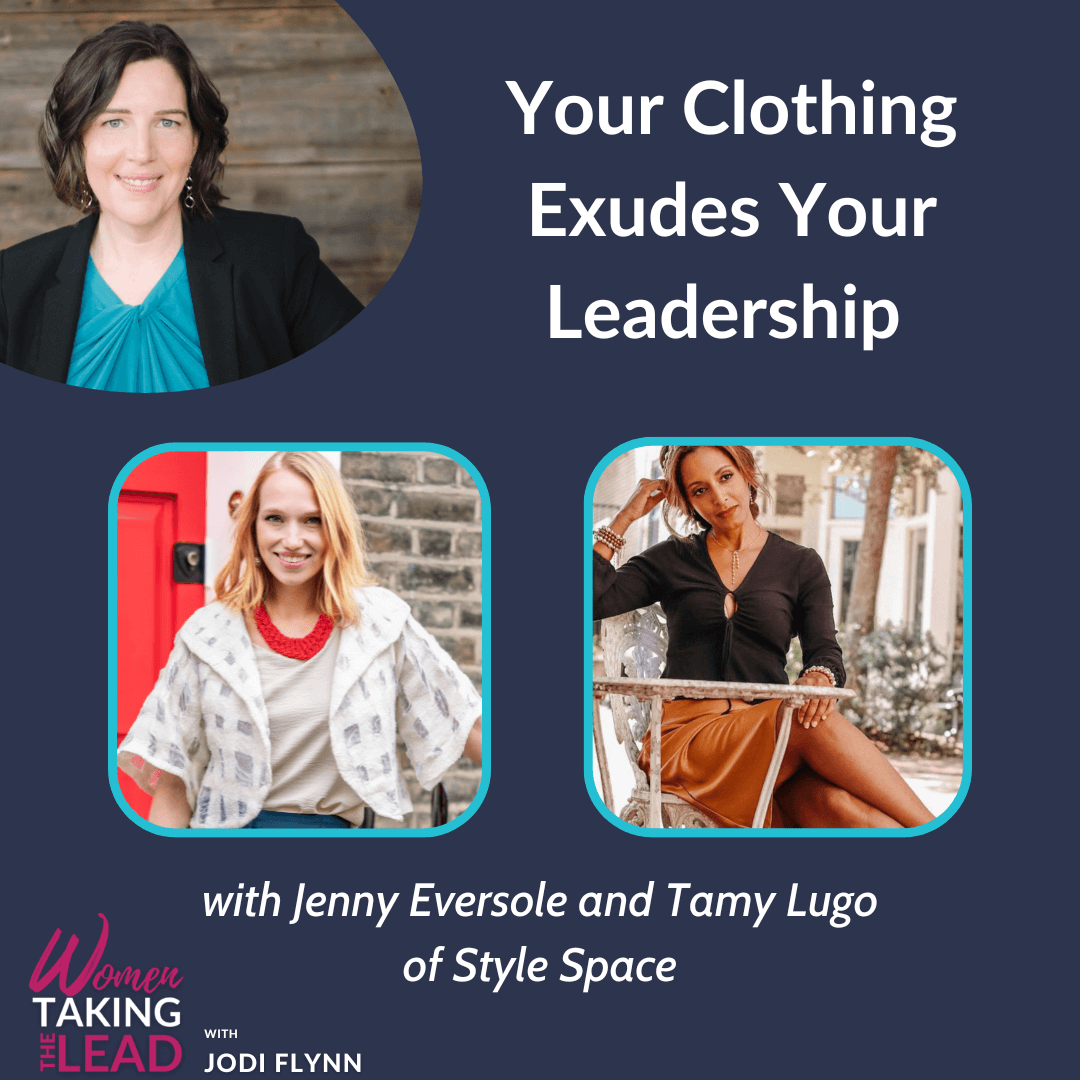 Your Clothing Exudes Your Leadership
Did you know the clothes you wear impact how you perform as a leader? And they impact how others interact with you.
I remember from my Catholic School days being told that uniforms were worn for a couple different reasons. One, they helped to level-set students from different socio-economic levels. And second, students who wore uniforms behaved better and performed better in their classes.
You'd think we would move past having our clothing impact our performance but it's not the case. The clothing we wear impacts our ability to focus and also impacts how others interact with us.
To chat more about this I am bringing back Jenny Eversole from Style Space. Jenny originally appeared in episode 466, Elevate Your Style, Simplify Your Routine and Save Money. In that episode Jenny and I chatted about:
How fashion changed during the pandemic
Hybrid Dressing: Styling for the office vs. Zoom
My experience working with Tami
Some takeaway tips that anyone could apply right away
Jenny is back with Tamy Lugo, the stylist I worked with from Style Space, and we are taking that original conversation to the next level. We are going to discuss how a woman's clothing can support her as a leader and play a role in achieving her goals.
Meet Jenny Eversole of Styles Space
Then I met Jenny Eversole, the founder of Style Space. Stylespace.com is a virtual styling platform to elevate your style with expert stylists. After nearly a decade running her own fashion label, she learned how personal style can make a big difference in one's confidence, happiness and overall success. Jenny founded Style Space for people to discover their best style and to look, feel, and BE their best.
From Jenny, "Throughout the years, our lives change, and as we age, our bodies are meant to change too. With each new season of life, we have the opportunity to express this new chapter with our personal style. It takes time and learning to know what works best for us in this new stage of life. An expert stylist can be very instrumental in helping us define our style in whatever stage of life we are in."
Meet Tamy Lugo
Tamy's love for fashion sparked at the age of 11. Growing up, she discovered her true self and prayed for the gift to make a difference in the lives of others. During her late teen years, a need for encouragement, raising self-confidence, and helping people overcome negative self-image became evident to her. It was then that she realized fashion and styling could be the platform and tools to address these needs.
In 2008, Tamy made the decision to pursue wardrobe fashion styling.
With a desire to share from her own experience, Tamy believes it is never too late for individuals to discover their true selves and embrace their true beauty, regardless of their size or shape.
From Tamy, "It's never too late to find your true self and your true beauty, regardless of your size or shape. Style is the fashion in how you manage your life. My philosophy of style is to help you find a beautiful personal style."
Where You Can Find Jenny Eversole and Style Space:
Website: https://www.stylespace.com/
Linkedin:
https://www.linkedin.com/in/jheversole/
https://www.linkedin.com/company/stylespaceinc/
Instagram
https://www.instagram.com/stylespace.official/
Facebook
https://www.facebook.com/stylespace.inc
Tamy's Styling Sessions (Use discount code WTL10 for 10% off a session):
Shop your Closet
https://www.stylespace.com/session/shop-your-closet
The Style Update
https://www.stylespace.com/session/the-style-update
Resources
Register for the How to Get Mentally Fit webinar: Learn the 3 core muscles to build to gain mental fitness.
Apply to be on an "On-Air Coaching" episode. Are you a female leader who has been promoted in the last year? Apply to be on the podcast.
Leadership Operating System Inventory. Wondering what kind of Leadership traits you have? Take this FREE, FAST self-assessment and find out more about yourself as a Leader.
Accomplished: How to Go from Dreaming to Doing. The book containing a simple, step by step system that gives you the foundation and structure to take your goals and make them happen.
Leadership Coaching. Find out more about my coaching process, the cost of coaching, or how to ask your employer to pay for you to work with a coach.
Subscribe to Women Taking the Lead
If you enjoyed this episode subscribe in Apple Podcasts, Spotify, Google Podcasts, iHeart Radio, Stitcher Radio, Amazon Music or Pandora and never miss out!