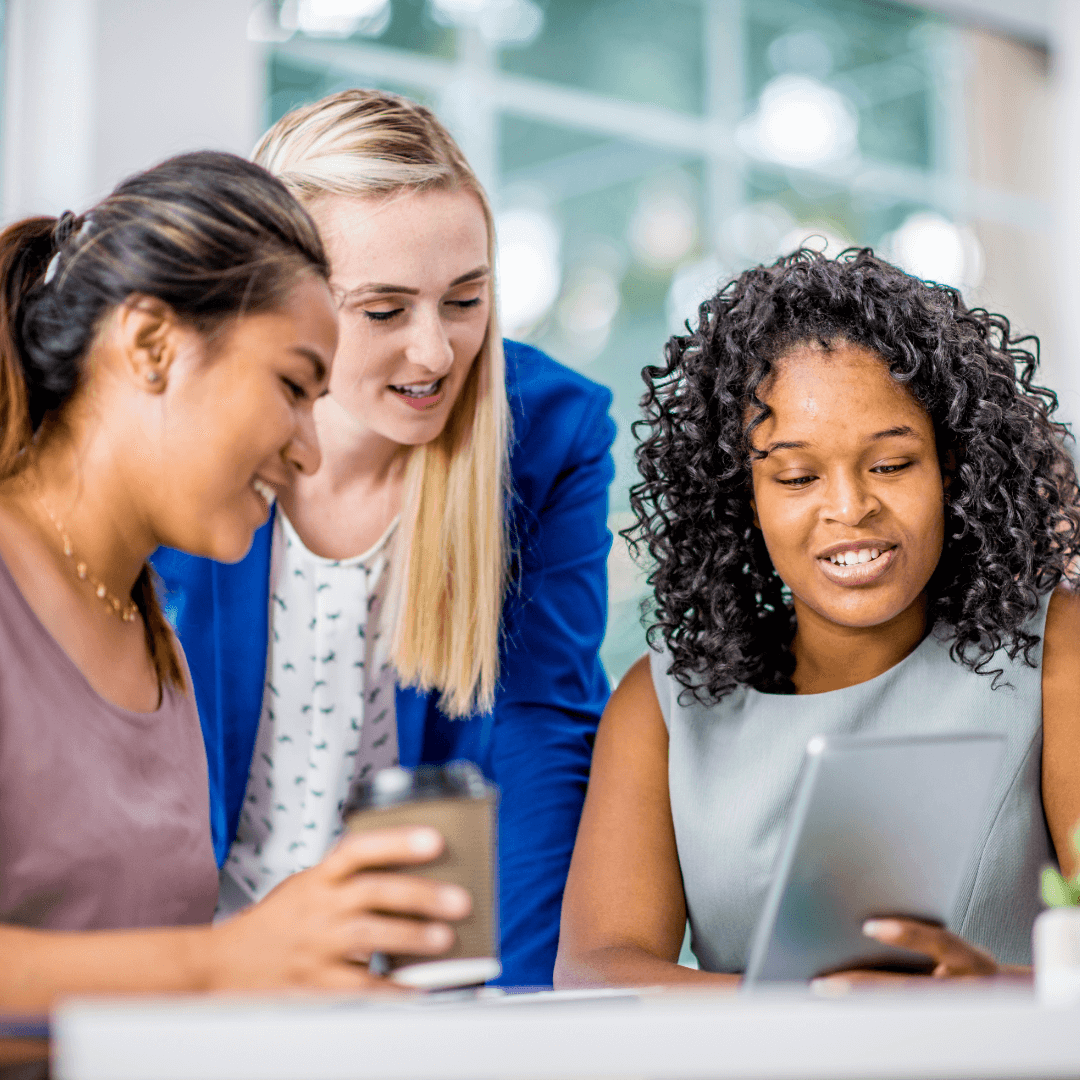 100% Jodi: How to Weave Development Opportunities into Your Team's Busy Day
Click the play button to listen to the podcast episode.
How are you at developing others?
Would you say you're a pro at this?
Do you need work in this area?
Maybe you're somewhere in between?
Making sure your team is getting ongoing learning and development opportunities, formal and informal, is important to hire and retain talented individuals. This also translates into a team that is effectively hitting their goals and bigger bottomlines for your company.
In this episode, we're going to cover what research is saying about learning and development in the workplace and the best ways to develop those around you.
Development Goes a Long Way!
I remember a training my boss signed me up for years ago when I was in my corporate job. It was a full-day training on the Franklin Covey time management system. I remembered I bristled a little when she told me about it. There was so much going on in my area and the thought of being unavailable for an entire day had me a little on edge.
I can tell you that to this day it is still one of the most valuable training I've ever attended. I still use many of the strategies to this day and it saved my bacon on many occasions.
Just after this training I rolled into several projects at work while I was in the process of buying a home, training for a marathon, and preparing for my sister's wedding. Not only that, three important people in my life died in the 3 months in which all of this was occurring.
Without that training to help me break down my overwhelm into doable tasks and timeframes I probably would have had a breakdown.
I also remember toward the end of my corporate career my boss talking to me about getting a six sigma certification in process improvement. All the while I was building up the nerve to talk to her about getting a coaching certification.

All this to say, ongoing training and development is vital to maintaining the energy, effectiveness, and retention of your team.
Why Ongoing Development is so Important
Let's consider some stats.
Retention rates are 34% higher among organizations that offer employee development opportunities.
74% of workers say that a lack of employee development opportunities is preventing them from reaching their full potential.
93% of employees said that well-planned employee training programs positively affect their level of engagement. (Axonify)
In a recent Dale Carnegie survey, companies with engaged employees outperform those without by up to 202%.
It is more costly to hire for missing skills than it is to pay for current employees to be trained on those same skills
And these stats based on research done by LinkedIn:
According to LinkedIn's 2019 Workforce Learning Report, 94 percent of employees say that they would stay at a company longer if it simply invested in helping them learn.
LinkedIn's research found that roughly a quarter of Gen Z and Millennials say learning is the number one thing that makes them happy at work.
Over a quarter say the number one reason they'd leave their job is because they did not have the opportunity to learn and grow.
Development of Your Team is Your Leadership Legacy
Research is showing that, for employees, opportunities for development are now the second most important factor in workplace happiness. After the nature of the work itself.
If you want to attract and keep the best talent, you have to invest time, energy and money in their ongoing learning development. People who are good at what they do derive satisfaction in their work. They want to be continuously improving.
And millennials and Gen Z, those who are in the early stages of their career are hungry to make their mark. They know that comes from learning and development opportunities and active hands-on experience.
Investing in your team members and giving them opportunities for growth signals to them that you care. You are displaying to them that you want them to get better and have more opportunities.
That behavior garners loyalty. And loyal employees are more likely to communicate when there are challenges causing them to be unhappy. And they will take an active role to resolve those challenges before they make them want to leave.
Generally, people only look to you as a leader worth following when you are helping to bring out their potential.
Relate to your workplace as an institution for learning
Let's acknowledge that finding opportunities for ongoing development can be difficult in a fast-paced environment. The need to hit immediate deadlines can cause us to lose sight of what will ensure long-term harmony and efficiency on our team.
The key is to find opportunities to fold learning and development into the day-to-day activities. This way the two are not competing with one another.
Take Time to Debrief and Allow Learning and Development to Sink In
After every meeting, do a quick debrief on competencies and skills that were displayed during the meeting. It may relate to product and service knowledge, service delivery, leading up or across. It may be negotiation skills, public speaking, presentation design, or meeting facilitation.
Ask questions to see what your team members picked up on and what they would have done differently.
Co-Create a To-Learn List
With each of your team members develop a list of competencies and skills that would benefit them and your organization. Keep that list on your radar and review it with them during your one-to-one meetings.
Because this list is top-of-mind, you and they will be more likely to identify opportunities to check off items on the To-Learn list.
If you see a piece of content or a training relevant to a team member's list, bring it to their attention. They'll appreciate that you are keeping them top-of-mind in the midst of your busy day.
Schedule Time for Cross-Functional Job Shadowing and Development
Which divisions and departments does your team interact with most? A better understanding of what those groups do and how they do it will improve how your team works with those groups. This results in greater efficiency which impacts your output and the bottomline.

Find out which aspects of the business your individual team members are curious about and encourage them to learn more about them.
Encourage Formal Training and Development
Does your organization sponsor higher education credits? Make sure your team knows about it and the process to apply or get reimbursed.

Gather and communicate upcoming workshops, seminars, webinars, or conferences related to your division or industry. Could you sponsor a team member to go and then present their take-aways internally after so the whole team benefits?
Create a Channel to Post and Discuss Learning
Whether it's Teams, Slack or some other software, create a place to post industry news, trends, or anything interesting and relevant to the group.
A tip on this type of channel. I don't know if you've seen posts on social media with a link or video and all the person posting communicates is: so good, this is interesting, or you're going to want to watch this. That's not helpful and doesn't encourage learning.
Create a rule that when something is posted the person sharing explains why they are posting and who would benefit or be interested in the information.
Give Learning and Development Assignments
This can be done on the individual or team level. Assign an article, case study, or book that is relevant to the learning and development needs that have been identified. Dedicate time during one-to-one or staff meetings to discuss the content.
Walk Your Talk by Investing in Your Own Development
Take the time to be working on expanding your own skills and competencies. Share what you are working on and attending. Present to your team some of the things you've learned. You create a culture of learning when you display, and not just say, that it is important.

When you take time out of your day for ongoing development you give your team permission to take time out of their day for development.
In summary…
From a previous episode of Women Taking the Lead, How to Reach New Levels of Leadership Part I:
The better you know your people, the work they do, and what they need to be successful at their own job, the easier your job will be.

It's also important to not play favorites even if you are tempted, and to treat everyone as a valued member of the team regardless of tenure or current capabilities. People perform better when they are working with and for someone they know, like and trust. They won't trust you if they don't sense that you like and support them.

[Your team] needs to sense that you not only support their high performance, you support their development and professional goals as well.
In learning you will teach, and in teaching you will learn.

-Phil Collins
Is Your Leadership Development on Your List?
Let's Chat!
Find out more about my process, the cost of coaching, or how to ask your employer to pay for you to work with a coach. Schedule a time to chat with me.
This checklist will help you prepare to ask your company to sponsor you to work with a coach. https://womentakingthelead.com/checklist
Apply to be on an "On-Air Coaching" episode. Are you a female leader who has been promoted in the last year? You are invited to apply to be on the podcast.
As always, I hope this was of value to you, and here's to your success!
---
Resources
Leadership Operating System Quiz. Wondering what kind of Leadership traits you have? Take this FREE, FAST quiz and find out more about yourself as a Leader.
Accomplished: How to Go from Dreaming to Doing. The book containing a simple, step by step system that gives you the foundation and structure to take your goals and make them happen.
The Women Taking the Lead Podcast
If you enjoyed this episode, follow in Apple Podcasts, Spotify, Google Podcasts, iHeart Radio, Stitcher Radio, Amazon Music or Pandora and never miss out!