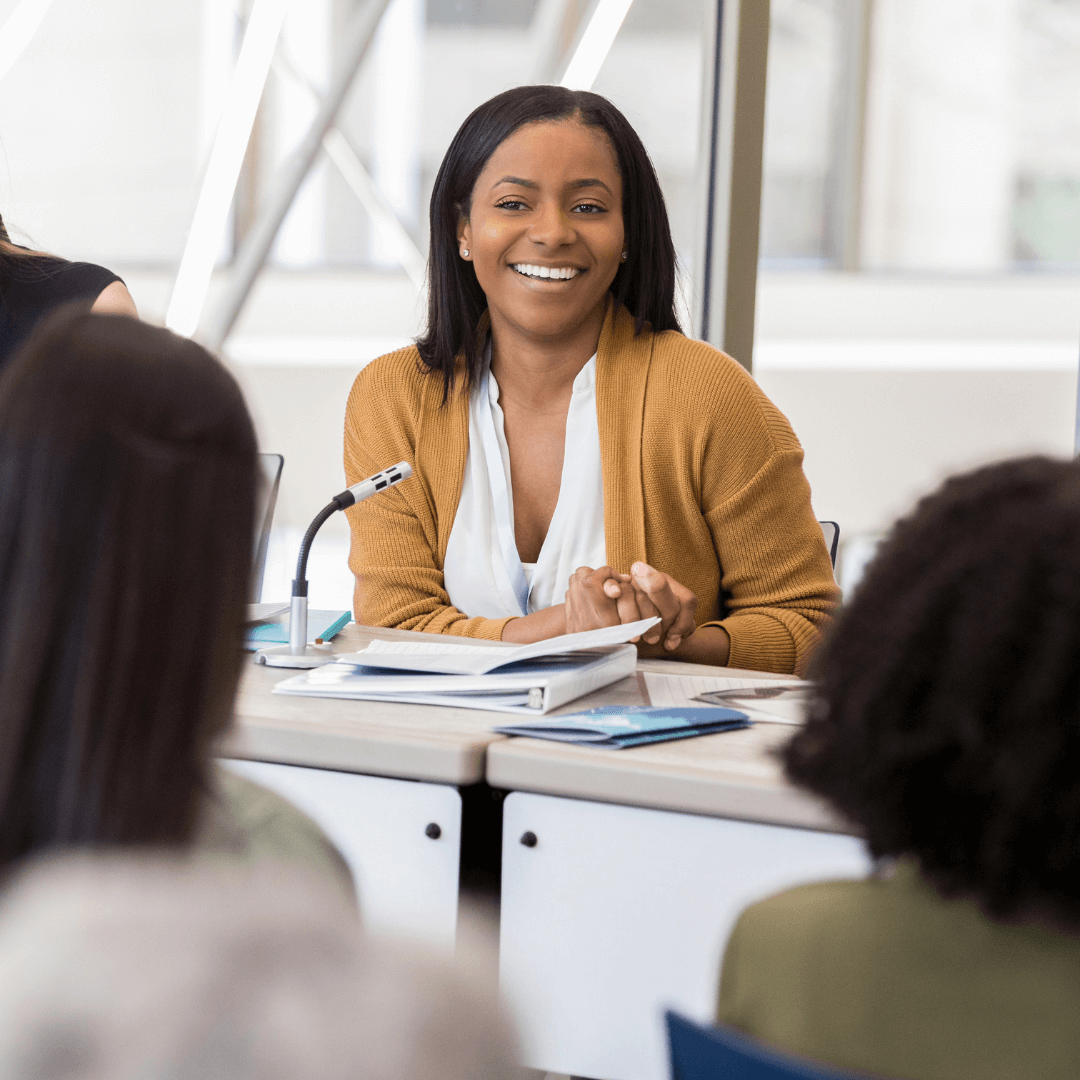 Group Leadership Development Programs (& Communities) that Empower Women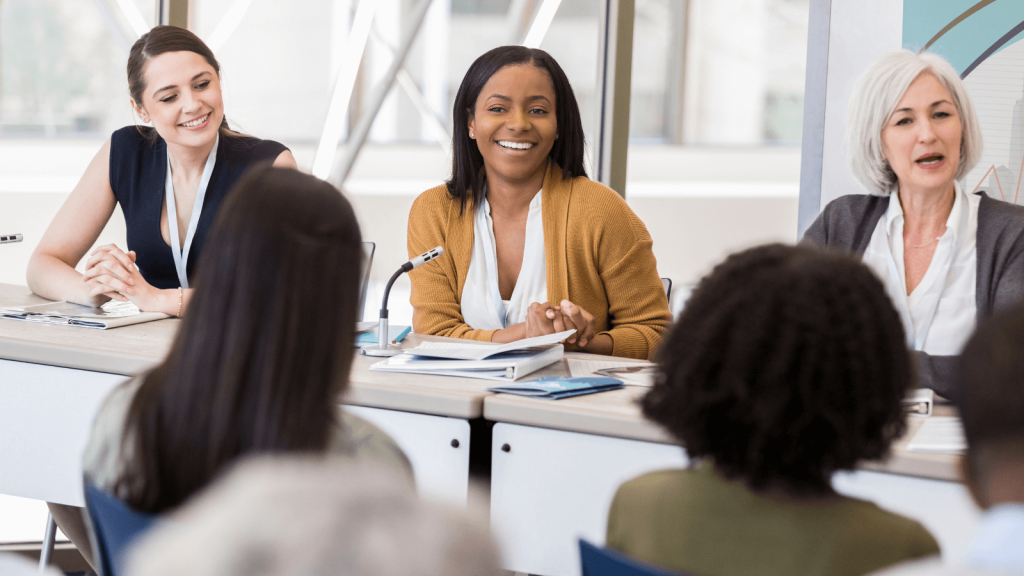 "The oft-overlooked benefit of women-only leadership programs is that they hold up a mirror to the organization. When women scrutinize their own leadership traits and experiences, they reveal important information about the day-to-day environment in which they operate."

–Natacha Catalino and Kirstan Marnane for McKinsey
Perhaps never before has human connection been more vital – for many reasons. Even in the best of times, the path travelled by women leaders can feel isolated, with little support. The pandemic has only amplified this.
One of the most effective ways to up-level your leadership skills and to connect with a community of other female leaders is to participate in group leadership programs. Many are offered by trusted educational institutions.
An Impressive Array of Group Leadership Programs
With so many excellent programs to choose from, you'll want to consider a number of factors:
Where you're at in your career – and where you want to go
How you want to attend – in-person, online, or a hybrid of both
What your budget is & how willing your organization is to make the investment
The time (and energy) commitment you're prepared to make
What level of flexibility you're looking for, to fit into your busy schedule
It is impossible to cover each of the group leadership programs for women leaders in a single blog post (or many!). This post highlights five well-known programs offered by established educational institutions.
Tip: As you do your own research to discover a program that fits well with your unique career path, write down the pros and cons of each to guide you in your decision.
Highlighting Popular Group Leadership Programs for Women
Brief overview: "A four-part, strategically paced program, emphasizes practical learning and focuses on talent development. High-potential women executives will be equipped with the knowledge and tools needed to elevate themselves to the C-suite and beyond."
Pros: Comprehensive program from a respected educational institution. "In a supportive and highly collaborative atmosphere, an impressive roster of top Kellogg faculty and corporate experts guide you through a rigorous program of intensive classroom instruction, individual career appraisals, personal coaching, case studies and simulations."
Cons: Time/financial commitment (note costs below). The four three-day sessions are spread over 1 year. While some may appreciate the accommodating structure, others may desire more sessions in a 12-month period. And some may not be able to make a commitment over a full year period.
Cost: $26,150 (Fee includes lodging and most meals for all four sessions.)
Brief overview: A variety of leadership development options for women are offered, with an emphasis on skills & competencies. "Our leadership training for women focuses on the critical skills and competencies proven to make organizations thrive."
Pros: A dynamic range of choices. One option called "Open, Mixed-Gender Leadership Programs" has several accessibility avenues: live online, in-person, or through licensing in some cases. Flexible, with many available dates and options; some scholarships available. Check out the many choices here: https://www.ccl.org/leadership-programs/
Cons: The offerings may seem overwhelming. With the open, mixed gender programs, this may not be as appealing to participants specifically seeking a program tailored to and including women leaders only.
Cost: Varied. Some programs are customizable and therefore cost is dependent on how the program is tailored. If you visit https://www.ccl.org/leadership-programs/ and click on the various offerings, prices are shown. For example, "Leading for Organizational Impact" (https://www.ccl.org/leadership-programs/leading-organizational-impact-executive-training/) is $8200 USD. They also show pricing for other regions.
Brief overview: "This program invites emerging women leaders to attend interactive online sessions designed to foster leadership, professional growth, and gender equity in the workplace."
Pros: Affordable, approachable program (only 5 weeks). This program promises to "blend pre-work, live instruction, self-driven action items, and group consultation to assist emerging women leaders in the development of their key attributes to become strategic leaders. During each week of live instruction, participants are led by industry professionals on varying leadership topics, creating a robust program."
Cons: According to the program page, all content is to be delivered live and is not recorded. This is tailored to emerging women leaders specifically, not to all women leaders: Per Who Should Enroll, "Women emerging as leaders with 3-7 years of leadership experience."
Cost: $2,150
Brief overview: Designed for and by women. "Learn to become a more impactful and effective leader in our women's leadership training, designed by and for women. Throughout this program, you will activate a personalized action plan with feedback from peers and executive coaches."
Pros: Two flexible versions of the program can be chosen (custom programs also available). Each includes the leadership skills for women and career coaching that have become hallmarks of the program. Choose between the five-week online experience, or the five-day, in-person intensive leadership for women offerings. The virtual program offers deep discussion and reflection, while the in-person program maximizes informal networking.
Cons: This will not be a strong match for all women leaders or career situations. Target participants are mid- to senior-level women professionals who are anticipating or experiencing a career transition such as a promotion, managing a new team, or a career switch.
Cost:
IN PERSON: Overnight Package $7,050 / Commuter Package $6,300
VIRTUAL: $4,950
Brief overview: "A professional growth opportunity for all genders to forget perceived gender barriers to understand women in business and how their executive management roles influence business agility and a company's longevity….Designed to increase your confidence level and inspire you to take ownership over your potential."
Pros: Flexible options – 4-day in-person or 2-week online program. A bit different than many other programs that can be quite specific. This program is open to both male and female executives who are seeking to learn more about the importance of women in leadership.
Cons: Not as specific to or tailored towards women leaders exclusively, as some other programs are (i.e. ones that target emerging women leaders, or industry-specific leaders, etc.)
Cost: $6,900 in-person/$5,175 online
—
As you can see, you have a lot of options when it comes to group leadership programs and opportunities for women leaders. I encourage you to do your own research, ask colleagues and peers for their recommendations, and see what other women say online about their experiences with particular programs.
Empowering Communities for Women Leaders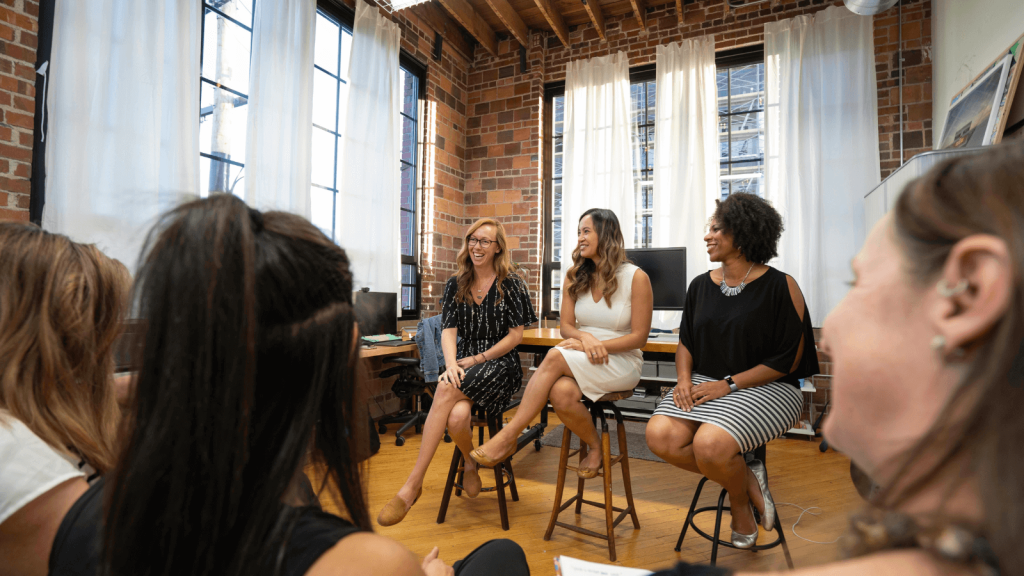 If you're not quite ready to commit to a full leadership development program, another great way to connect with other female leaders is by joining a community. This can be an excellent path to meet others who are on their own unique journey.
Here are a couple well-known communities outlined below to check out if you haven't already. There are also many industry-specific communities out there, i.e. for women in arts & culture, in sports, even alumni groups.
Here's a helpful list of 39 professional women's organizations and associations to browse.
Brief overview: A community of professional women committed to helping all women succeed
Pros: They highlight what makes their community different.
Network Better. Ellevate Squads. "Join a small, hand-picked group of driven professional women who pledge to support each other in reaching their goals."
Events Worth Your Time. "Access to world class speakers and get your questions answered from women who've been in your shoes."
A solution to Diversity & Inclusion. "No need for your ERG to reinvent the wheel – we partner with companies of all sizes to make it easy for employees to develop necessary skills and connections for success."
Cons: None noted.
Cost: Several options: https://www.ellevatenetwork.com/join-benefits
Brief overview: "The most impactful community of extraordinary women in the world, connecting in a confidential, supportive and private community."
Pros: "Every level of membership provides access to valuable insight, proprietary tools and resources, self-paced learning, executive coaching, impactful group experiences, mentoring relationships, influential networking, exclusive offers and expert-led instruction as well as public advocacy and meaningful philanthropy."
Cons: Cost will be a factor in comparison to other communities. Features and benefits depend on the membership option you choose.
Cost: Variable: https://leadhershipglobal.com/join-us/
Some Closing Wisdom for Women in Leadership
There really are a lot of options to consider when it comes to leadership development for women. I hope this series has been helpful. I'd love to hear from you if you'd like to share a bit about your own journey – leave a reply below.
I'll end with the wisdom of Brené Brown.
"I define connection as the energy that exists between people when they feel seen, heard, and valued; when they can give and receive without judgment; and when they derive sustenance and strength from the relationship."
---
Let's Chat!
If you're interested in finding out more about my process, the cost of coaching, or how to ask your employer to pay for you to work with a coach, schedule a time to chat with me.
You can also access the checklist that will help you prepare to ask your company to sponsor you to work with a coach. https://womentakingthelead.com/checklist
Resources
Leadership Operating System Quiz: Wondering what kind of Leadership traits you have? Take this FREE, FAST quiz and find out more about yourself as a Leader.
Accomplished: How to Go from Dreaming to Doing: The book containing a simple, step by step system that gives you the foundation and structure to take your goals and make them happen.
The Women Taking the Lead Podcast
If you enjoyed this episode, follow in Apple Podcasts, Spotify, Google Podcasts, iHeart Radio, Stitcher Radio, Amazon Music or Pandora and never miss out!