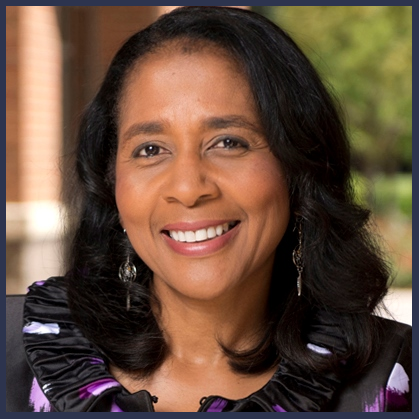 028: Angela Walker Franklin on Being an Unlikely Choice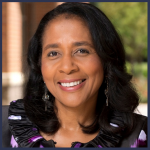 Angela Walker Franklin, who became Des Moines University's 15th president in the spring of 2011, is a native of McCormick, South Carolina and a 1981 Phi Beta Kappa and magna cum laude graduate of Furman University, a small liberal arts college in Greenville, South Carolina. A licensed clinical psychologist, she completed her Ph.D. in clinical psychology at Emory University, followed by a yearlong clinical internship at Grady Memorial Hospital.
Angela Walker Franklin has worked in higher education for more than 20 years. Prior to her arrival at DMU, she held faculty and administrative positions at both Morehouse School of Medicine in Atlanta, Georgia and Meharry Medical College in Nashville, Tennessee.
Click to tweet: .@AuthorAngelaPhD shares her story to inspire you on Women Taking the Lead! Listen here ▶ www.womentakingthelead.com/028
Playing Small Moment
• Growing up in the '60s Angela was the only child of color in her elementary school class. Being the "only one" of a group was a theme for her growing up and she did find herself playing along with the stereotypes of the group she represented. She now sees being the "only one" as a way to make her mark on the world.
The Wake Up Call
• Aspiring to be a college president, Angela started being nominated for college president positions. Hoping to stay in the south and assuming she would be more accepted in the south she focused her attention there. It turned out she was wrong and she did not find that she was accepted as a woman of color vying to be a college president in the south. She landed in Iowa and was completely surprised by how wholeheartedly she was accepted for who she was as a person.
Style of Leadership
• Servant leadership coined in a book by the same title. Angela focuses on other's first and looks for how she can serve and support them.
What Are You Excited About?
• Angela has begun writing and blogging about a philosophy and approach to leadership that focuses on moral character, integrity and treating people with compassion and integrity. On the institution side Angela is excited about the University's focus on prevention and wellness.
Leadership Practice
• Being a good listener is high on Angela's list. Every good leader needs to be a good listener.
Book to Develop Leadership
• Lean In by Sheryl Sandberg
Favorite Healthy Food
• Salmon on a bed of spinach.
What Would You Change?
• Angela would have stepped out on faith sooner and given up the struggle. She spent too much time agonizing over the next step.
Inspirational Quote
• Avoid negative self talk. ~ Angela Walker Franklin
Interview Links
• An Unconventional Journey, An Unlikely Choice
• Twitter
• Facebook
If you enjoyed this episode subscribe in iTunes or Stitcher Radio and never miss out on inspiration and community!