121: Kim Boudreau Smith on Not Losing Yourself to Your Job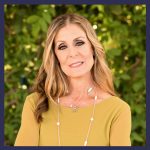 Kim Boudreau Smith is a multi-talented CEO and business leader with a legacy of empowering thousands of women. From a corporate background in sales and marketing and over 20 years of experience in the fitness industry, Kim has gone on to become a #1 International Best-Selling Author with the book being one of the best-selling on Amazon for 2015! Kim combines her expertise with a passion for motivating and inspiring other women to become "top producers in their lives". As CEO of Kim Boudreau Smith Inc. and KBS Publishing, her platform on international speaking and coaching has enabled thousands of women to benefit from her inspirational and empowering work.
Click to tweet: .@KimBSmithInc is sharing her story to inspire you on Women Taking the Lead https://www.womentakingthelead.com/121
Playing Small Moment
Kim thought that in order to continue her radio station she needed to merge with someone else. She met a woman who owned a radio station in Michigan, and ultimately this partnership didn't work out. Kim closed the doors on everything and told her client she was done, but they told her "Kim, you are not a quitter". Kim and her client merged under Kim's radio station and the platform that she had started 3 years prior.
The Wake Up Call
Kim had an 'aha' moment when she was so drained by her job she fell asleep at the wheel; she knew at that moment she was living without passion in her life.
Style of Leadership
Empowering her team to take ownership of their decisions is Kim's leadership style.
What Are You Excited About?
Kim is launching her second radio show called Down & Dirty with Kim BS. She is also excited because Bold Radio Station is in a growth phase.
Leadership Practice
Kim practices meditation.
Book to Develop Leadership
The Alchemist by Paulo Coelho
Advice For Younger Self
Stop living for everyone else and flex your confidence muscle.
Inspirational Quote
"Be yourself, everyone else is already taken." ~ Oscar Wilde
"Be sure to taste your words before you spit them out." ~ Unknown
Interview Links
Facebook: https://www.facebook.com/kboudreausmith 
https://www.facebook.com/BoldRadioStation/?fref=ts
LinkedIn: https://www.linkedin.com/in/kimboudreausmith
Twitter: https://twitter.com/KimBSmithInc
https://twitter.com/BoldRadioStatio
If you enjoyed this episode subscribe in iTunes or Stitcher Radio and never miss out on inspiration and community!