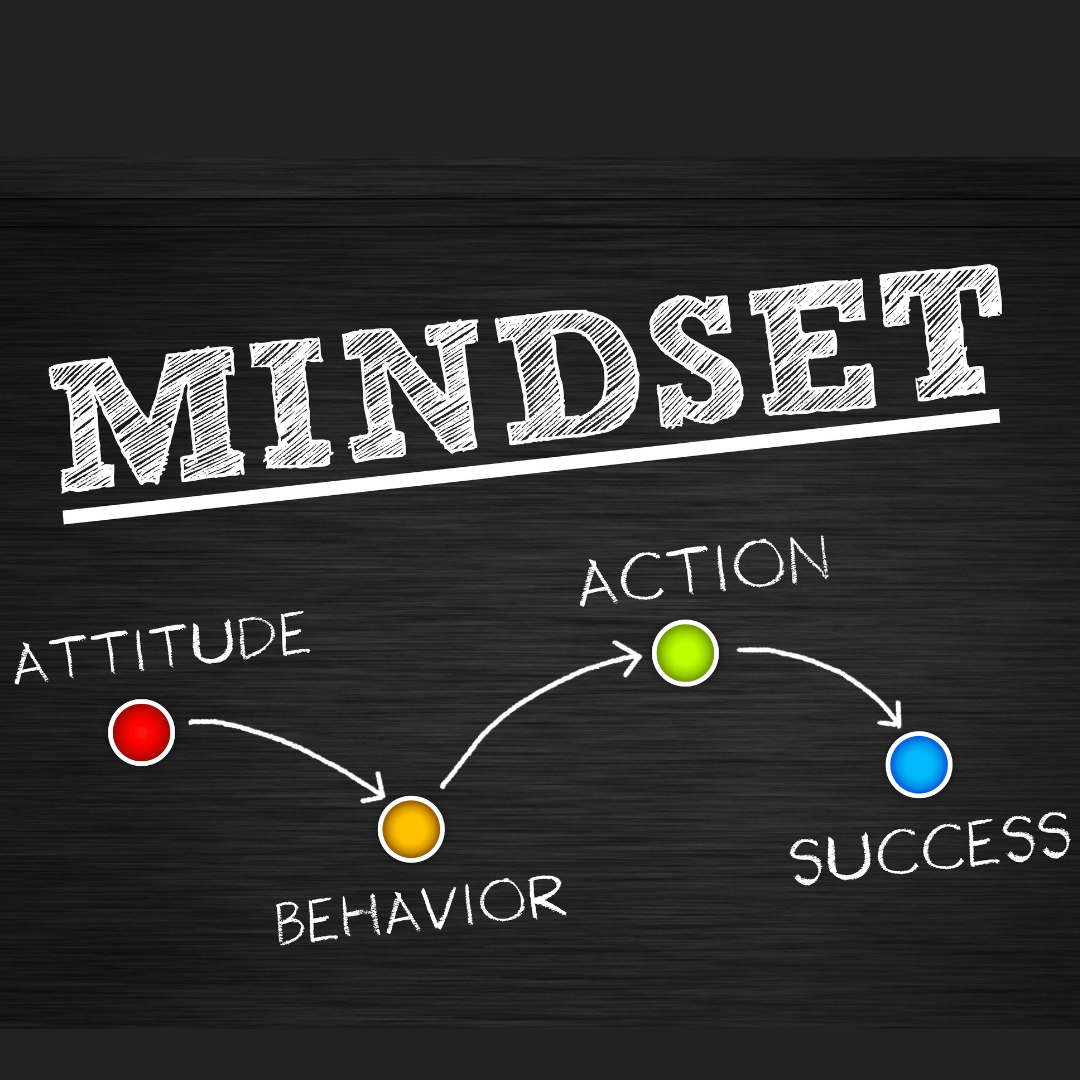 How to Boost the Mindset You Lead With
Click the play button to listen to the podcast episode.
Are negative thoughts sabotaging you?
I frequently talk with talented, experienced and incredibly capable women. For the most part, they are doing great: setting goals, creating plans to accomplish them, and making progress in their careers.
Occasionally, many of these women express a desire for things to be better. Not externally necessarily. But internally.
They say things like:
"I wish I could get out of my own way."
"If I could just get over the self-doubt."
And sometimes, "Even when things are going well, I have this nagging voice in my head that ruins any opportunity I have to feel satisfied."
This episode is covering the very thing that drives your behavior; what you do and how you do it. Not only that, it determines how quickly you will bounce back from setbacks and mistakes, and whether or not you are able to feel satisfaction or fulfillment.
Any guesses?
Stay with me.
Failing of Training & Development
Currently, organizations worldwide spend approximately $370 billion on leadership development efforts each year. That that number is predicted to be closer to $500 billion in about 5 years.
Yet, "according to the Global Human Capital Trends 2019 report published by Deloitte, 41% of business leaders believe that their organizations fail to meet the needed leadership standards (Leading the Social Enterprise, 2020)."
Why aren't companies getting more bang for their leadership development buck?
There are a few reasons that point to this phenomenon.
One reason is the organization is not aligned on what the training goals are and which employees need training. This results in employees sitting through training that they don't believe they need, and may not actually need, and thus they do not get the benefits of the training.
Another reason is there is no strategy to sustain what is learned in a training or development program. Integrating learning into one's daily routine takes time and reminders. This largely falls on the team member to create themselves. In some cases it also falls on their manager, who likely does not have the bandwidth to provide such intensive support.
Impact of Mindset on Training & Development
These first two causes for a lackluster return on investment can be address a few ways.
Having key alignment conversations prior to the deployment of any new initiatives
Utilizing new technology to facilitate the retention of information
Creating peer groups with regular touchpoints for the participants to discuss how they are integrating what they've learned.
New research also suggests the lack of effectiveness is likely because most leadership development efforts overlook a foundational attribute that impacts how leaders think, learn, and behave: their mindsets.
According to the Harvard Business Review, a leader's mindset is the mental lens that determines "what information they take in and use to make sense of and navigate the situations they encounter."
Thus, mindsets directly impact what a leader does and why they do it.
While the leadership skillsets are important, focusing professional development solely on the words and actions of a leader is limiting and won't yield the results you're looking for.
Mindset & Resilience
Mindset also impacts resilience, or recovery time. Resilience is the speed at which you rebound from setbacks and mistakes.
More than education, knowledge, training, innate ability or experience, motivation or a strong desire to excel, mindset is the #1 difference between those who are doing alright and those that are excelling in every area of their life.
You might be surprised to hear this. Yet, there are countless examples of unsuccessful geniuses, incredibly talented athletes who didn't make it, and highly educated and trained people who fell far short of their potential or their goals.
You've likely seen this as you were coaching an athlete, teaching a student, or mentoring a young professional. Some individuals seem to crumple under pressure or due to a setback. Meanwhile, others literally or figuratively quickly brush themselves off, learn from the experience, and get back into action.
Each setback you experience (and we all experience setbacks on a regular basis) requires you to reset yourself so you are mentally ready to get back in the game, so to speak.
You Can't Flawlessly Fake Mindset
This isn't a "fake it until you make it" scenario. When you are mentally recovering from the last set back, no amount of faking it will completely fool anyone or get you the results you're hoping for.
And, if you don't recover fast enough, your small mistakes or setbacks can spiral into big challenges.
How fast is your recovery time?
When you experience a setback – an underperforming team member makes another error, getting admonished by your boss, losing your cool when talking to your child – how long does it take you to recover yourself, mentally and emotionally?
That answer depends on the operating system you have within you.
Your operating system reflects your mental resilience. It will determine your recovery time, which the measure of how resilient you are.
Research on mental resilience has revealed:
People with high mental resilience take fewer sick days than their co-workers and are less likely to become burned-out.
Leaders with high mental resilience lead teams that are more likely to praise their workplace as a high-performance environment.
Mental resilience leads to lower levels of stress hormones, better immune system function, better sleep and smaller risk of hypertension, diabetes or stroke.
My Own Experience with Mindset Changes
I recently sent an email to those who signed up to be on my newsletter list sharing an interesting experience I've had regarding mental fitness.
I shared how I seemed to stumble out of the 2023 gate by getting sick right before the New Year and being unwell for weeks.
In years past, losing so much time to illness, or just feeling ill for that long, would have sent me spiraling.
My inner hyper-achiever would have given me no peace, yammering that I needed to buck up and get back to work.
But, that hasn't been the case this time around.
Instead of punishing myself for not jumping into action right at the new year, I gave myself empathy and compassion and I let myself rest when I needed it.
The result to my business? In terms of revenue and net profit, this has been the best month I've ever had in my business. All this, with a recession looming and so much uncertainty in the world.
Here's what was different for me this year.
Last October I was invited to do the Positive Intelligence (PQ) program. It wasn't a good time to start something new.
The program was starting the week I would be away at a conference. And, I would be going straight from that conference to Maine to finalize the production and delivery of The Maine Women's Conference with the rest of the Board.
November was going to be incredibly busy as well, catching up on everything that had been put on hold during the weeks I was away, as well as developing and delivering a high-stakes presentation.
I said yes to doing the Positive Intelligence program anyway.
It felt like a lot at first. At first.
And then something odd happened.
I would wake up in the morning wondering why I wasn't experiencing an insane amount of stress.
I wondered, why was I so calm?
Why wasn't I losing sleep at night?
How did I get to a place of knowing I would do my best and everything would all work out?
Not from a place of denial or trying to cope. Rather, in an eyes-wide-open and a deep knowing kind of way. Everything will all work out.
Not too far into the program I realized I had been given an incredible gift. A gift that continues to expand and ripple into all areas of my life.
I'd like to share this gift with you.
​I'm hosting a webinar, How to Get Mentally Fit.
This webinar will cover what Positive Intelligence (PQ) is and the impact it can have for you in all areas of your life.
During this webinar you will:
Hear about the science and research behind Positive Intelligence and the specific areas it impacts
Learn the 3 core muscles at the root of mental fitness.
Discover the 10 internal Saboteurs that might hijack your best efforts.
Identify 5 Sage Powers within you that can overcome any challenge you are faced with.
Experience a practice that will enable you to intercept a Saboteur hijacking and increase your self-command.
If being more calm or positive has been on your wish list for 2023, I invite you to join me to explore Positive Intelligence and the difference it could make for you.
To register for this webinar, go to: https://womentakingthelead.com/webinar
And if listening to this episode made you think of a friend or colleague, please share it with them as well.
As we go into the new year let's align our mindset with where we want to go and where we want to be at the end of this year.
As always, I hope this was of value to you, and here's to your success!
---
Resources
Apply to be on an "On-Air Coaching" episode: Are you a female leader who has been promoted in the last year? Apply to be on the podcast.
Leadership Operating System Inventory. Wondering what kind of Leadership traits you have? Take this FREE, FAST self-assessment and find out more about yourself as a Leader.
Accomplished: How to Go from Dreaming to Doing. The book containing a simple, step-by-step system that gives you the structure to take your goals and make them happen.
The Women Taking the Lead Podcast
Subscribe through Apple Podcasts, Spotify, Google Podcasts, iHeart Radio, Stitcher Radio, Amazon Music or Pandora and never miss out!