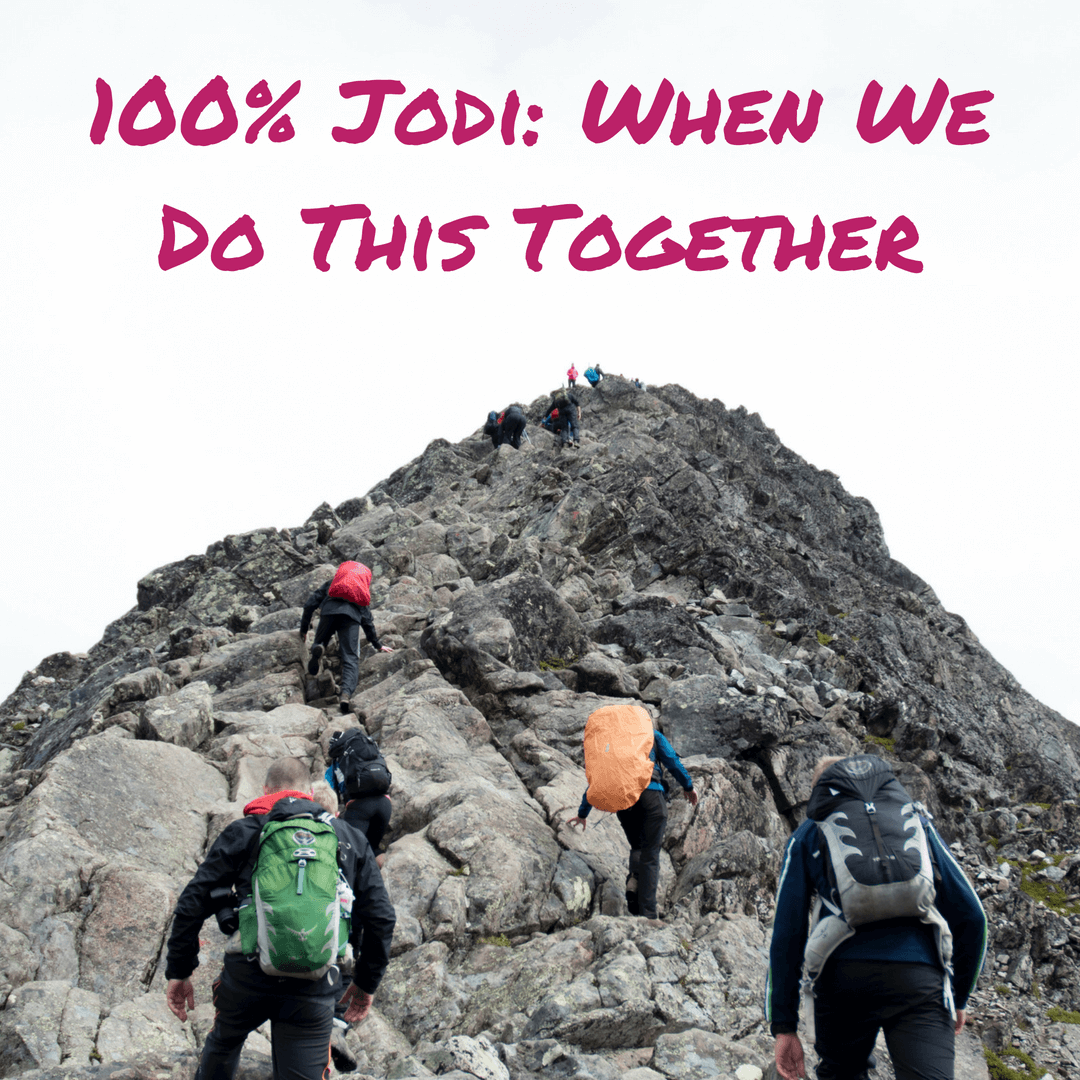 100% Jodi: When We Do This Together
Click the play button to listen to the podcast episode.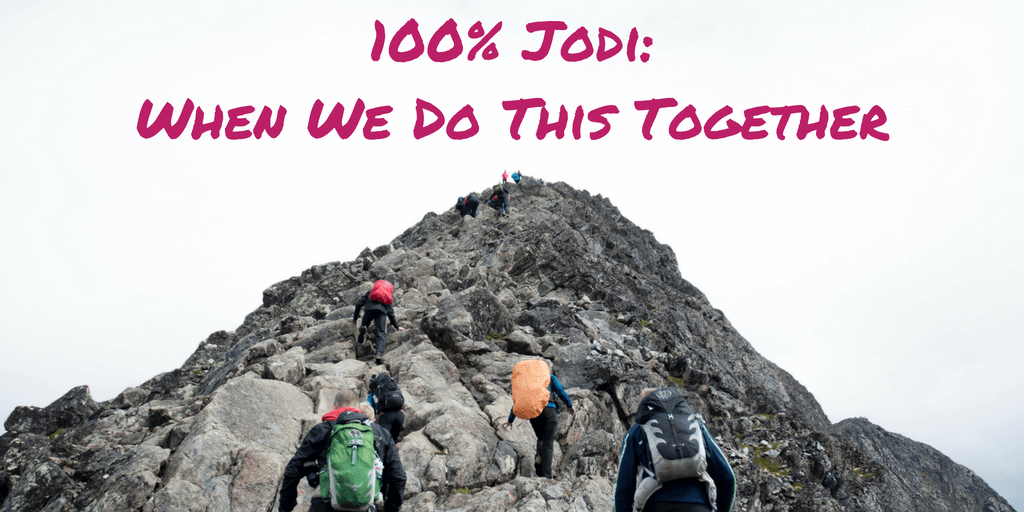 Last week was such a wild week and I am still absorbing all the goodness.
To catch you up quickly a week ago I had a chance to meet Marianne Williamson for the first time and to see her speak. If you don't know it is her words that I am quoting at the end of every episode of this podcast.
I heard that quote almost 20 years ago and it would bring me to tears every time I heard it. It has been hanging in my home and it is at the core of my personal mission.
I am talking with someone on her team this week about having Marianne on the podcast so please send some good energy, thoughts and prayers my way.
What Happened When We All Came Together
Days later an event that I have been involved in creating for the past 2 ½ years came to be. The inaugural event of The Maine Women's Conference went down on Wednesday, May 9, 2018.
I'm getting emotional because as I'm writing this because I am still trying to take in all that happened before, during and after the event and what it means to me.
When I look back on my greatest and most meaningful accomplishments there isn't one that I can think of that I did on my own. It has always been in collaboration that I have produced the things of which I am most proud.
I and the other women on the board for The Maine Women's Conference knew we had poured our hearts and souls into this event, we knew we were being supported by amazingly talented women on our committees and other volunteers who wanted this day to be something special.
We knew all the details, and there were thousands of details, and we knew there was a growing curiosity and excitement for this event.
What we didn't know was how blown away we were all going to be on the day it all came together. The board, the vendors, the speakers, the sponsors and the attendees experienced a day of energy, support, encouragement, celebration and a call to something greater.
At one point in the morning it was all starting to seem so surreal I didn't know what to think or feel anymore and I had to consciously stay in a state of both service of the women in attendance and in receiving as woman after woman wanted to congratulate me, thank me and tell me how this event had exceeded their expectations.
Now, were there somethings that could have been better? Yes!

Things can always be better – it's no reason to declare failure
There's always room for improvement. Something we already knew going into the event that we wished we had had the time, money, energy and other resources to make happen and there were somethings we learned as we were executing the day.
We are also collecting some great feedback and suggestions for next year from those in attendance. If you were at The Maine Women's Conference and you haven't filled out the survey you would have received via email please fill it out! We want all voices to be heard.
As much as I am dancing on cloud 9 and feel so gratified I could cry I know there were hundreds of people, men and women that contributed to the success of this event.
Even in the microcosm of the board of 9 women I can clearly see that without the commitment, passion, vision, skills and expertise, willingness at times to voice a dissenting opinion, and willingness at times to concede this event would not have been half of what it was.
I also don't want to gloss over the journey. Day of we were a united team and a force to be reckoned with but it wasn't always that way. Most of us were strangers to each other when we began working together.
And, our board had a rocky start. There was a lot of turnover in the beginning and that lead much of the community at large to believe that we weren't going to make it.
The rumors became so strong at one point that I had several conversations with women in my network who expressed surprise to hear I was still working on the conference because they had gotten it on "good authority" that the conference was cancelled.

Team development is rarely a pretty process
With any team there are four stages of development. They are forming, storming, norming and performing. Forming is when the group members are identified and come together. Storming is the stage of tension and differing opinions as the group tries to figure out its identity, shared values, common goals, roles within the group and overall team dynamic. Norming is the stage after when all of that has been decided and accepted, consciously or unconsciously, and performing is the final stage when, because time and energy is now freed up to deliver on the purpose of the team.
With our turnover and fledgling relationships with each other we went through the first 2-3 stages of team development several times.
In the process we also went from being an annual event to needing to become a 501(c)(3) because we could not find a fiscal sponsor to manage sponsorship and donations on our behalf.
I say all this because I know there are times when you are going after a big goal and you wonder if it's worth it. There are times when you leave a meeting where no one seemed to agree and you wonder if you can take it much longer. Maybe you've heard through the grapevine that people are betting you're going to fail.
I want you to know that it is all part of it. It is so normal it's ridiculous. And to keep on a recent theme, it's all part of The Dip. But there is the other side of The Dip and it is an experience like no other and you can share it with everyone who was with you in The Dip.
In Summation…     
Don't be afraid of big goals. The secret to achieving big goals is to surround yourself with other positive doers that would like to join you on your journey. Some may make a small contribution; some may be there for only parts of the journey, while others will be there the whole way with you also pouring their hearts and souls into the work.
And to be clear, although I loved the idea of someday attending a women's conference in Maine, I did not initiate this idea. Someone else came forward and declared they wanted this to be and was I interested in being a part of it. I was recruited but the goal was also my own. That's how it works and that's how great things happen.
Don't go it alone. Amazing things happen when we do this together.
As always I hope this was helpful to you and here's to your success!
Thank You to Our Sponsors!
TextExpander lets you instantly insert snippets of text from a repository of emails, boilerplate and other content, as you type – using a quick search or abbreviation. Go to https://textexpander.com/podcast and select Women Taking the Lead from the dropdown list for 20% off your first year!
Zebralove Web Solutions: Your website tells a story about your business! At Zebralove Web Solutions, Milly and her team are going to make sure your website tells the story you want your customers to hear. Connect with Milly at zebralovewebsolutions.com to create the impression you want to make!
Resources
Create Goals that are Worthy of you: If you are done with either pursuing vanilla goals, suffering through the struggle of goals that are not aligned with your strengths, or dealing with heartbreak of an unattainable goal this course is for you!
Accomplished: How to Go from Dreaming to Doing: A simple, step by step system that gives you the foundation and structure to take your goals and make them happen.
Subscribe to Women Taking the Lead
If you enjoyed this episode subscribe in Apple Podcasts, Spotify, Google Play Music, iHeart Radio, or Stitcher Radio and never miss out on inspiration and community!