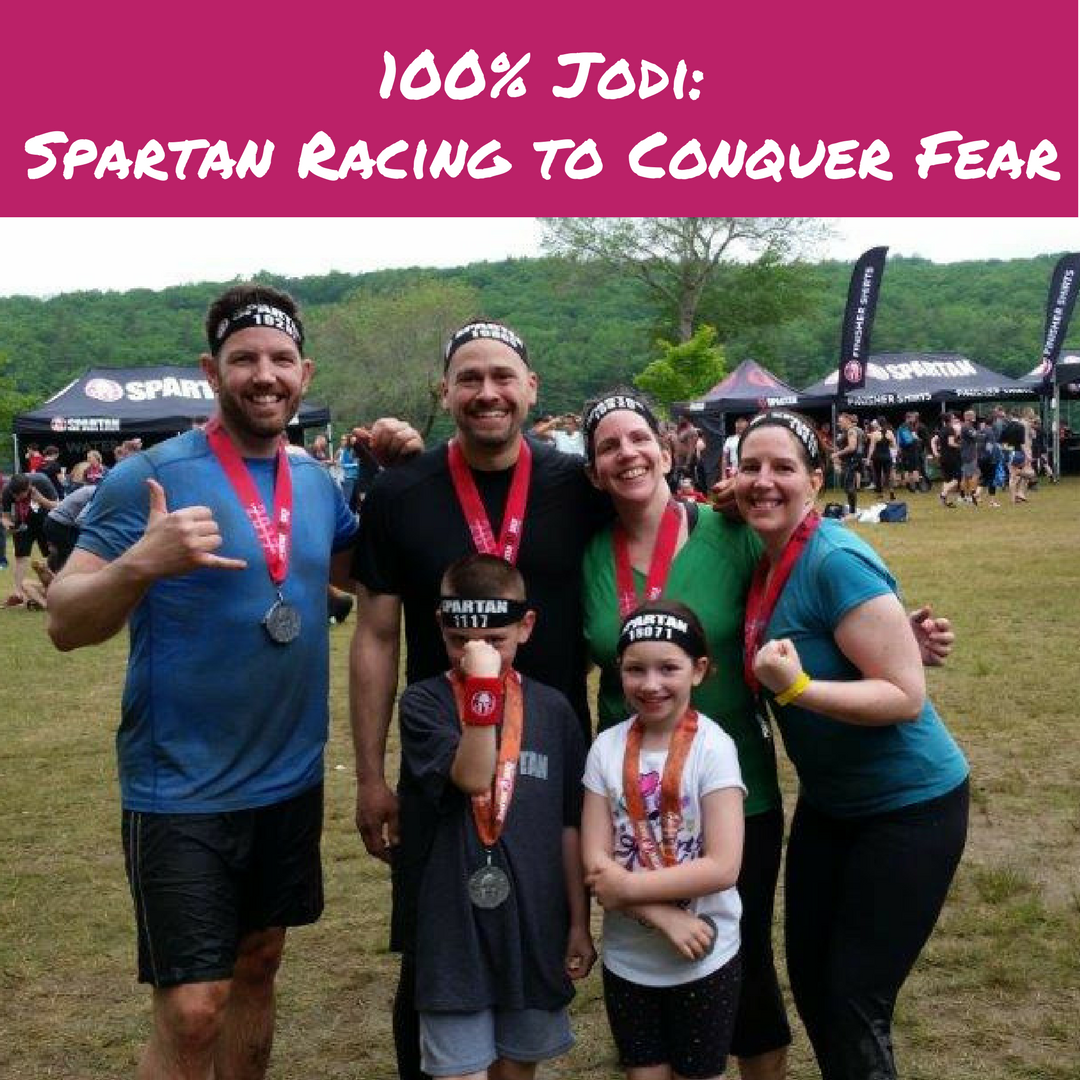 100% Jodi: Spartan Racing to Conquer Fear
Click the play button below to listen to the podcast episode.
This past Saturday, June 17th of 2017, I completed my first Spartan Race. I did the Spartan Sprint with several family members and friends and it was just an amazing experience.
And it wasn't amazing to me because everything went smoothly and as planned. It was amazing because it was really, really hard and I did it. The community, the comraderie and the overall energy of the event was something that really needs to be experienced.
As I was heading into the last week of training and through the day after I completed the race I was reflecting back and thinking about what I learned through the whole experience and how this goal changed me.
Why Would I Sign Up for a Spartan Race?
I have to thank my sister Kerri who on Thanksgiving Day in 2016 came up to talk to me as she and her family were getting ready to leave. She announced to me that she had read my book Accomplished and had made a commitment.
I was overjoyed because one thing I've learned for my own happiness is not to expect family members to be as into my career and business as I am. Any support I get from them is great.
So when my sister made this announcement I was touched and I asked what she committed to. During the day her husband had been talking about his recent experience doing the Spartan Stadium Sprint at Fenway Park so I should not have been surprised when Kerri declared that she was going to do her first Spartan Race in June.
Caught up in the moment I blurted out, "I'll run it with you!"
Being a woman of integrity, even after the reality of what I had just done had started to settle in over the next few days I got online and registered myself for the race.
And knowing what I know about big scary goals, and my own need for external accountability, in the next month I told anyone who would listen that I was running my first Spartan Race in June.
The other reality was I was getting out of shape. I ran a marathon in 2006 and managed to continue to work out with my personal trainer, run and do boot camp classes and yoga even after starting my business in 2010.
However, my time and resources were seriously depleted when I was preparing to launch this podcast. In 2015 I was no longer working out with my personal trainer and getting to the boot camp classes and yoga felt like too much of a time commitment.
Pair that with eating on the go and resorting to a cheese and cracker dinner each night because I didn't have the desire or energy to prepare and clean up a home cooked meal.
Training for this race forced me to take my health and fitness more seriously, to get in the workout even when I felt there wasn't enough time and to say no to things that are not serving me, my health, my money or my peace of mind.
That's still a work in progress. That means I need to set another really big goal to support me in this.
How I've Used Spartan Racing to Conquer Fear and More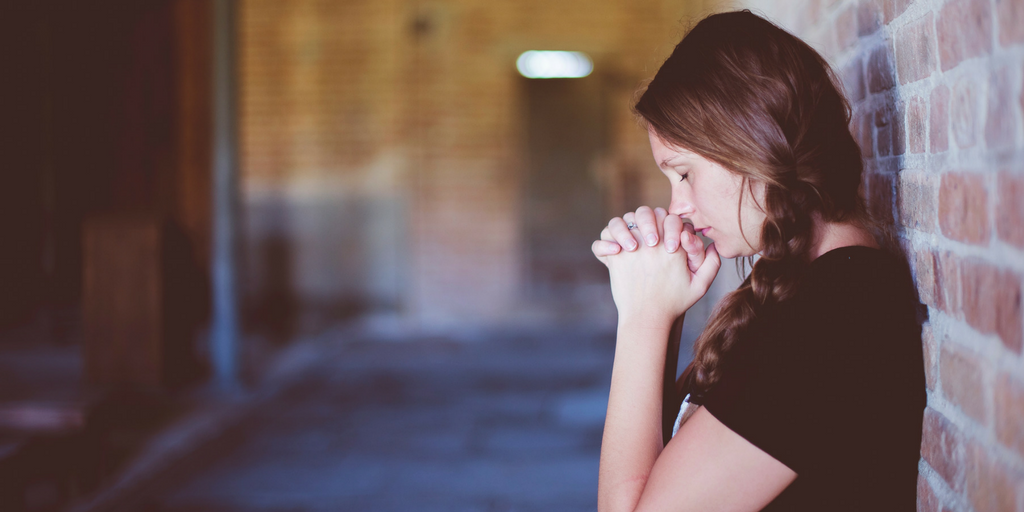 Making the time, doing the workouts, and feeling intimidated have not been easy. But it has been good.
My life is more balanced and I am healthier and more confident as a result.
In my "reflecting back" process the word "fear" kept coming to me. I learned a lot about fear and had many intimate up-close and personal moments with my own fears since beginning this.
There were fears of sacrificing time in my business to make time for training – the very fear that caused me to be out of shape in the first place.
There were mortal fears of getting injured by falling, pulling a muscle, twisting an ankle, etc.
Then there were fears of looking stupid, out of shape, intimidated, and weak.
And get this one: the fear of feeling afraid. I'm afraid to be afraid.
Oh my God, that one landed like a boulder on my chest and the consequences of this fear are still revealing themselves.
I don't want to be afraid to feel fear anymore so I captured for you here a few things I have learned about fear while I was training for and competing in this Spartan Race.
Most failure was due to psychological limitations, not physical limitations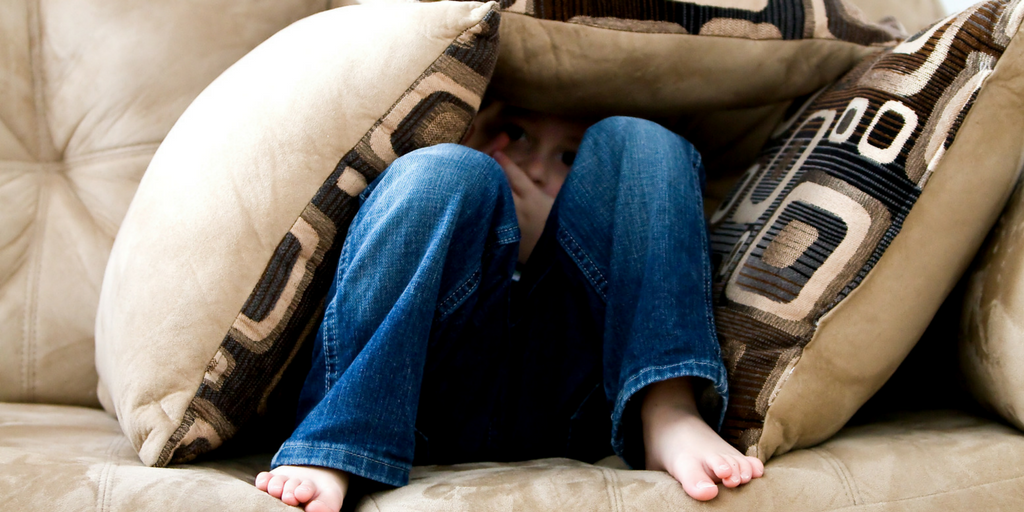 I had to believe I could do the obstacle to complete it. I noticed when I didn't believe I could do it there was a huge urge not to try, not to waste the time and energy.
Sometimes I could change my belief and complete the obstacle and sometimes it took taking action to get over the mental hurdle. Often I started an obstacle feeling unsure but as I started and had some success I gained confidence and completed the obstacle a little shaken but smiling nonetheless.
The shaking was the left over fear and uncertainty that I started with. Once fear is generated it has to find a way to leave the body. For me that can look like tears or shaking. If I try to stuff it down it will often turn to anger which can help the fear to leave my body but anger also takes an additional energy toll so it's not the most efficient way.
Fear keeps you from seeing who you really are
It's good to have a healthy fear. It keeps us from taking risks our bodies cannot handle.
Fear is an emotion that developed in our evolution to protect us from real and present dangers in our environment. The problem we all face is the fact that most of those real and present dangers are no longer present or real.
Instead of protecting us from life threatening dangers our fears have now generalized to trying to protect us from discomfort. And in case you've missed it, the common wisdom now is that "the magic happens outside of your comfort zone."
Instead of running from discomfort you need to run to it and greet it like an old friend.
When you are uncomfortable you are getting to know yourself in a way you would never be able to if you stayed in the safety zone.
I remember years ago when I was training for the marathon I did a long run every other week. And each long run was 2 miles longer than the last long run. And every time I did this run those last 2 miles were so uncomfortable and sometime just grueling.
However, when I was done I got to revel in the fact that in just 2 weeks I pushed the limits of my distance by 2 miles. And 2 weeks later I would do it again.
I remember when I hit 6 miles. I would never have imagined that one day I would be able to tack on another 20 miles in a single run.
But had I not accepted the challenge to do the marathon I would have probably not met the me that could run 26 miles and recover from it within a couple of days.
Running may not be your thing, but what is that big thing that you know you want to do?

Fear created more pain and bruises
One thing I also noticed training for the Spartan was that I was experiencing more bruising and sore muscles because of fear.
One of my big fears is heights. I dread falling from a height higher than a couple of feet. Some Spartan obstacles are 16 feet or higher. Even the 5 foot wall caused my palms to sweat and my heart to go in my throat.
The first time I attempted the 5 foot wall while training I was on my belly at the top and looked down at the other side. Fear shot through me and the thought of swinging my leg up and over, possibly losing my balance and falling sideways on the other side gripped me. It was irrational but I saw it and felt the fear nonetheless.
The only thing that got me over was my 10-year-old niece who was watching a few feet away. She saw me pause and cheered on, "You can do it, Auntie Jodi!"
I ask you, how can you possibly let fear win the day when you realize a girl child you love, who is still figuring out her own limits in the world, is watching you and wants you to overcome.
My leg went up and over and I held a death grip with my legs and arms until my feet were a couple of feet off the ground. I dropped and felt enormous relief.
My niece cheered and I felt gratified that she was there to see me do this.
However, my death grip which I now know was unnecessary caused a great deal of bruising and tight sore muscles, not to mention the energy expenditure that caused greater fatigue.
Now that I feel comfortable with the obstacle I can stay relaxed and there is less injury and more energy.
What about the obstacles in your life?
Is the fear of those hard conversations, public speaking, being visible on social media, sales conversations or any new skill causing you to tense up, be awkward, get a little bruised and end up exhausted afterward?
If you can learn to relax your muscles and your breathing and be a bit more mentally flexible in these situations you'll find more grace in the experience.
Those were the three realizations I've had around fear so far and I'm sure there is more to come. I've gained so much by committing to and declaring this big goal.
If there is something you know you want to accomplish but you are afraid of what it will take to get there I can't encourage you enough to go for it. You deserve to know all that you are capable of but to discover who you really are you have to run toward discomfort and greet it like an old friend.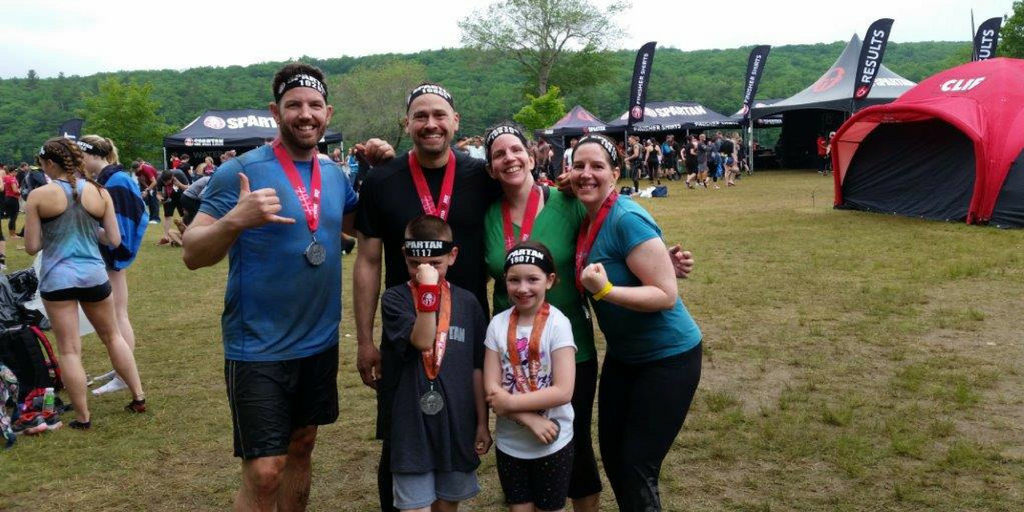 Brave Moves Business Series
For those of you in Southern Maine there is an entrepreneurial workshop series I wanted to share with you.
The Brave Moves Business Series is a group of six workshops designed specifically to meet the needs of Maine small business owners.
I am incredibly excited to be working alongside Abbie McGilvery of From the Nest, Lynda Adams of Essential Living Maine Magazine and Liz Jackson of the Center for Balanced Living to develop a series filled with high-impact, bravery-inducing content and experiences that will help you get balanced, focused, and motivated to grow your business with confidence, integrity, authenticity and of course a sense of humor.
And wouldn't you know the very first workshop in the series is Overcoming Your Business Fears.
Find out more and register here: http://www.fromthenestsocial.com/workshops
Here's to Big Goals and what we learn in striving for them. Here's to our success!
Thank You to Our Sponsors
Freshbooks: The all new FreshBooks makes ridiculously easy accounting software that's completely transformed how freelancers and small business owners deal with their day-to-day paperwork. Get a 30 day, unrestricted free trial go to FreshBooks.com/lead and enter WOMEN TAKING THE LEAD in the "How Did You Hear About Us?" section.
altMBA: Seth Godin's altMBA workshop is an intensive leadership and management workshop designed for changemakers who have a fire in the belly. This is for people who are itching to level up and make a bigger impact. Find out more at:  altmba.com/womentakingthelead
Zebralove Web Solutions: Your website tells a story about your business! At Zebralove Web Solutions, Milly and her team are going to make sure your website tells the story you want your customers to hear. Connect with Milly at zebralovewebsolutions.com to create the impression you want to make!
Resources
Apply to be on an "On-Air Coaching" episode: Are you a female leader who has been promoted in the last year? You are invited to apply to be on the podcast.
Checklist to Ask Your Company for Coaching: Would coaching help you become a stronger leader? Wondering if your company would pay? It doesn't hurt to ask!
Leadership Operating System Quiz: Wondering what kind of Leadership traits you have? Take this FREE, FAST quiz and find out more about yourself as a Leader.
Leadership Coaching: If you interested in finding out more about my coaching process, the cost of coaching, or how to ask your employer to pay for you to work with a coach, schedule a call with me.
Accomplished: How to Go from Dreaming to Doing: The book containing a simple, step by step system that gives you the foundation and structure to take your goals and make them happen.
The Women Taking the Lead Podcast
If you enjoyed this episode, follow in Apple Podcasts, Spotify, Google Podcasts, iHeart Radio, Stitcher Radio, Amazon Music or Pandora and never miss out!