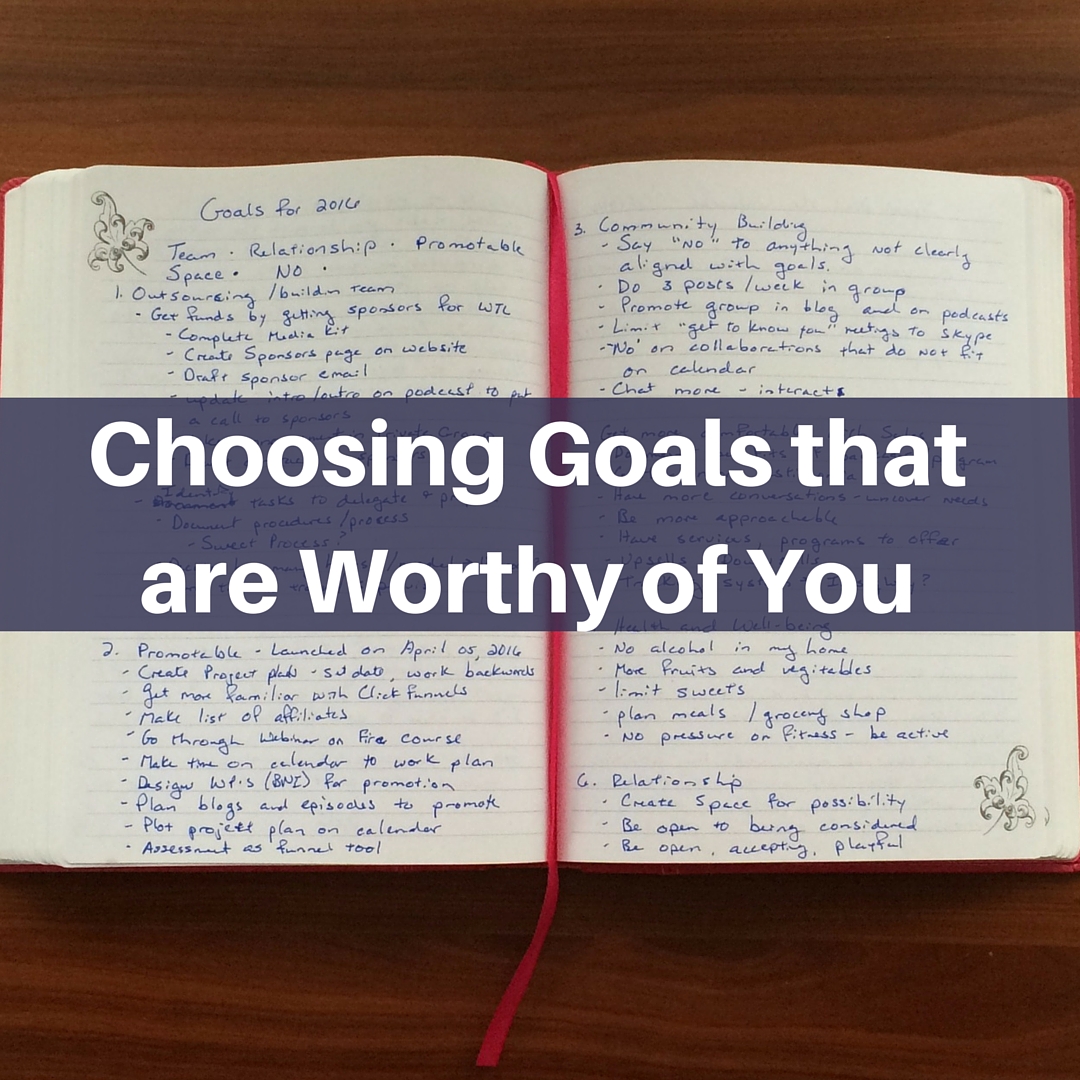 Choosing Goals that are Worthy of You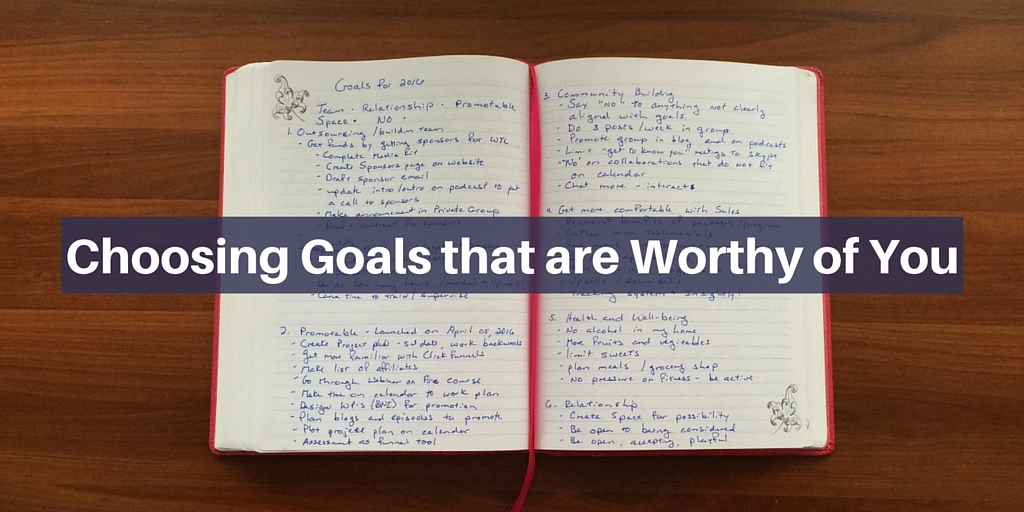 As promised, I have come from behind and set my goals for the coming year.
I had an idea what I wanted to focus on but I carved out some time and took myself through a process that I use with my clients. I've written about it in a previous Blog last year and you can find it here.
It's a process that guides you to reflect back on the prior year to find the gold that can inform the direction that's best for you in the year to come.
I also have been following my friend Kate's podcast and blogs and she is doing a season on goal setting and it kicked off with How to set and accomplish your biggest goals.
Kate's blogs include reflection, setting SMART goals, getting accountability in place, and creating a plan for your SMART goals. If you're struggling with goals her blog and podcast could be a great resource for you.
In one of her podcasts she mentioned a post Chris Brogan did on choosing 3 words to create a theme for your year ahead. I loved it and did the work to create my 3 words as well.
Choosing Your Worthy Goals
Some of my workshops have goal setting as an element. A part of what I teach in these sections is the importance of setting goals that are worthy of you.
These can't be incremental goals that just add on to what you've accomplished (or did not accomplish) last year. These goals must reflect your values and focus on creating, rather than changing, a situation or relationship in your life.
For instance, the goal would not be to lose 10 pounds. A goal that is worthy of you is to wake in the morning feeling refreshed and energized.
Part of attaining that goal may include changing your nutrition or getting more activity in your day but 10 pounds is arbitrary and does not guarantee you'll feel energized. To feel refreshed and energized in the morning will call on more that diet and exercise and will have a greater ripple effect than the scale moving or your clothing size changing.
A goal that is worthy of you calls you to express the best parts of you and motivates you to keep going, even when staying on track is tough.
Make sure the goals you choose reflect your highest values and and get you excited.
It's Never Too Late to Choose Your Goals
I was a little abashed to admit I had gotten so overwhelmed during the holidays I did not have time to go through my usual process. However, all is never lost.
I took some time this weekend to do some reflection, visualization and writing and I think I have it.
First, my 3 words for 2016 are Space, "No", and Community.
When reflecting on 2015 I kept getting images of a jam-packed calendar, racing from one meeting to another, trying to jam email correspondence at breaks and staying at my desk long past my body sending me signals that it was time to stop. That's where space came from.
Creativity needs space to thrive and I realized last year I was locked into an uninspiring maintenance loop. This year I want to have more time to explore, try things out, have conversations with the women in my community and go where inspiration leads me.
There were also several collaborations that came to mind where the end result was I had to back out or I was exhausted at the end because I really didn't have time in the first place. There also was not a lot of benefit to me or my business because what I was doing was not clearly tied to my goals. This year that stops.
If a project does not move my own goals forward and there is no outstanding benefit to my business or my community, the answer will be "no."
I have plenty of capable people in my network who would be happy with these opportunities and I plan on passing more on to them when these opportunities present themselves.
My third word is community. You'll notice community was mention in the explanations of the first two words. Community is also one of my highest values.
This year I want to spend more time connecting with the people in my chosen communities. I want closer bonds and don't want to feel like a lurker who only pops in on occasion to see what everyone else is doing.
So, what are my goals for 2016?
Building my team and community
Launching my new program in April – more to come on that!
Bringing more coaching into sales conversations
Health and wellness – this slipped in 2015
Romantic relationship – making space in my life and being open to partnership
Now, you'll notice these are not SMART goals – that comes next. This week I'll be developing the plans that will have these goals come to fruition and making sure that I have accountability in place to see me through. Want to hold me accountable? 😉
If you know you need some added support check out a journal created by my friend John called The Freedom Journal.
What are your goals for 2016? Comment below so I can cheer you on!
Resources
Leadership Operating System Quiz: Wondering what kind of Leadership traits you have? Take this FREE, FAST quiz and find out more about yourself as a Leader.
Accomplished: How to Go from Dreaming to Doing: A simple, step by step system that gives you the foundation and structure to take your goals and make them happen.
Subscribe to the Women Taking the Lead Podcast
If you enjoyed this episode subscribe in Apple Podcasts, Spotify, Google Podcasts, iHeart Radio, Stitcher Radio, Amazon Music or Pandora and never miss out!