Quotes to Uplift and Inspire You
Click the play button to listen to the podcast episode.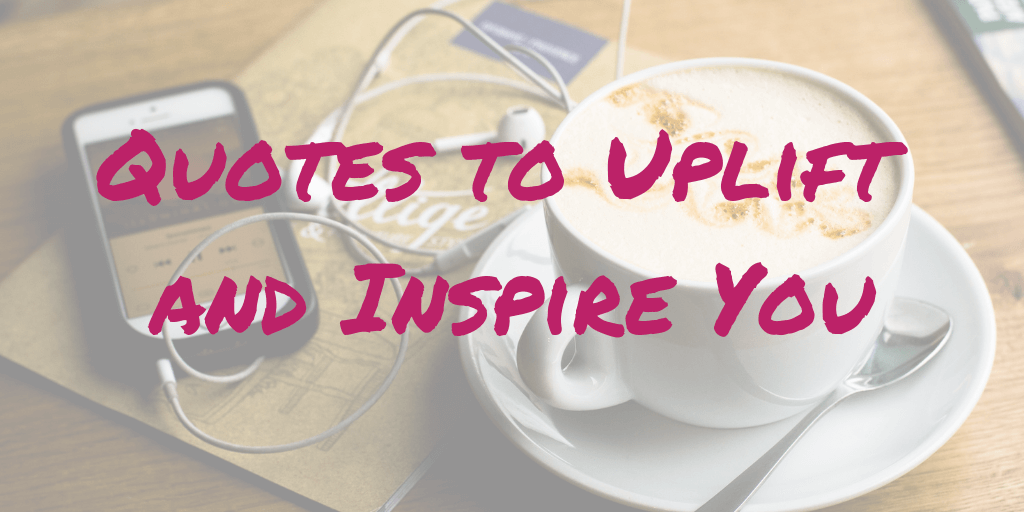 Hello everyone and thank you for joining me. I have a special episode for you this week. As we are heading into the New Year and you are visualizing and commenting to what you want to create in the coming year I thought we could get some inspiration from some of my recent guests. I hope you are as energized and inspired by their words as I am.
201: Dana Malstaff on Seeing Your Value as a Mom and Businesswoman
"Ah, but a man's [or woman's] reach should exceed his grasp, Or what's a heaven for?" ~ Robert Browning
202: Elizabeth Williams-Riley on Being Open to Loving Everyone
"You never know how much your past will affect your future until it shows up in your present." ~ Elizabeth Williams-Riley
americanconferenceondiversity.org
203: Rene Brent on Happiness & Subconscious Mind
"Do something every day that scares you." ~ Eleanor Roosevelt
PracticeHappyNow.com
ReneBrentHypnosis.com
204: Tara Lynn Foster on Situational Confidence
"Fear is stupid, so are regrets." ~ Marilyn Monroe
"Do not be anxious about anything, but in everything, by prayer and petition, with thanksgiving, present your request to God. And the peace of God, which transcends all understanding, will guard your hearts and minds in Christ Jesus." Phillipains 4:6-7
205: Lee Hews on Leading with Action
"It's all about balance." ~ Lee Hews
206: Kara Lamerato on Owning You are a Leader
"I have learned over the years that when one's mind is made up, this diminishes fear." ~ Rosa Parks
207: Ariana Sylvester on Not Wanting to Be a Burden
"Be the kind of leader that you would follow."
208: Jen Hecht on Similarities Between Business & Dating
"Let's get it together, sisters!"
209: Lolly Daskal on How Curiosity & Self-Reflection Can Set You Free
"Greatness is a destiny that is available to anyone. We just have to choose it."
210: Erin Robbins on How to Give So Everyone Wins
"Opportunity is missed by most people because it is dressed in overalls and looks like work." ~ Thomas Edison
211: Kara Snyder on How to Overcome Type-A Burnout
"You will do foolish things, but do them with enthusiasm." ~Colette
212: Jen Glantz on Creating a Unique Business
"Never, never, never give up"
213: Lindsey Anderson on Being Truthful with Yourself
"I'm convinced that about half of what separates the successful entrepreneurs from the non-successful ones is pure perseverance."  ~ Steve Jobs, co-founder and CEO of Apple.
214: Andi Simon on Making Change a Doable Opportunity
"We take observation into innovation."
215: David Lee on Creating Safety in Conversations
"Better results require better conversations."
216: Stephanie Breedlove on Turning Point Moments
"Never allow a person to tell you no who does not have the power to say yes." ~ Eleanor Roosevelt
217: Lynda Adams on Being Mindful of Those Who Influence You
"Be strong and courageous. Do not be afraid or discouraged, for the Lord, your God, is with you wherever you go." Joshua 1:9
218: Diane Gardner on How to Stop Believing the Lies
"Whenever you see a successful business, someone once made a courageous decision."
219: Maggie Patterson on the Value of Unplugging
"I run this day. This day does not run me, because otherwise, chaos will ensue."
220: Joe De Sena on How to Begin Believing You Can
"It could be worse."
221: Alison Cardy on Walking Toward Fear
"Your real life, your whole life is worth getting your heart broken a few thousand times." ~ Martha Beck
222: Rita Morales on Leaping to Big and Scary
"You are enough."
223: Naomi Amat on the Need to Nourish Yourself
"By nurturing you, you can better nurture your family too."
224: Lisa Woodruff on Leaning In To What You Are Good At
"Done is better than perfect."
"Progress over perfection."
225: Megan Kelly on Creating the Experiences You Want to Have
"Better to ask forgiveness than permission."
"Nevertheless, she persisted."
226: Jenn Aubert on Identifying How You Want to Be of Service
"Whatever you can do or dream you can, begin it. Boldness has genius, power and magic in it."
227: Elizabeth Moss on Challenges Creating Opportunities for a Thriving Art Gallery
"Energy and persistence conquer all things."  ~ Benjamin Franklin
elizabethmossgalleries.com/about
228: Amanda O'Brien on Being a Leader Who Serves a Community
"Twenty years from now, you will be more disappointed in the things you didn't do than by the things you did do."
229: Kelly Roach on Respecting the Stages of Entrepreneurship
"Be the best that you can be in everything that you do."
230: Carol Mitchell on Breaking Female Stereotypes
"What do you care what other people think?" ~ Richard Feynman
231: Jen Brown on Making Moves When You Feel It
"You aren't pizza. You won't please everyone."
232: Christina Vinters on What's Possible When You Shed Self-Limiting Beliefs
"If you want to fly, give up what weighs you down." ~Toni Morrison
233: Katie Krimitsos on Becoming the Version of You Who Can
"Stay in your lane."
234: Katie Allen on Being Both Planner & Risk Taker
"The two most important days of your life are the day that you're born and the day you figure out why." ~ Mark Twain
235: Hira Ali on Believing "You've Got This!"
"Whether you think you can, or you think you can't, you're right." ~ Henry Ford
236: Maegan Watson on Evolving Your Business
"We are not given dreams or ideas without the ability to create them. We are not given the vision of ourselves without the bravery to being this vision to life. All you have to do is tell yourself that you are worth it, over and over."
237: Melissa Hereford on How to Get What You Want
"The only thing to fear is fear itself." ~ FDR
"You can't be that kid standing at the top of the slide, overthinking it. You have to go down the shoot." ~ Tina Fey
238: Sari de la Motte on Trusting Your Gut
"People won't remember what you said, but they'll remember what they felt." ~ Maya Angelou
239: Giovanna Capozza on Finding Your Meaning of Happiness
"You're not doing this alone."
240: Lynette Delane on "You Don't Need that Piece of Paper!"
"Let go of who you think you're supposed to be and embrace who you are." ~ Brene Brown
241: Anne L'Heureux on Empowering Those You Lead
"Do and believe that which leads you to your goals." ~ Tom Bilyeu
242: Alissa Daire Nelson on Not Feeling Good Enough
"Life doesn't happen to you, it happens for you."
243: Elizabeth Ross Holmstrom on Using Mindfulness to Combat Stress
"There's no such thing as a weird human being, it's just that some people might require more understanding than others."  ~ Tom Robbins
244: Suzanne Anderson on the Evolution of Women
"The place life calls you to, where the most aliveness is, is where your deep gladness and the world's deep hunger meet." ~ Frederick Buechner
245: Brian Ligotti on Rethinking What You "Have To" Do
"I want to sing like the birds sing, not worrying about who hears or what they think" ~ Rumi
246: Kristy Wallace on Finding Balance by Releasing Perfection
"Love what you do."
248: Angela Lussier on Speaking Your Voice
"Stop waiting. Start creating."
249: Keisha Reynolds on the Valuable Risk to Be You
"There is something inside of us that transcends the human experience of race, and culture, and class, and for me that's the human spirit."
250: Alexa Gilmore on Coming Back to Your Body
"Be the first.
The first to say hello.
The first to compliment the other person.
The first to give credit.
The first to say sorry.
The first to offer to help.
The first to show up for someone else.
The first to set an example.
The first to offer hope.
The first to shine.
Be the first."
~ Chris Winfield
251: Kelly Gushue on Helping Women to Succeed
"Carpe Diem." ~Horace
252: Randi Levin on Living Your Legacy
"We tend to think of our legacy as something we leave behind at the end of our lives, but what would you do differently today if you believed that you had the choice to carve out exactly what you wanted that legacy to be in real time? Manifest that concept and magically you do have that choice. You are your own GPS in your life. Start by having a voice. Say yes by listening to that voice. What's next? Now is your new next."
If you loved this episode you are also going to love The Quotes From the First 100 Episodes and Another 100 Quotes to Take on the Go.
If you listened to this episode and got fired up to make things happen in the coming year but you are feeling lost or doubtful around how to make it happen, reach out to me. You can find me at jodi@womentakingthelead.com. I would love to hear from you and help you to achieve all your goals this year.
As always, I hope this was of value to you and here's to your success.
Thank You to Our Sponsors!
Zebralove Web Solutions: Your website tells a story about your business! At Zebralove Web Solutions, Milly and her team are going to make sure your website tells the story you want your customers to hear. Connect with Milly at zebralovewebsolutions.com to create the impression you want to make!
Resources
Create Goals that are Worthy of you: If you are done with either pursuing vanilla goals, suffering through the struggle of goals that are not aligned with your strengths, or dealing with heartbreak of an unattainable goal this online mini-course is for you!
Accomplished: How to Go from Dreaming to Doing: A simple, step by step system that gives you the foundation and structure to take your goals and make them happen.
Subscribe to Women Taking the Lead
If you enjoyed this episode subscribe in iTunes, Stitcher Radio, Google Play Music or iHeart Radio and never miss out on inspiration and community!