100: 100 Quotes to Keep With You
Click the play button below to listen to the podcast episode.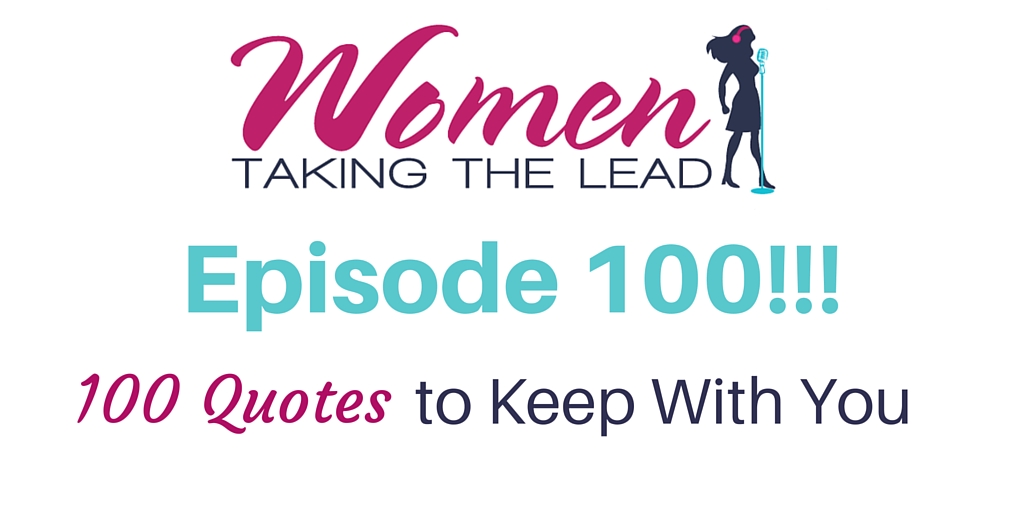 To celebrate the 100th episode on Women Taking the Lead I've collected and strung together the first 100 quotes shared on this podcast by our amazing guests.
Click to tweet: 100 Quotes to Keep With You on Women Taking the Lead! ▶ www.womentakingthelead.com/100
001: Get strong inside out with Amy Clover
"I am the hero of my own story" ~ Amy Clover 
002: Marni Battista Tells Us How to Live with Dignity
"Don't let fear get in the way of your biggest dream even if your biggest dream is your biggest fear." ~ Marni Battista
003: Josey Milner Shows You How to Say Yes and Learn As You Go
"Follow your heart and dare to dream!" ~ Josey Milner
004: Bree Noble Offers Us Some Musical Direction
"You can have everything in life you want, if you will just help enough other people get what they want." ~ Zig Ziglar
005: Sabiha Vorajee Tells Us How to Know Our Value
I AM that I AM ~ the words of God
006: Mekel Harris on Finding the Beauty in Grief
"Without change there would be no butterflies" ~ anonymous
007: Kate Erickson Gives You the Entrepreneurial Fire Path to Success
"Success is not the key to happiness. Happiness is the key to success. If you love what you are doing, you will be successful." ~ Albert Schweitzer
http://www.entrepreneuronfire.com/
008: Dr. Pei Kang Shares What It Is to Believe in Yourself
"The decision to succeed comes before a plan." ~ Jay Baer
009: Letting Your Light Shine Brightly with Carol Hess
"This I know to be true. We are craving to play bigger, to go deeper, to shine." ~ Danielle LaPorte
http://www.carolchesneyhess.com/
010: Maura Sweeney Enlightens Us on the Art of Happiness
"Leadership is not about titles, positions or flow charts. It's about one life influencing another." ~ John C. Maxwell
011: Marcia Bennett is Showing Us How to Succeed Through Organization
To be Great is to be misunderstood. ~ Ralph Waldo Emerson
www.bennettbusinesssolutions.com
012: Kelly Lundberg on Fashion and Personal Empowerment
Life is too short to look just fine. Everyday you should look divine. ~ Kelly Lundberg
013: Jeanna Gabellini Enlightens Us on How to be Successful with Ease
"All is well" ~ Jeanna Gabellini
014: Shannon Kinney on How to Lead a Happy Team
Life is a four letter word but living isn't. ~ Shannon Kinney
015: Norma Yaeger on Investing in Yourself Through Education
"When I need help, I have no qualms about asking for it." ~ Norma Yaeger
016: Rich Brooks on Communication and Entrepreneurship
Luck favors the prepared ~ Edna from The Incredibles
017: Cathy Flynn on Leading With Love
Jesus, I trust in you. ~ Cathy Flynn
018: Kim Pisolkar on Being Who You Are Right Now
Do what you can, where you are, with what you have. ~ Theodore Roosevelt
http://SmallBizBIGBreakthrough.com
019: Gabriella Guglielminotti Trivel Shares How to Rediscover Yourself
I am happy, I am free, I am me. ~ Gabriella Guglielminotti Trivel
020: Get a Revolutionary Career with Christie Mims
I will live deep and suck out all the marrow of life and not, when I come to die, discover I have not lived. ~ Henry David Thoreau
http://www.therevolutionaryclub.com
021: Julie Austin on Innovating Your Own Dreams
"Life is either a daring adventure or nothing." ~ Helen Keller
022: Lara Loest Shares Why You Don't Need to Fear Failure
Where there is much light the shadow is deep ~ Johann Wolfgang von Goethe
023: Joel Boggess on Knowing What Season You Are In
There are no traffic jams along the extra mile. ~ Roger Staubach
024: Danielle Chatay Explains Why You Need to Be Able to Articulate Your Value
I can do all things through Christ who strengthens me. ~ Philippians 4:13
025: Christy Monson on Finding Freedom in All Your Relationships (Including You)
We teach others how to treat us. ~ Christy Monson
026: Barbara Roche on Leading Yourself With Confidence
Your playing small does not serve the world ~ Marianne Williamson
027: Jodi LaBossiere on Balancing Between Massive Action and Baby Steps
"Your smile is your logo, your personality is your business card, how you leave others feeling after having an experience with you becomes your trademark."  ~ Jay Danzie
028: Angela Walker Franklin on Being an Unlikely Choice
Avoid negative self talk. ~ Angela Walker Franklin
029: Rachna Jain on the Journey to Be Your Truest Self
"He who has a why can survive any how." ~ Victor Frankl
http://ProfitablePopularity.com
030: Mary Kathryn Johnson is Bringing the Mommy Loves to You
"It is our choices that determine who we really are far more than our abilities." ~ Albus Dumbledore
http://www.parententrepreneursuccess.com/pepower-podcast/
031: Deborah Parker on Making Your Way Through the Valley
"There's no book that says certain things have to happen by a certain age." ~ Deborah Parker
032: Jodi Womack on How to Leverage Solid Relationships Through Networking
"You can do this." ~ Jodi Womack
033: Tim Roberts on Realizing the Way You See Yourself
"We have two options when it comes to our futures: we can let it happen, or we can make it happen." ~ Tim Roberts
034: Luanne Cameron on How to be Human, Make Mistakes and Move On
"Believe in yourself and you WILL succeed." ~ Luanne Cameron
035: Khadija Ali is Sharing How to Supercharge Your Money Blueprint
"A Leader is the one who knows the way, goes the way, and shows the way." ~ John C. Maxwell
http://www.blogtalkradio.com/warriorwomanradio
036: Nicole LaBonde on Leaving "Should" to Embody Sassy
"Find out who you are and do it on purpose." ~ Dolly Parton
037: Win Charles on Getting What You Want
"If you can dream it, you can live it." ~ Danielle Coulter
038: Kamala Chambers on How to Follow Your Passion Projects
"Follow your passion every step of the way and you'll aways be filled with passion." ~ Kamala Chambers
http://www.lastingloveconnection.com/
039: Denise LaRosa Shares the Freedom to Be You
"If I allow the outcome to become more important than the source, then I lose both the source and the outcome." ~ Andy Mason
040: Lori Brooks on Finding Freedom in Technology
"Take care of your Thoughts because they become Words. Take care of your Words because they will become Actions. Take care of your Actions because they will become Habits. Take care of your Habits because they will form your Character. Take care of your Character because it will form your Destiny, and your Destiny will be your Life." ~ His Holiness the Fourteenth Dalai Lama
http://www.technologyequality.com/
041: Steve Kidd on the Secret to Thriving
"You are uniquely brilliant. You were created for a purpose. The world needs you." ~ Steve Kidd
042: Melissa Krivachek on Taking Risks to Discover Who You Are
"Bold is the new sexy." ~ Melissa Krivachek
043: Jess Kupferman on Redefining "Bossy"
"I'm not funny. What I am is brave." ~ Lucille Ball
044: Jodie Rodenbaugh on Loving Into Your Legacy
"Live. Love. Lead." ~ Jodie Rodenbaugh
045: Chloë Thomas on Utilizing What You Do Naturally
"Keep Optimizing." ~ Chloë Thomas
046: Kristen Owens Reveals How to Naturally Boost Your Energy
"You cannot change your problem with the same mind that created it." ~ Albert Einstein
http://kristenowenscoaching.com
047: Renita Alexander on Being a Leader Through Collaboration
"Everything rises and falls on leadership." ~ John Maxwell
048: Marc Mawhinney on Coaching Through Anxiety
"The question isn't who going to let me; it's who is going to stop me." ~ Aryn Rand
http://www.naturalborncoaches.com/
049: Julia Clukey on Breaking Through Body Image
Wake up with mindfulness and the attitude that you are going to make every day the best day possible. ~ Julia Clukey
050: Kendra Wheeler on Creating Fitness Where You Are
"Do what you can with what you have where you are." ~ Teddy Roosevelt
http://www.fitgoalstraining.com/
051: Kate Braestrup on Leadership in Ministry
"You can't subtract pain, but you can add love." ~ Kate Braestrup
052: Jen Hatzung on Rethinking Pearls, Pantyhose and Power Suits
You don't have to be great to start, but you have to start to be great – Zig Ziglar
053: JoAnn Bartlett on Finding the Strengths You Can Use Naturally
"What lies behind us and what lies before us are tiny matters compared to what lies within us." ~ Ralph Waldo Emerson
054: Honorée Corder on Turning Your Vision of Prosperity into Reality
"Commitment eats impossible for breakfast." ~ Honorée Corder
055: Angie Swartz on Embracing What Makes You Different
"Om Mani Padme Hum" ~ Sanskrit Mantra meditation
http://www.lifepurposeadvisor.com/
056: Valerie Groth on Loving and Trusting You
"It always seems impossible until it's done." ~ Nelson Mandela
057: Shannon Moss on Reinventing Yourself Publicly and Passionately
"Faith not Fear." ~ Shannon Moss
058: Joan Sotkin on Achieving a Relaxed Prosperous Life
"Worrying is a waste of time." ~ Joan Sotkin
059: Edie Berg on Honoring Our Strong Women
"Luck comes to those who work." ~ Edie Berg
060: Susie Miller on How to Have Better Relationships
"Courage doesn't always roar. Sometimes courage is the little voice at the end of the day that says I'll try again tomorrow." ~ Mary Anne Radmacher
061: Aline Potvin on How to Take Your Power Back
"Unused creativity is not benign." ~ Brené Brown
062: Marni Battista on How to Naturally Become Irresistible
"That's what happens when you are perpetually irresistible. You are not just irresistible to men, you are irresistible to opportunity." ~ Marni Battista
063: Michelle Raber on Learning to Lean Into Your Strengths
"You can have everything you want in life if you help other people get what they want." – Zig Ziglar
064: Cathi Hargaden on Creating Spaces
"A mathematical journey with a geometrical intrigue." ~ Cathi Hargaden
065: Dr. Rebecca Jorgensen on the Courage to Speak
"If you can rely on others, you can do everything you dream" ~ Dr. Rebecca Jorgensen
066: Sheena Yap Chan on the Path to Self-Confidence
"Behind every successful woman, is herself." ~ Sheena Yap Chan
067: Sara Speicher on Balancing Being Mommy and Businesswoman
"One dream could change your life." ~ Sara Speicher
068: Nancy Marshall on Curbing Your Enthusiasm (or Not)
"Our Deepest fear is not that we are inadequate; our deepest fear it is that we are powerful beyond measure. It is our light not our darkness that most frightens us. We ask ourselves, who am I to be brilliant gorgeous talented and fabulous? Actually, who are you not to be? You are a child of God. Your playing small doesn't serve the world. There's nothing enlightened about shrinking so that other people will not feel insecure around you. We are all meant to shine as children do. We are born to make the manifest, the glory of God that is within us. It's not just in some us of it's in all of us. As we let our own light shine, we unconsciously give others permission to do the same. As we are liberated from our own fears, our presence automatically liberates others." ~ Maryann Williamson
069: Laurie Lachance on Playing Full Out
"Set a goal so big that you can't achieve it until you grow into a person who can." ~ Laurie Lachance
070: Dr. Ellen Braaten on Success Through Adaptation
"Bloom where you are planted" ~ Ellen Braaten
071: Mercy Nthiga on Using Entertainment to Educate
"If you judge a fish by its ability to climb a tree it will live its life thinking it is stupid." ~ Albert Einstein
http://www.entertaintoeducatemychild.com/
072: Lane Kennedy on Rocking Unexpected Motherhood
"Just be." ~ Lane Kennedy
073: Angie Fisher on Pausing to Process
"Walk with the dreamers, the believers, the courageous, the cheerful, the planners, the doers, the successful people with their heads in the clouds and their feet on the ground. Let their spirit ignite a fire within you to leave this world better than when you found it…" ~ Wilferd Peterson
http://www.coachingsuccesssystems.com/
074: Dave Crenshaw on Freeing Yourself from Always Being Busy
"Conditioning is more powerful than discipline." ~ Dave Crenshaw
075: Robyn Barnes on the Philosophy of Carpe Diem
"Never dull your sparkle." ~ Robyn Barnes
076: Lee Caraher's Cautionary Tale on Pushing Too Hard
"And will you succeed? Yes, you will indeed." ~ Dr. Seuss
077: Alexandra Black-Paulick on Being the Change You'd Like to See
"Be the change you wish to see in the world." -Gandhi
http://positiveimpactpodcast.com
078: Dr. Christine Maguire on Hope through Illness and Injury
"Everything happens for a reason." ~ Dr. Christine Maguire
079: Makeda Ricketts on Carefully Selecting Your Community
"Listen to Mustn'ts, child, listen to the Don'ts.
Listen to the Shouldn'ts, the Impossibles, the Won'ts.
Listen to the Never Haves, then listen close to me.
Anything can happen, child, Anything can be."
~Shel Silverstein
080: Emi Kirschner on Creating Healthy Foodies
"The Point of Life is Happiness" – Dali Lama
081: Dr. Carri Drzyzga on Creating a Healthy Business
"Discovery is seeing what everybody else has seen, and thinking what nobody else has thought." – Albert Szent-Gyorgyi
082: Laura Roeder on Doing What You Do Easily
"How we spend our days is, of course, how we spend our lives." ~ Annie Dillard
083: Gayle Brown on Realizing Leadership Can Be Simple
"Our thoughts are magnets." ~ Gayle Brown
084: Flynn Women on How to Raise Our Daughters to Be Leaders
"Beauty goes away. But a kind and generous heart will last for forever. It's like a fine wine, it gets better with age." ~ Lucia Flynn
085: Anna Lenhart on Changing Our Perspective on Service
"Let yourself be silently drawn by the strange pool of what you really love, it won't lead you astray." – Rumi
086: Christie Mims on Career Happiness Stories
"There's a sense of community when I connect them with others…the ability to say 'wow, I didn't know other people felt so alone, I didn't know people felt so afraid,' and the ability to talk about it releases those fears." ~ Christie Mims
087: Sara Millman on Who You Think You Are to Deserve Success
"If you manage to stay on your path in life, you will always be at the perfect place." ~ Arch Bishop Desmond Tutu
088: Nellie Akalp on Working Qualitatively vs Quantitatively
"Make the impossible your reality and it will ultimately become your reality." ~ Nellie Akalp
089: John Lee Dumas on Being a Person of Value
"Try not to become a person of success but a person of value." ~ Albert Einstein
090: Kristie Kennedy on Finding Your True Voice
"Success doesn't come to you; you go to it." ~ Marva Collins
091: Amber Lambke on Invigorating a Community Through Industry
"You need to have an affection for place, and people and animals; and you need to have an affection for hard work and the soil and all of the things that come together to make a successful and productive life." ~ Wendell Berry
092: Sandy Weiner on Valuing Who You Are as a Woman
"Strive not to be a success, but rather be a value." ~ Albert Einstein
093: Felicia Knight on When You Realize You Are an Adult
"Treat others the way you want to be treated." ~ Felicia Knight
094: Stacy Curtis on Writing Your Story
"If we all did the things we are capable of, we would astound ourselves." ~ Thomas Edison
http://www.writeofyourlife.com/
095: Lori Heisler on Creating the Support You Need
"Our lives begin to end the day we become silent about the things that matter." ~ Martin Luther King
www.theleadershipinfluence.com
096: Erica Castner on Personal Responsibility
"You are a warrior; you go through the finish line not to it." ~ Robert Riopel
097: Cloris Kylie on Doing What Feels Right for You
"The best time to plant a tree was 20 years ago. The second best time is now." ~ Chinese Proverb
098: Penny Zenker on Succeeding Through Big Transitions
"Stop managing your time and start managing your energy." ~ Penny Zenker
099: Carl Brooks on Leading With Your Intuition
"Base your worth by your dedication to your path, not by your successes or failures." ~ Elizabeth Gilbert
And the episode that started it all…
000: Welcome to Women Taking the Lead!
"Our deepest fear is not that we are inadequate. Our deepest fear is that we are powerful beyond measure. It is our light, not our darkness that most frightens us. We ask ourselves, Who am I to be brilliant, gorgeous, talented, fabulous? Actually, who are you not to be? You are a child of God. Your playing small does not serve the world. There is nothing enlightened about shrinking so that other people won't feel insecure around you. We are all meant to shine, as children do. We were born to make manifest the glory of God that is within us. It's not just in some of us; it's in everyone. And as we let our own light shine, we unconsciously give other people permission to do the same. As we are liberated from our own fear, our presence automatically liberates others." ~ Marianne Williamson
If you enjoyed this episode subscribe in iTunes or Stitcher Radio and never miss out on inspiration and community!